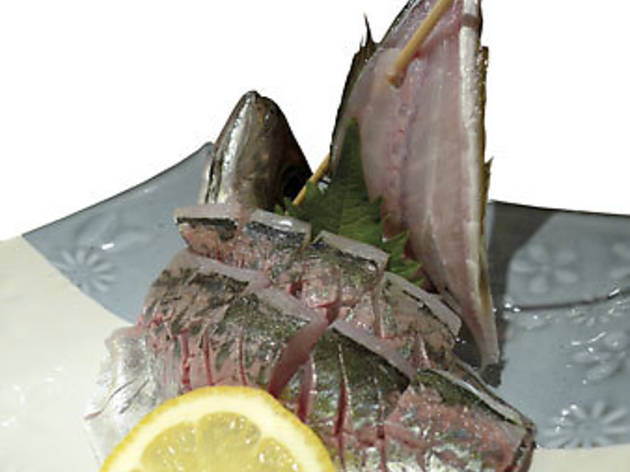 Time Out says
When Ginza, a teppanyaki restaurant located in the former New World Harbour Center, closed down in April this year after 30 odd years (due to the renovation of the building), it may have felt like the end of a great journey. But not satisfied with calling it a day so soon, Chef Okura Masataka led his team and set up another Japanese restaurant in a new commercial center on Chatham Road South and called it "Ginza Okura".
And on one relatively unspectacular weeknight we visited the new establishment, slightly surprised to see that only half the tables were occupied, and that almost all the patrons were Japanese. We later found out that most of them were old customers of Chef Okura. It seems loyalty is alive and well in this town.
Taking our place among the veterans, and before the 'teppanyaki show' started, we were keen to try some of the other items on the menu – and so we started with cold bean curd ($60) and the jackfish (shijma aji, $200), which came fresh and whole, served together with the bone. The raw fish was nicely cut and springy when bitten into, with a delicately sweet aftertaste. We also had assorted tempura ($250) which included shrimps, eggplant, sweet potato and green pepper. All were served searing hot with a light batter. The shrimp meat was tender and juicy, while the vegetable was crisp and refreshing.
We then left the regular table and moved over to a U-shaped teppanyaki table to meet our grill chef, Wong Yan Kit, one of the teppanyaki chefs from the former New World Plaza Ginza, for the second part of the dinner. Three menus were offered to us, each a step up in price, quality and quantity. We selected the Matsu ($560) and Take ($480), both served seafood, while the Matsu set also had Wagyu beef and the Take set US steak.
We marvelled at Chef Wong's supreme dexterity in handling his knife, as he sliced and diced live abalone, king prawn, sweet scallop and cod fish, which were immediately thrown onto the grill. By this stage the scallops were the undisputed stars of the evening: thickly cut, lightly caramelized, sweet and juicy. The live abalone were sliced into thin layers, slightly cooked with soya bean sauce and Japanese wine using the abalone shell as a cooking pot. The texture of the sliced abalone was a little crunchy, and the balance between chewy and firm was just right. The shrimp was fresh as expected, but the shrimp head could have been prepared in a way that the hard and sharp shell was removed so that the entire head was edible.
When it came to the beef, Chef Wong stacked strips of steak doused with whiskey and set them alight. Then he got the thinly sliced Wagyu beef and stuffed it with deep fried garlic and finely chopped spring onion, acting as a sort of beef roll. Personally I preferred the thickly sliced US beef steak. With its tender texture and rich flavour, it certainly surpassed the Wagyu beef we had that night.
The feast ended with classic Japanese fried rice and ice cream for dessert, and everybody left the restaurant adequately stuffed. It may well be a pricier option in an area filled with Japanese diners, but given the quality of the food and the attentive service it was well worth it.
KC Gourmet
1/F, Oriental Crystal Finance Centre, 107-109 Chatham Road South, TST; 2957 8777. Daily from noon–3pm, 6.30pm–11.30pm. Meal for two: $1,700.
Details
Address:
1/F, Oriental Crystal Finance Centre, 107-109 Chatham Road South, TST
Hong Kong


Do you own this business?
Users say