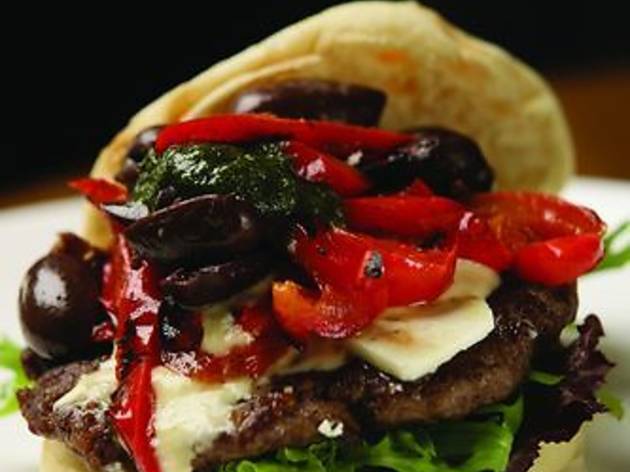 Time Out says
There's not exactly a shortage of burger joints around town, with Soho/Central in particular being supersized in that area. So anyone hoping to cash in on the burger boom needs something outside the box to help them stand out from the pack. At Gourmet Burger Union, they're staking their chips on the choice factor, with as impressive a list of toppings as you'll find anywhere in the city. Ponder 15 cheeses (from goat's to Roquefort ), 27 toppings (including pineapple, hummus and baked beans) and 15 sauces (such as satay, truffle cream and basilica pesto), as well as three choices of bun to adorn your 100 per cent New Zealand Angus grass-fed beef ( ¼-pound $65; ½-pound $98), New Zealand lamb ($68), grilled Australian free-range chicken ($65) or soy protein veggie ($63) burger. Carb-haters can even ditch the bun, and have their burger on a bed of lettuce instead. For the overwhelmed, there are 13 signature burgers ($48-$108) to fall back on.
The concept is perfect for those who lament the generic default toppings at other burger shacks. The space (above Dozo on Lyndhurst Terrace) is geared towards takeaway, with a scant few high tables offering a stand n' eat n' run option. With a penchant for belly-busters, I plumped for the GBU Big Boy (½-pound beef with streaky bacon, stilton, portabello mushroom, garlic alioli, BBQ sause and rocket), while my minimalist companion went for a soy protein veggie burger (his first choice of chicken was not available) topped with red onion, rocket and satay. Both were freshly made, hearty choices on a par with the likes of Archie B and Shake 'Em Buns, while the customisation aspect probably gives them a slight edge against local rivals. The sides of French fries with chilli and cheese ($39) and wedge cut chips ($28) were a real disappointment though: the chilli was cardboard-bland, the fries soggy and rather un-fry-like, while a choice of cheese would have been nice; the wedges meanwhile were overly saturated in fat and salt.
Overall this is solid burger fare that should attract a loyal following. Skip the sides though. David Cooper
Meal for two: around $200.
Details
Best selling Time Out Offers