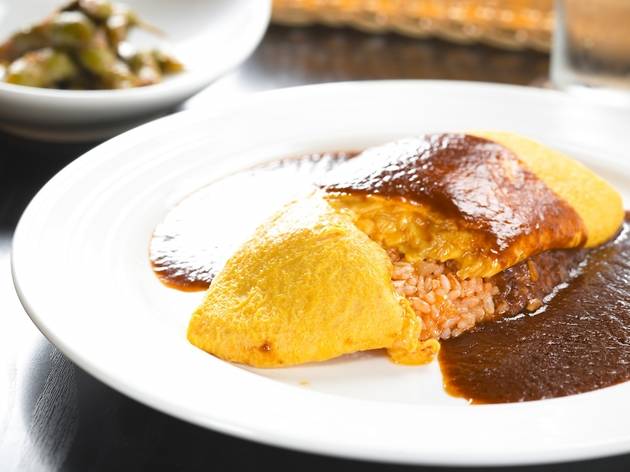 Time Out says
Before we say anything else, we should make one thing clear: the omurice at Hidden Kitchen is very, very good. If you're not familiar with the term, omurice is essentially an omelette served with its namesake carb. There are two types to choose from here – one is decorated with tomato sauce and the other floats in a pool of rich demi-glace ($98 each). Both are done Tampopo-style (named after the 1985 film that popularised the technique), meaning that the omelette is carefully draped over a mound of fried rice instead of being wrapped around it. We can't sing enough praises about the egg – a light, yellow quilt that yields to a gloriously runny centre when pierced through with a knife. The rice falls on the soft side but it's duly laced with ketchup, giving it a subtle sweetness and tang that marries well with the barely set bits of egg and brackish meat jus reduction. How can anyone not love this?
You can just have the omurice and be satisfied but the concise menu also lists 15 other yoshoku (that's Japanified Western cooking) options from appetisers to mains. The beef cheek stew ($148) is one of the better offerings and, according to the menu, is slow-cooked for 30 hours. The resulting hunks of meat are meltingly tender, as are the flavour-soaked root vegetables that are thrown into the mix. It's a comforting dish that's brimming with beefy goodness. Our only complaint would be that the solid ingredients aren't nearly chunky enough to weigh down the gravy and the dish starts to feel overly sauced up after a few more bites. The restaurant also offers bone-in sausages ($55). Yes, you read right. Not only are these a fantastic lead-in for inappropriate dinner table jokes, the petite tubes of meat are genuinely delicious, especially when the snappy skin is smeared with mustard. It's a strange concept but grilling the sausage on the bone intensifies the meaty flavours and it also makes for easier eating, similar to nibbling on a chicken drumstick.
If you want to leave with happy memories of this place though, take our advice and forego the salad. It's usually squid on the menu ($60) but the kitchen runs out on the night of our visit and we're served shrimp instead. The crustaceans taste straight from the freezer and rest despairingly over a few limp leaves. Edamame tossed in garlic-spiked soy sauce ($45) fare slightly better. The pods are a touch overcooked but the marinade is still a decent, finger-licking effort and a creative alternative to the traditional salt-flecked variety.
Be warned that the restaurant is small (reservations are recommended) and there's only one chef, so hot dishes may take a little longer to arrive. But the $45 Sapporo draught beers help pass the time and the old-school décor (complete with wooden captain-style pub stools) is all sorts of charming. Most importantly, there's the omurice – and if our experience is anything to go by, this is one thing that's well worth waiting for. Dorothy So
Unit D, 3/F, Prosperous Commercial Bldg, 54 Jardine's Bazaar, Causeway Bay, 2504 1511. Daily midday-3pm & 6pm-11pm.
The bill
Edamame with garlic soy sauce $45
Shrimp salad $60
Sausages $55
Beef cheek stew $148
Omelette rice (demi-glace) $98
10 percent service charge $40.60
Total (for two) $446.60
Details
Best selling Time Out Offers