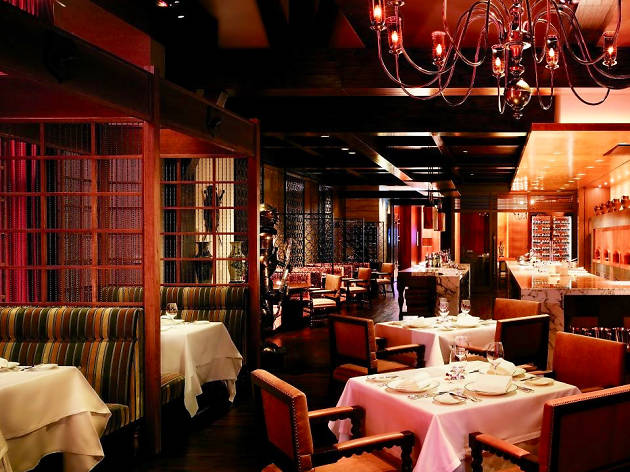 Time Out says
Old school charm and classic European recipes at the Hyatt Regency
It seems nowadays, to become a Hong Kong legend, a restaurant needs to shut down once it has become stale and reopen years later for a grand comeback. This is the case for Hugo's, which went away for a two-year hiatus when the old Hyatt Regency was torn down to become the new iSquare. The old boys' club was a place for business deals over whisky and marriage proposals over chocolate bonbons.
The menu, prepared by chef Richard Sawyer from The Wolseley and Mon Plaisir in London, is filled with the oldies but goodies such as prawn cocktail, steak tartare prepared tableside and lobster bisque flamed in front of diners. And that's the whole shtick here: table performances. Many of the dishes from pea soup to cherry jubilee to Irish coffee are theatre here. A team of chefs and servers make your dish in front of your very eyes, and that is what you pay for.
The Caesar salad is pretty much the same salad you can get in their all-day diner right next door for slightly less. But here, a chef makes fresh dressing and flips romaine leaves in the air for extra thrills and dollars. The salad was just fine, lightly dressed, and included aged lardons, and happily can be tailored made to diners' individual dietary needs.
The lobster bisque is a revival from the old, legendary menu. Tableside, minced onions are sautéed, a pre-cooked lobster base added to the pot along with pieces of lobster meat. Foamed cream and cognac finish the dish. The presentation was stellar, though the soup tasted a bit thin. Many restaurants stretch their dollars by using shrimp shells to make a base for lobster bisque, which you can always tell from the bitter aftertaste. Here it is sweet and smooth. Unfortunately, the lobster meat resembled frozen crayfish meat with a reconstituted texture and the strips were a similar size to crayfish tails, but that is just a hunch.
The Wiener schnitzel and USDA prime rib eye (which was wheeled over in a grand copper carve station, came with a tray of glossy-looking sides kept warm on a candle-lit server. The veal was a great piece of breaded meat that took up the entire length of a large platter. With schnitzel, the breadcrumbs are as important as the meat. Here it was uniform, too uniform if there is such a thing, in that there were no crispy bits. Technically a perfectly made schnitzel, but it was like eating fried chicken without the crunch.
The 150g USDA prime rib eye was a huge Flintstone size of chop. Evenly pink on the inside, the roast comes medium-rare. It was an industrial piece of meat and hadn't been aged very long, so the flavours were subtle. Dare you to finish one portion.
No room for dessert, we opted for assorted cheese. France is largely represented and
the cheese was plated in front of us from another cart (though this time not so expertly; some practice needed here). The cheeses were common; pass and order a cherry jubilee instead.
What makes the dishes here so grand is the flamboyant presentation, but the quality is just standard hotel fare. The service is close to five stars, as Hyatt restaurants tend to be, though a few hiccups in food quality need to be ironed out. Angie Wong
Details
Best selling Time Out Offers