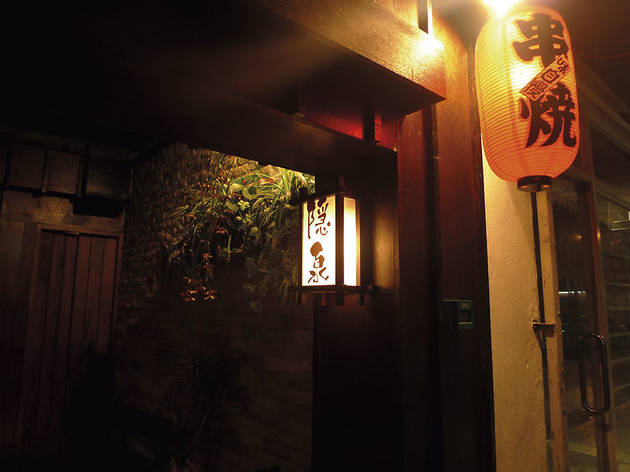 For a small neighbourhood, Tai Hang is home to a disproportionate number of tiny, characterful dining rooms. Insen, a new yakitori joint has recently been added to their number. Clad in dark wood and dimly lit, the place has the authentic feel of an izakaya (Japanese pub), but in fact it is run by several young local entrepreneurs. Open only at night, the place serves yakitori and doesn't muddy its waters with sushi and sashimi unlike pan-Japanese restaurants.
Our plan was to sample the whole of the short menu. We ordered the "all yaki" selection and decided the stars were: kimo (chicken liver, $22), which was crispy on the outside and melted like butter on the inside. Koniku (chicken neck, $28) is not seen on many menus in town but it's fairly common in a yakiniku joint. At Insen they made it just right – tender with a simple but tasty flavour from the thick smoky sauce. Tsukune (minced chicken meat and breast bone cartilage, $30) was served with raw egg and condensed soy bean sauce. With generous amounts of cartilage, it was far more crunchy and flavourful than at plenty of izakaya. Sadly sirokimo (fatty chicken liver, $28) wasn't available the night we were there but make sure you pounce on it if you get the chance.
For round two we moved on to other meats. Tannaka (ox tongue, $48) was thickly sliced and grilled with a simple salt and pepper seasoning. Only the centre part of the tongue was served and it was tantalisingly crispy round the edges while beautifully tender and fatty inside. Eel ($32) is another "must-try" item. It was fresh and juicy, and the grilled sauce was suitably mouthwatering. We followed the chef's advice and ordered lamb chops ($48) but they weren't as tasty as they looked and would have challenged those whose molars aren't in their heyday.
Last up were some vegetable skewers including Japanese leek ($18), ginkgo ($22), sweet potato ($26) and green pepper ($22). The vegetables, especially the green pepper, gave off a strange burned smell but luckily this wasn't reflected in their taste. We tried both the yaki onigiri (grilled rice ball, $28) and yaki mochi (sticky rice, $28). I'm a big fan of the former but Insen's was a bit of a disappointment. Removing the seaweed wrapper would have added some much-needed crunch. The seaweed wrapper made the yaki mocha a little flabby too, while contributing nothing to its taste.

All this was washed down with bottled Japanese beers, Asahi and Sapporo. Also on offer were Japanese sake and umechu, which are a great complement to the skewers.
KC Gourmet
G/F, 6 Ormsby St, Tung Lo Wan Rd, Tai Hang, 2203 4288. Daily 6pm-11.30pm.
Venue name:
Insen
Address:
G/F, 6 Ormsby St, Tung Lo Wan Rd, Tai Hang
Hong Kong


You may be interested in: