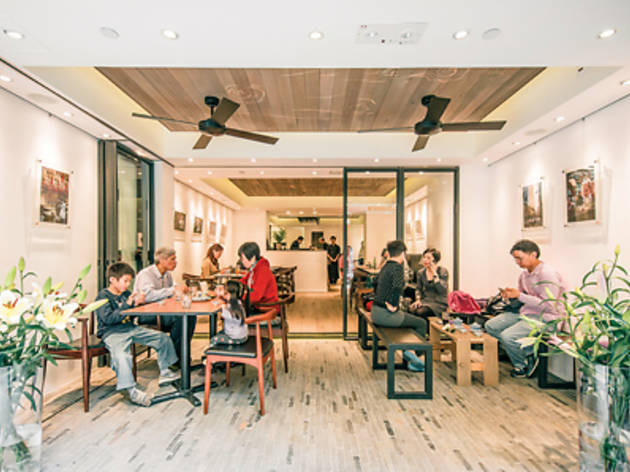 Time Out says
Fusion dim sum? Been there, done that. There are Michelin-starred restaurants across town which serve foie gras, truffle and pesto-infused varieties of classic baos and there are even some hot pot places which are offering up smoked salmon and cheese dumplings as fancy additions to their lineups. But a place that specialises in just fusion dim sum? We haven't seen this approach before. Until now...
It takes a lot of courage to take a cuisine that tugs the nostalgic heartstrings of a city's culture and revamp it by giving it an innovative international spin. But that's just what Swiss-born chef Nicolas Elalouf is doing at the new Man Mo Café, thus named due to its proximity to our beloved temple-cum-tourist haven. Elalouf could have gone for dim sum fusion as some sort of arbitrary gimmick. But instead he's worked it – and worked it hard – to create real star dishes that transform this Cantonese culinary icon into something really quite arty.
As we enter, large photographs of Hong Kong's landscape hang on the stark white walls. If not for the Chinese redwood furniture, this would look more like a contemporary art space than an eatery. We're impressed, so we grab a menu. You can only order two or three pieces of dim sum here. We order in twos. First up is the burgerbun ($68), a glazed char siu bao that has minced beef filling instead of the classic pork. It comes with a cute mini squeeze bottle so you can squirt a tangy, tomatoey sauce into the filling. The flavours work extremely well and we're impressed by chef Elalouf's bao work. The casing is thin, light and baked toasty brown without too much sticky glaze on top.

Next up is the truffle brie dumpling ($58), which comes in the form of a wor tip (pot sticker), where the fragrant truffle and gooey brie cheese is enveloped in a thin casing with a crispy bottom. The cheese works so well in the dumpling, you wonder why this has never been done before. Then the foie gras xiao long bao ($88) arrives. Often, in our city, a luxury item like foie gras is an additional ingredient to the standard recipe. Not so at Man Mo. The dumpling skin is so thin, it may even compete with the famous food chain – Din Tai Fung – and the soup inside has a balanced fragrant foie gras aroma without any overpowering livery aftertaste.
A less outstanding dish is the onion soup ($48 for one), an Asian spin on the French classic, which comes with sticks of toasted cheese. There are two wontons floating in the clear, strong broth, and the wontons are filled with caramelised onions, giving the soup a significant Chinese statement. However, they are double-boiled and, without any protein in the filling, there's a slightly alkaline taste from the skins. It's not a bad dish – but a little too strong for our palates. The beautifully rose-coloured ratatouille ($48) dim sum also fails to be stellar – it's packed with vegetables but only has a hint of ratatouille flavour when dipped in the accompanying sauce. Again, though, this isn't bad – it just isn't amazing like most of the dim sum here.
Dessert raises the bar again, though. The Nutella balls ($40) – twists on the traditional jin dui sesame balls – are so tasty that Westerners would blame noodle-loving Marco Polo for not bringing sesame balls to them so they could be paired with nutty chocolate spread sooner. Super nutty and sweet, these balls have everything.
Okay. So we don't imagine crowds wheeling their grandmothers to Man Mo Café on Sundays for yum cha, as the portions are pretty dainty. But if you're out to impress a dim sum connoisseur – or, in fact, anyone who loves truly innovative fusion experiences – this should definitely be on your hit list. Lisa Cam

Man Mo Café 40 Upper Lascar Row (Cat St), Sheung Wan, 2644 5644; facebook.com/manmocafe.
Details
Users say