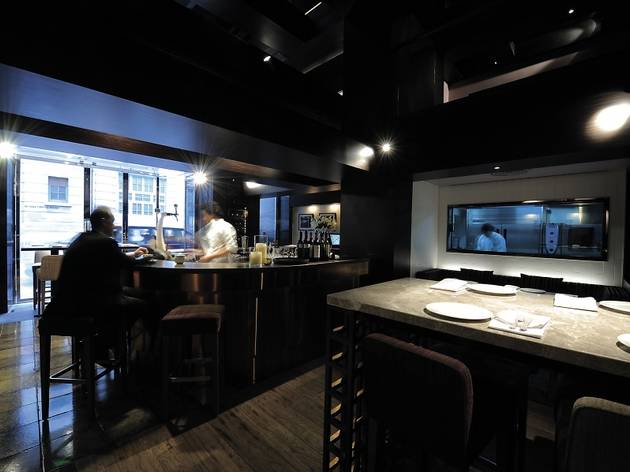 Time Out says
It's a little disconcerting when you enter a new restaurant and immediately see an advertisement for a senior chef. It's like boarding a yacht to sail around the world only to discover the crew are missing a first mate. It tends to have an impact. It seems Mesa 15 is ready to sail, but it's left a few things on the dock.
The new tapas joint on Hollywood Road is inviting enough, with large picture windows and a horseshoe bar. Dark chocolate tones dominate, with white tiles and marble tabletops. High seats and a few booths are scattered throughout, while a large communal table occupies the centre of the room, allowing a glance into the semi-open kitchen. Upstairs offers seating for larger groups. Not a revelatory design aesthetic, but cosy enough.
The menu was created by Alejandro Sanchez, a one Michelin-starred chef hailing from Spain (note: restaurants, not chefs, are starred but this is how Mesa 15 are selling it). Note the word 'created'. You'll be hard pressed to see him cooking in the kitchen, as he'll only be popping into Mesa 15 every few months – not an unfamiliar concept in the age of the celebrity chef. The menu boasts a few of the usual tapas suspects, but most of these have a modern twist. The problem is they read better than they taste.
We fired off a barrage of dishes to our service staff, who were helpful the entire evening. Dishes came out haphazardly but that's usually the case with tapas. We started off with a couple of soups, a chilled gazpacho and Iberico garlic soup with free range egg ($39 each). The gazpacho was smooth and garlicky, studded with cheese and pistachios. We could practically feel ourselves getting healthier as we slurped (this will be a hit in the summer months.) Surprisingly, the garlic soup lacked any garlic flavour at all, instead tasting more like a one-note soup stock. The free range egg was perfectly poached but the "egginess" was fairly muted by the bland broth. Next up were the homemade pickled mussels ($79). They were cooked impeccably, that perfect line between undercooked and rubbery. The pickled description was a bit of a misnomer to me. I was expecting brine that might pucker your lips a bit but instead the sauce was rather pedestrian, and extremely salty.
It's a shame the mussels couldn't have spared some for their salt-deficient brethren, because this is where the food at Mesa 15 falters. Nearly every dish was lacking salt. I'm a salt fiend but felt vindicated when my dining companions concurred. The free range eggs with seasonal mushrooms ($79) looked the part and were cooked well, the eggs creating a yolky mess with the earthy mushrooms. The mashed potatoes were a bit of overkill, but a good dish could have been a great dish if someone in the kitchen had tasted it. And added salt.
Not much could have helped the mini baby-rib burgers with pepper jam and blue cheese dressing ($55) – that's a bit worrying considering it's hailed as a signature dish. The meat resembled pulled pork but was bland and texturally unappealing, almost mealy, with absolutely no hint of red pepper jam or blue cheese. Or salt. A handful of supermarket crisps on the side were memorable only because they were salty. The cod purée ($59) on the other hand was rich and velvety, the dollops tasting of the ocean without being fishy. The dried sweet bell pepper added a nice counterpoint, the dish rounded out with a fresh tangle of greens. The warm scallop salad with bacon and sundried tomato dressing ($99) was a pleasure as well. The scallops had that nice caramel coloured sear, still tender in the middle. The bacon was crispy and slightly fatty, proving once again there is no such thing as a bad bacon and scallop dish. The sundried tomato dressing added just the right touch of tartness to the whole affair.
The most expensive dish of the night brought us back to blandsville. The grilled Iberian pork shoulder ($179) was remarkable only because it was so forgettable: it had zero flavour. The pork may have been cooked well but it was lost in an almond and dried pepper stew, any "porkiness" drowned in an under-seasoned gravy and mix of vegetables.
Mesa 15 no doubt has a strong pedigree and a creative vision, but at present it's lacking execution, unfortunate in a town that isn't wanting for tapas experiences. It's not Michelin-star food yet, but it should be noted that portion vs price is extremely fair, from small bites to larger sharing platters. Dropping in for a pitcher of kalimotxo – a surprisingly bracing concoction of red wine, coke light and vermouth – is definitely recommended. Have a few bites while you're at it, but bring the salt shaker. Rex Gregg
15 Hollywood Rd, Central, 2530 1890. Daily noon-midnight. Meal for two: around $800.
Details
Best selling Time Out Offers