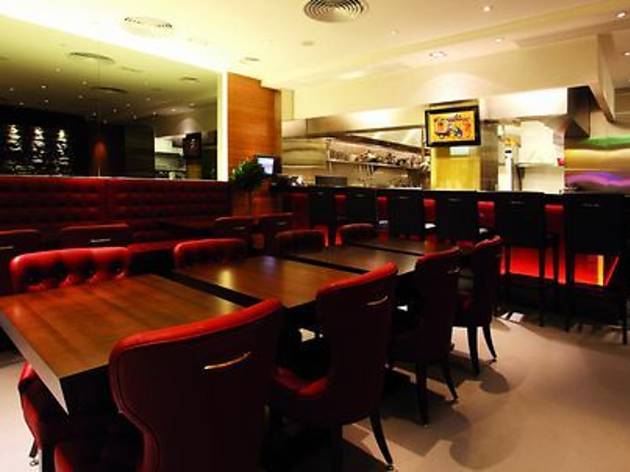 Time Out says
Nothing is more rewarding for foodies than when a chef is obsessed with a dish. In this case, it is ramen. The dining room to kitchen ratio here is 50:50, with a large open kitchen that sports enormous temperature-controlled instruments, a work table with hand-cut noodles of various sizes, and boiled imported eggs in a marinade. You can sit in the gleaming new cherry wood dining room with its high-back chairs, but the most popular seats in the house are around a marble L-shaped bar that lines the kitchen – front row seating to watch chef Yasuji Morizumi and his disciples at work. Morizumi was winner of the "Noodle Chef Championship" on the television programme TV Champion in 2002.
The menu is very focused. At lunchtime, when we visited, there were only five or so items to choose from and five different stocks, including soya, shio (salt), ume (plum) shio, miso and karemiso (spicy miso). There are different grades of noodles, ranging from thin to thick, like Italian pasta, although you don't get to choose them. The chef matches the noodles to the soup base for you.
We put aside our controlling attitudes and allowed the chef to take us on a culinary journey. With a bowl of ume shio ($120 + $10 for tamago) and a bowl of karemiso ($110) ordered, we waited with anticipation. One chef pulled out a refrigerated block of Chiba pork loin to thinly slice three rounds of meat, complete with fat belt. Another chef put fresh noodles into a rapidly boiling pot, transferring them to a bowl seconds later and ladling broth. A third dressed the bowl with a perilla leaf, vegetables and, in our case, a halved tamago (soft-boiled egg), with the most golden yolk you've ever seen. This was my ume shio.
My dining companion oohed and aahed about her karemiso. The base was similar, this time with the addition of miso and Japanese chilli (we think). Her soup was sweet, with a slightly spicy edge. Mine was sweet, salted and meaty, although the solo plum did little to add to the flavour of the broth, floating futilely in the bowl. The raw spring onions gave the dishes a freshness and sharpness and we loved everything about them, except for a thin greasy film on our soups.
The ume shio was made with a relatively thin noodle, no. 26, while the karemiso had a thicker one, no.18. We wanted to disagree with the chef here. We would have preferred it if the noodles were the other way round, but we held out tongues.
This would be a good time to talk about ramen. This is not a dish made from the instant noodles you ate at college. It uses hand-rolled, hand-cut noodles made with a blend of wheat from Hokkaido, Nagano and northeastern Japan, rested in wooden bowls to "sleep" before cooking. The noodles bite back, served al dente, but start to swell if you let them steep in the soup too long. Don't worry, that won't happen here.
You are encouraged to slurp as loudly as you can when eating ramen, though no one seems to do that here. We had no problem sucking up strings of noodles and splashed broth all over ourselves
as we did. We shovelled the soup and it warmed our bellies. The flavourful steam lingered in our nostrils and we were completely immersed in the meal, which ended with green tea crème brûlée served in a shot glass. It wasn't enough, I wanted more... but isn't that exactly how every restaurant wants you to feel when you leave? Angie Wong
G/F, 4 Sun Wui Rd, Causeway Bay, 2881 5006. Daily noon-11pm. Meal for two: around $400.
Details
Best selling Time Out Offers