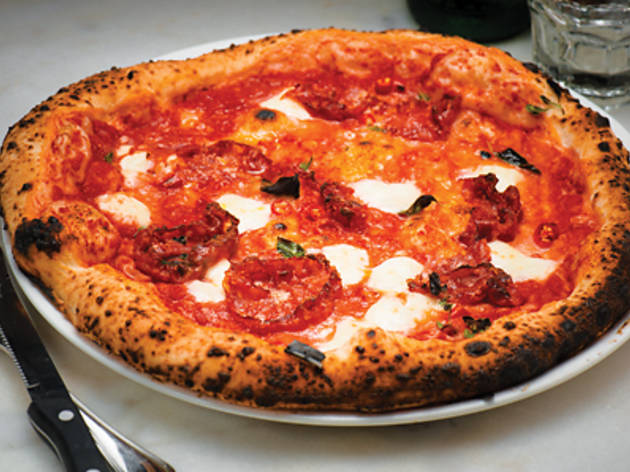 Time Out says
Great New York-style pizza right next to the Central escalator
Highly anticipated new eateries pop up in Central like daffodils in the springtime. However, when we first heard Motorino was setting up shop in the district, we expected it to be best in show this season. After all, it brings one awesome reputation with it, being one of New York's most popular pizzeria chains. And this is its first Asian outing to boot.
The Motorino restaurants in New York focus on chef Mathieu Palombino's signature Neopolitan-style pizzas, which are comprised of fresh, seasonal ingredients. These pies are hugely popular in the Big Apple and they've even been coined 'the city's best pizzas' by New York Times restaurant critic Sam Sifton. High praise indeed. So our new Motorino has had big shoes to fill.
On Soho's busy, hilly Shelley Street, Motorino is decked out with green-striped walls and a silver ceiling. The eye-catching restaurant shouts home comforts and makes good use of its space. We especially adore a corner area which has been made out to look like it's in a romantic back alley, lined with small tables for parties of two to four.
We start the evening off with meatballs ($98), roasted mortadella ($98) and a beet salad ($88). The appetisers are gorgeous to look at – a medley of colours and shapes. And, on first taste, it becomes apparent that Motorino does meat extremely well. The balls, for example, are gently packed, taste superb and are excellently seasoned. They're braised in a thick and fresh tomato sauce, and, thankfully, that dried breadcrumb taste which often ruins this dish is not at home. The roasted mortadella, mixed with generous slivers of pecorina, tomato, onion and basil, is also a burst of fresh and robust Mediterranean flavours. The mortadella pieces are cured just right and go well with the crunchy vegetables. The salad is fresh but could do with a splash more vinegar. Not everything can be perfect.
The pizzas – what we're really here for, of course – come out even prettier. The brussels sprouts pie ($148) looks more like a Monet than a pizza, with bits of pink smoked pancetta, green sprouts, white pecorino cheese and dollops of black char on the edges from the wood-burning Ferrara open-fire oven. The soppressata piccante ($138) has its spicy soppressata slices looking like blooming flower buds. And the prosciutto di parma pizza ($148) deserves a crown in this pizza beauty pageant. Soft slices of prosciutto ham lie gently across the pie and pieces of basil fall over it all, as though they've just been plucked from the plant and have gently drifted over the pizza all of their own accord.
So the pizzas are works of art.
But what about the taste? Neopolitan-style pizzas are for a certain breed of tastebuds as the charred crust can be hard for some to enjoy. We like the prosciutto di parma pie as the saltiness of the ham balances out the scorched crust flavours and adds another layer to the dish while the meat sinks gently into the cheesy bread. We then dig into the sprouts and the soppressata offerings. The toppings are excellent on their own but they don't quite have the same holistic balance of flavours and textures as the prosciutto pie.
We end the evening with a sweet slice of tiramisu ($68). It's cheesier than the classic you find in Hong Kong restaurants – but it's still pretty good and a decent way to finish off.
Motorino does great meat and creates pieces of art on your plate. And the congenial service and snug vibe are bonuses too. Perhaps the pizzas haven't quite made the level of 'NYC's best pizza' yet, but it's still a great spot for a small gathering with its unpretentious and lively atmosphere. After all – every big city needs a decent neighbourhood pizzeria. Janice Jann
The bill:
Meatballs $98
Beet salad $98
Brussels sprouts pizza $148
Roasted mortadella $98
Prosciutto di parma pizza $148
Tiramisu $68
Total (for two) $786.00
Motorino 14 Shelley St, Soho, Central, 2801 6881; facebook.com/motorinohk. Open daily midday-midnight.
Details
Users say