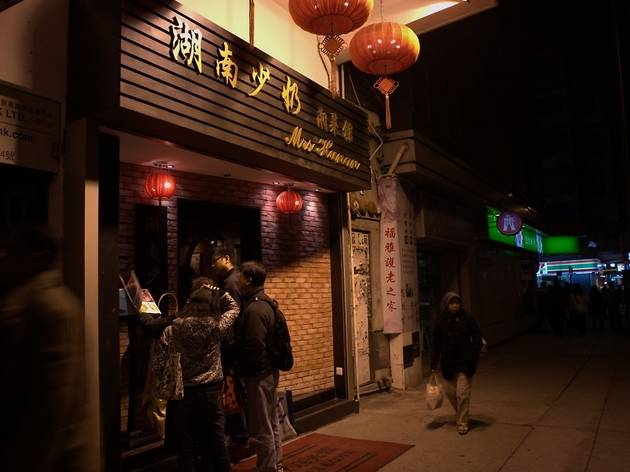 Hunan fare doesn't get proper representation outside of its provincial borders. All too often, restaurants lump Hunan together with Sichuan since both cuisines share a similar flavour pattern. But while Sichuan dishes are associated with that all-too-familiar, lip-swelling, numbing spiciness, Hunan food is known for its more direct and aggressively cutting fieriness. Essentially, it's the type of stuff that can make even a grown man cry.
Out to pay due recognition to this potent style of cooking is Mrs Hunan – a tiny new restaurant nestled amidst Kowloon City's myriad ethnic eateries and dessert shops. The space is modeled on the village cottages of olden day China, furnished with deliberately bucolic mahogany tables and red paper lanterns. The food leans towards the rustic too, with home-style dishes made with humble ingredients.
Most of the photos in the 20-something page menu are illustrated with small icons of chillies – cautionary reminders of the kitchen's liberal use of spices. We ordered a bowl of fern root noodles ($28) tossed with sliced fresh red peppers and plenty of vinegar for a bright, acidic kick. The slippery, dark brown noodles were served chilled with chunks of ice to take some heat off the raw spiciness, making it manageable as a starting course. We also felt obligated to try Hunan's famed spicy steamed fish head ($88). A somewhat unnerving dish to tackle for the inexperienced, the split-down-the-middle fish noggin was heaped with red peppers on one side and sliced yellow peppers on the other, creating a blanket of potent flavours that worked well with the fish's silky flesh.
Of all the fiery foods we tried, the biggest hell-raiser turned out to be the seemingly harmless plate of braised enoki mushrooms ($48). The dish arrived at the table with bunches of enoki piled into a barricade-like formation and sprinkled, like the fish head, with a dual of sliced red and yellow peppers. The pulpy shrooms soaked up the chilli essence like a sponge, making the dish almost impossible to eat without several rounds of ice-cold beer.
While Mrs Hunan's chilli-fuelled dishes provided a satisfying initial adrenaline rush, the repetitively robust flavours soon became too harsh for our palates. The braised enoki mushrooms, in particular, turned thirst-quenchingly salty near the meal's end after picking up too much of the soya-chilli sauce. Instead, we found the non-spicy dishes to be the true stars of the menu with their more intricate harmony of subtle flavours.
The restaurant's signature Hunan-style red-braised pork belly ($78) was among one of the best examples. Slow-cooked in a carefully balanced, herb-laced soya, Chinese wine and sugar sauce, the chunks of tender meat melted on the tongue, leaving behind sweet traces of umami pork fat. Spare ribs coated in glutinous rice and wolfberry ($58) fared even better. While the prospect of steamed meats doesn't sound particularly exciting, the delicate cooking transformed the cuts into soft, supple strands that fell clean off the bone. The pieces were steamed over a large lotus leaf which, along with the glutinous rice, penetrated the meat with a beautiful, fresh tea scent.
Mrs Hunan is a solid, well-seasoned ode to an oft-overlooked culinary tradition. And if you're scared you might explode into flames midway through the meal, at least you can easily put out the fire at one of the many dessert parlours in the area. Shaved ice, anyone?
Dorothy So
354 Prince Edward Rd West, Kowloon City, 2718 8033. Daily 11am-3pm & 6pm-11pm. Meal for two: around $220.
Venue name:
Mrs Hunan
Address:
354 Prince Edward Rd West, Kowloon City
Hong Kong


Do you own this business?