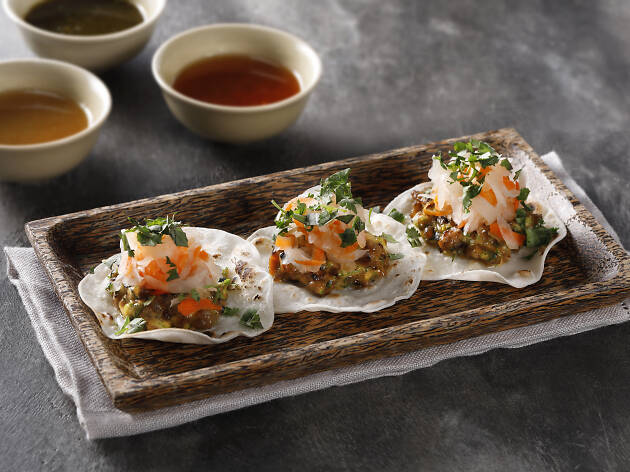 Time Out says
A hidden gem that offers Vietnamese food ideal for sharing over drinks
Inside many of us there exists a burning desire to connect with our roots. Most people will never fulfil that desire. Chef Que Vinh Dang, however, is not most people. Born in Vietnam and raised in New York, where he learned classical French cooking and cut his teeth under culinary icons Geoffrey Zakarian and Rocco DiSpirito, the chef has returned to his roots with his latest restaurant, Nhau.
Dang, for the uninitiated, was behind two popular but now defunct Hong Kong restaurants showcasing French techniques and contemporary American cooking: TBLS and Quest by Que. After closing Quest, the chef took a two-and-a-half-year hiatus from the dining scene before opening Nhau in 2019. Rather than reverting to the broad spectrum of Western flavours again, the chef looked to the country of his birth for a fresh angle. If that wasn't obvious in the name – Nhau translates to 'together', as in to eat and drink together – it should become clear as soon as you step foot in the dining room. From the rattan chairs and hand-painted ceramic tiles to the pastel yellow walls, a colour favoured by French colonialists, the design screams 'Southeast Asia'. The beautiful aesthetics, as well as the tucked-away location just off Upper Lascar Row, are pure bait for well-heeled socialites. Never mind the décor and crowds, though. The food transcends them all.
Nhau packs a lot of punch into a one-page menu. Sour, spicy, salty, funky, fresh – every dish captures that distinct blend of disparate flavours that makes Vietnamese cuisine such a favourite for so many. Just don't expect your basic beef pho or banh mi. Dang has dug a little deeper into the culinary repertoire, and when he does dip his toes in familiar waters, clever tweaks give generic favourites an edge. Take the banh mi rice tacos, for instance ($120). Forget the baguette. Barbecue pork, fresh herbs, pickled carrot and daikon rest on little tortillas made from rice flour. They're impeccable. So is the papaya salad ($140), which hides some serious bite beneath a small mountain of chopped herbs, chunks of prawns and sliced daikon and carrot, the cooling elements.
Dishes like the fried chicken ($160), meanwhile, remind you of what makes the food of Vietnam so special. The fiery sriracha sauce that comes with it cuts right through the fat and plays off the tender chicken breast. Like so many great Vietnamese dishes, it's designed to be washed down with a cold beer, of which there are several to try, including Nhau's own shandy, a lager infused with a stalk of lemongrass, some passionfruit and a few orange slices. Other standouts, like the grilled pork collar ($180), play off specific eating customs. Made to be eaten as a lettuce wrap, the sizable plate of sliced meat comes with sprigs of fresh Thai basil and mint, as well as rice noodles. The pork has the perfect crust, which gives the whole thing a hint of smokiness; add a splash of tangy nước chấm (chilli dipping sauce) to round it out.
It took a few months for the restaurant to get its liquor license, but it was worth the wait. The drinks are impressive (Nhau even has its own kombucha!). The signature cocktails riff on the classics with the use of Southeast Asian ingredients. Try the Pretty Devil Margarita, which uses tamarind purée, bird's-eye chilli and kaffir lime leaf to transform the standard tequila cocktail ($110). There's a solid wine list, too; Chardonnay is the chef's recommendation, as it plays off the spice and funk better than most other wines.
Yes, Nhau intends to capitalise on Hong Kong Island's spending power, so it's a bit more finely polished than your neighbourhood Vietnamese joint. But with the quality and depth of flavours to discover here, you'll swear that all that's missing are the plastic stools.
Details
Best selling Time Out Offers