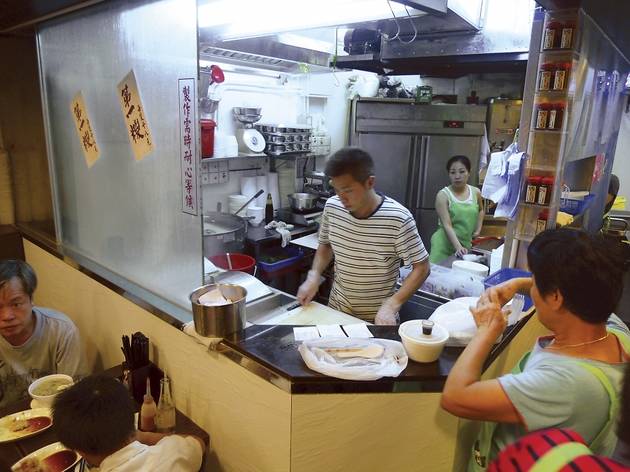 Time Out says
If you walk into Portland Street at Prince Edward's end, you will easily find a lot of different eateries. There's the Michelin recommended Wing Hap Lung, snake soup restaurants, wonton noodle stores... the list goes on. And now there's another restaurant to add to the mix that specialises in steamed rice rolls. The space is tiny, seating no more than 20 in a comfortably clean and bright interior. The main attraction is the semi-open kitchen where customers can watch clearly as the chefs work their magic.
The signature house rice roll ($15) was our first choice. The skin is smooth and thin, served extremely hot with plenty of rice flavour. The rolls are filled with Taiwanese braised pork and chopped, crunchy leeks. The pig liver rice roll ($15) is another popular choice. The fresh pig liver is thinly sliced, cooked just right with a crispy feel in the mouth, followed by a lingering, light, gamey taste. It was the star of our meal. The courgettes and mushroom rice roll ($15) comes with green fillings that were sweet, juicy and tasty.
The restaurant also serves other snacks on top of their rice rolls. The dark green colour of the salty pork bone congee with dried bok choy ($16) is a testament to its lengthy cooking process. The congee is quite watery instead of being creamy and thick. But the dish is vibrant with dried vegetable flavour and is cooked sans MSG. Steamed turnip cakes ($10) are done in real authentic style, filled with shredded turnips and a little glutinous rice flour for an extremely sweet and soft end product. The accompanying XO sauce is spicy and rich with the aromas of dried scallops. It's surely something that nobody should miss.
All of us were happily sated for less than $30 per head. No. 1 Rice Roll is a real bargain and a great place for a late night meal. KC Koo
373 Portland St, Prince Edward, 2380 7700. Daily 11am-11pm. Dinner for two: around $70.
Details
Best selling Time Out Offers