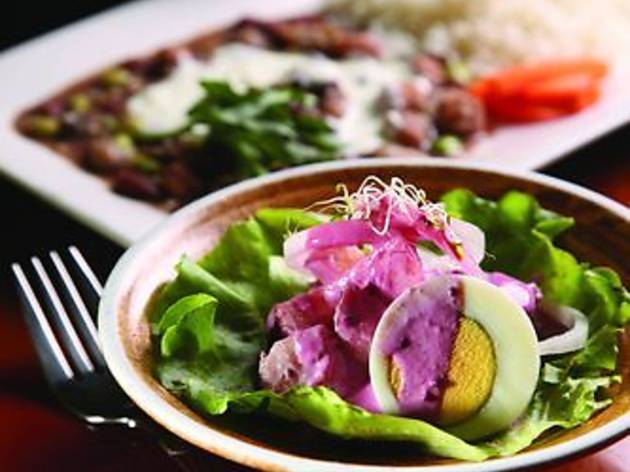 Time Out says
Sometimes, just sometimes, you have a dining experience that changes your life.
Through a series of Chinese whispers we'd heard about a new vegetarian café opening in Happy Valley, but no-one seemed to know exactly where it was. Then, one day, squeezed between shop fronts, we noticed a piece of cloth with the word 'o-veg' scrawled upon it – it pointed up the steep, shadowy steps next to it, a stairwell we'd never even noticed before. As we approached the first floor a shuttered grill lay on the right, while to the left was a white door, cracked slightly open. Slightly hesitantly, we pushed it open, and as we did, a beaming bespectacled face came into view: "dinner for two?", it asked. "Yes? Please follow me".
Not that we needed directions, the space was no more than 700 sq ft. The dining area occupied the vast majority of the open plan room, tiled white floors reflecting the white walls and white ceiling. This blank canvas was broken up by the high windows facing the street – adorned with a huge, green transparent O – and pieces of calmly-coloured artwork. The eclectic mix of furniture could accommodate around 16 patrons, though there were only four others in the room at the time. Meanwhile, to the left of the entrance was a raised lounge area accessible by staircase, and to the left of that, a semi-open kitchen, through which three chefs were partially visible. At this point the waiter returned, this time sporting a white fedora.
"Dinner tonight is eighty-five dollars," he declared. Explaining that the menu changed daily depending on what ingredients they had bought that day, he told us what we would be eating tonight: "First is pumpkin and ginger soup, followed by a garden salad, followed by a main of mixed beans, sweet potato frittata, and wild rice." Then, leaving us with the drinks menu, he strolled off to inform the chef of our wise selection.
Watching him leave, we noticed the shelves lined with organic products, with baskets below full of fresh produce including potatoes, carrots, corn and squash. Upon seeing our interest, the chef, sporting a larger black fedora – was there a hat-code we didn't know about? – came out from the kitchen to chat. His name was Steve, and, as it turns out, he used to be a farmer. Before opening up O-Veg, he used to spend his days in a field, growing organic vegetables under the hot New Territories sun. One day, helping a friend to move out of their Happy Valley apartment, he realised the space had all the makings of a perfect restaurant. Throwing up a few curtains to divide the open plan room; he exchanged his farm for the city. According to Steve, the mission of O-Veg is to show people that organic produce can be beautiful, and that a vegetarian diet need not be boring. And, after quietly explaining this, his raison d'être, he retired to the kitchen, and us to our seats.
Soup was soon served. It was soon gone – the simple blend of ingredients was simply irresistible. Next up, the most beautifully presented garden salad either of us could remember eating: shoots of cucumber sprouted out of a bed of lettuce, onion and carrots, with a creamy homemade vinaigrette. It was a shame to destroy its artistic presentation, but hunger called. Subtly accented with pepper, the dressing brought the slightest kick to the table – this, too, rapidly disappeared. Seeing our ravenous behaviour, the behatted waiter came into vision, and asked – bearing in mind we have never, ever been asked this before in a restaurant – "Would you like some more?" He went onto explain that diners could request second portions of any or all part of the set meal, as they didn't want anyone to leave hungry. We declined, wary of not leaving room for the main and dessert, yet somehow full from their act of uncalled-for altruism.
Then, as we enthused about all that had come thus far, the main course was served: a slice of sweet potato frittata; purple, red bean-infused, wild rice; and a side bowl of South Pacific-influenced (as Steve later told us) bananas, beans and carrots. The combination was simply divine, best described as comfort food that felt good for your body – all too often you're forced to sacrifice health for pleasure. After cleaning our plates, we enquired about the dessert menu. "Oh, well, there's no menu – but I can tell you if you like," replied Mr White Fedora. "We make whatever we feel like, and when it's gone it's gone," he carried on. "Tonight's desserts are chestnut cheesecake, mango cheesecake, fruit drizzled pancake, and chocolate mousse. Would you like to try them all?" At just $17 each, we were tempted, but decided to err on the right side of gluttony, ordering just one each of the cheesecakes, as well as masala and Angel Fragrance (a bouquet blend of lavender and osthmanthus) teas to round things off (also $17 each).
The chestnut was done in the New York tradition, a sumptuous thick, creamy top on a biscuit base, but not overly sweet like you'd normally expect; the mango, though, broke with tradition, piling a layer of fruit and cream on top of the same crumbly base. We enjoyed them so much we almost ordered the pancakes and mousse, too. Sitting back with our teas and reflecting upon dinner, we came to a realisation. Two avowed carnivores, one the granddaughter of a cattle rancher no less, has just spent three hours eating a vegetarian meal, and not once missed the taste of meat. This time, the words came out of my mouth: "If you," I said to my partner, "can cook as good as this every night, I will never eat meat again." Well done Steve, mission accomplished.
Simon Ostheimer
1/F, 9 Sing Woo Rd, Happy Valley, 2893 3037; www.o-veg.org. Mon-Sat noon-11pm, closed Sun. Meal for two: around $250.
Details
Best selling Time Out Offers