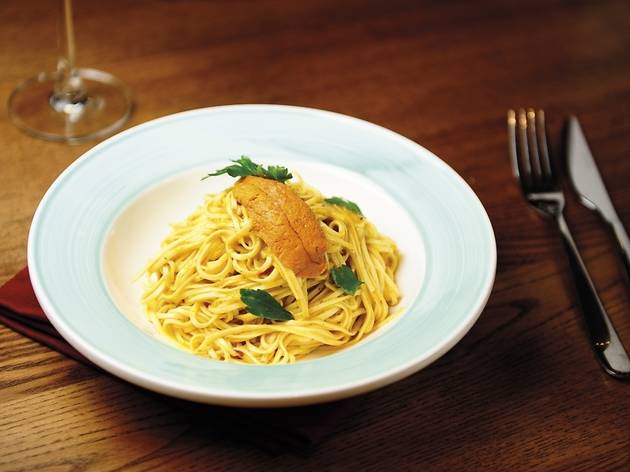 The small plates tradition – something that encourages communal eating and ample amounts of alcohol. Go easy on the drinking though if you're at Papi as this Italian restaurant comes without its own bathrooms (the staff will advise you to take the elevator down to the mall's third floor). But leaving plumbing issues aside and moving onto the dining concept, Papi does traditional Italian-Mediterranean fare served in designed-to-share cicchetti portions (the Venetian equivalent to Spanish tapas).
The majority of the menu is dedicated to small plates – a category which the restaurant subdivides into 'finger foods' and (only slightly) larger 'fork foods'. The Tuscan fennel salami with fruit chutney ($58) is a delicious starting nibble – sweet, salty and spicy with small specks of peppercorn bursting in between bites. Unfortunately, this level of flavour complexity is lost on most of the other small plates. Marble-sized handmade meatballs ($68) are tender but underseasoned. The oven roasted short ribs glazed in sticky balsamic vinegar ($68) fare better on flavour but come with despairingly little meat on each piece of bone. Sliced raw tuna ($98) is fresh but dull, even with the few briny olives that accompany the fish. A squeeze of citrus or a sprinkling of spice would do well to wake up the flavours.
Mains suffer a similar fate. The freshly baked prosciutto pizza ($178) looks promising, a huge serving with a shatteringly thin crust topped with red ribbons of Parma ham. The salty tang of the fresh tomato sauce, however, is completely lost, leaving the pizza tasting flat and lifeless.
Papi also plates up single-portion pastas, ranging from spaghetti carbonara to Tuscan pici with spicy tomato sauce. The handmade tagliarini is worth trying. The fresh, thin noodles are supple without losing that gentle, al dente bite. We love these delightfully eggy and delicately flavoured strands but it's a shame we can't say likewise about the limp slivers of sea urchin ($198) they're served with.
While the menu has several savoury setbacks, if there's one thing that prevents us from writing Papi off, it's the thoroughly delicious desserts. The panna cotta ($58) here is nothing short of amazing: a thick and creamy curd made from fresh milk and real vanilla seeds. The wobbly white pudding is crowned with fresh fruits – strawberries, blueberries and halved gooseberries. It's so good you might want to order seconds.
Papi may not blow us away but it's still a fun hang-out spot, especially given its super sleek fittings (light wooden tables, chic designer chairs and large blackboard displays). And while we're not in love with most of the menu, the beauty of the small plates system is that it allows diners to discover what they like and what they dislike. Maybe we won't return any time soon for the pizzas and meatballs here, but we can envision ourselves stopping by for a glass of wine, a plate of Tuscan salami and an order (or two) of Papi's delicious panna cotta. Dorothy So
Shop R011, Civic Square, 3/F, Elements Mall, 1 Austin Rd, West Kowloon, 2811 2681; www.papi-hk.com. Sun-Thu 11.30am-midnight & Fri-Sat 11.30am-late.
The bill
Tuscan fennel salami $58
Papi's meatballs $68
Oven roasted pork ribs $68
Sliced raw tuna $98
Sea urchin tagliarini $198
Pizza Porcini e Prosciutto $178
Panna cotta $58
Ten percent service charge $72.60
Total (for two) $798.60
Venue name:
Papi
Contact:
Address:
Shop R011, Civic Square, 3/F, Elements Mall, 1 Austin Rd, West Kowloon
Hong Kong


Do you own this business?