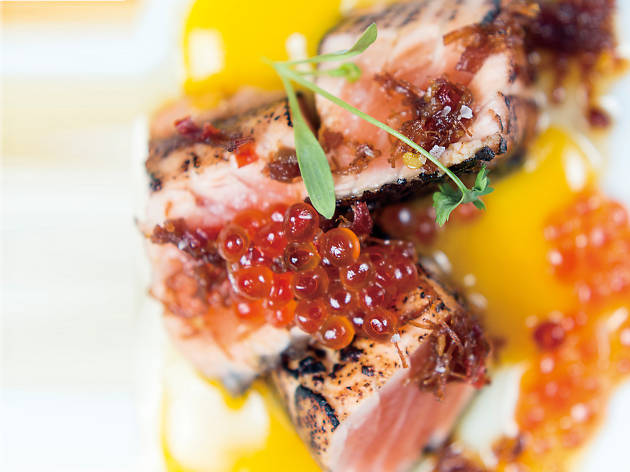 You may know chef David Laris from his cool Australian bistro, Bellbrook, which served kangaroo steak and other Aussie delights. But not many remember Laris – the short-lived contemporary restaurant housed at the very same location as Bellbrook. Now that Bellbrook is also a thing of the past, Laris has switched to the hippest locale in town, LKF's California Tower, keeping the menu relatively straightforward with a simple steak and seafood concept. Full-panelled windows, marble tabletops and a modern ceiling installation echo the colour scheme and feel of the former Laris, but with more refinement, and on the menu are some serious meats.
For starters there is lobster, oyster, salmon, scampi and a gloriourous sounding torched Scottish salmon with keta caviar ($168). Unfortunately, the salmon is a bit of a let-down. The flavours mirror many a seared salmon sushi at any Japanese restaurant, and the accompanying poached egg fails to add much to the texture or taste. All it does is give us a hankering for a simple seared salmon sushi.
For the main, we splurge on the porterhouse steak ($1,108) to share with our dining companion, and it's superb. The cut is perfectly lean with a tad of fat to enhance its beefy aromas and when paired with truffle butter ($38), this is amplified three-fold, brought on by the earthiness the condiment supplies. Like a true steakhouse, hearty sides are on offer and we plump for the maple-glazed cardamom carrots ($68). The carrots are tender and sweet, while the extras take a backseat and let the vegetables shine for themselves.
The dessert menu is a small assortment of dark chocolate mousse, pavlova and cheeseboard. We plump for the mousse ($98), hoping to be surprised. It arrives thick and luscious and served with a medley of berries to cut back on the richness. It works well, we just wish there was something to add a little oomph to the plate.
The meats are exemplary at this steakhouse, but we've seen chef Laris be far more inventive in his previous venues, and we'd love to see some of that injected into the starters and desserts here. Porterhouse by Laris is a solid choice for anyone looking to satisfy their carnivorous cravings in a sophisticated atmosphere, though a dash more Aussie daredevil spirit wouldn't go amiss.
Dinner for two: $1,500.
Venue name:
Porterhouse by Laris
Contact:
Address:
7/F, California Tower
30-36 D'Aguilar St, Central
Hong Kong