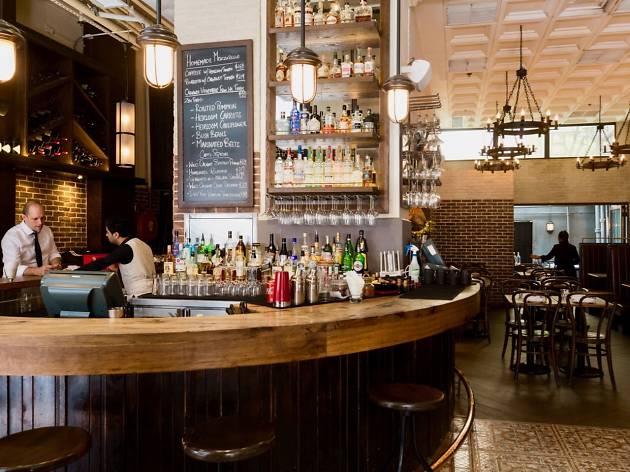 1/2
Photograph: Courtesy Posto Pubblico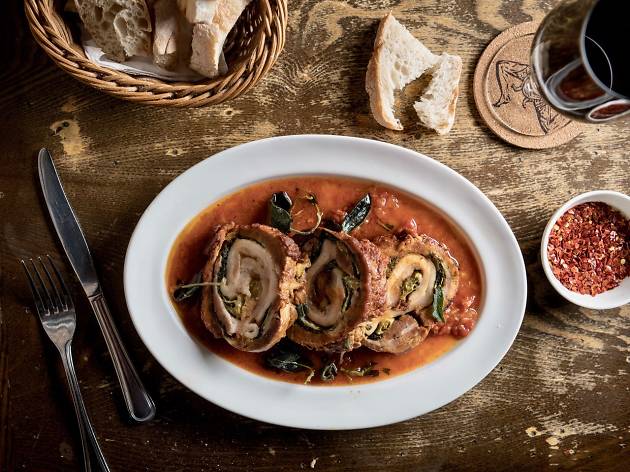 2/2
Photo: Callaghan Walsh
Posto's Pork Braciole
Time Out says
Longstanding New York Italian favourite in the heart of Soho
The airy bar eases you into the evening you as soon as you set foot in the door. It has higher ceilings than we thought possible in Soho, creating easily the best design flow in the area. The combination of high-back booths and tables set around a U-shaped bar that encloses the open kitchen gives diners plenty of choice between a semi-private meal or a more raucous, dine-at-the-bar experience.
We have seen plenty of new places open on the faddish organic premise, but the organic and locally grown focus is as much about flavour as it is about doing the right thing by your liver. The roasted vegetables remind you what vegetables are really supposed to taste like: earthy and packed with natural goodness. This reminds me of what my pop used to pull from the garden. The pepper tasted of pepper, and carrots tasted sweet, naturally.
As for mains, the 'chicken Francese' ($190) is an inside joke for the boys behind this operation who are from Brooklyn and New Jersey. It was a dish revived from memories of badly catered weddings. The well-balanced lemon-butter coating dressed the lightly-battered chicken nicely, and served unceremoniously with field mushrooms.
The wine list is well-considered for a Soho restaurant, with most regions and price points covered, but with France pretty much left off the list, intentionally. It is filled with boutique and cult wines.
It's important to note their no-service charge policy. When it comes to tipping, it's "whatever you feel reflects the meal". And we felt they deserved a solid one.
Ben Hoad

28 Elgin St, Soho, 2577 7160.
Daily noon- 11pm. Meal for two around $600.
Details
Best selling Time Out Offers