Prime Steak House (West Kowloon)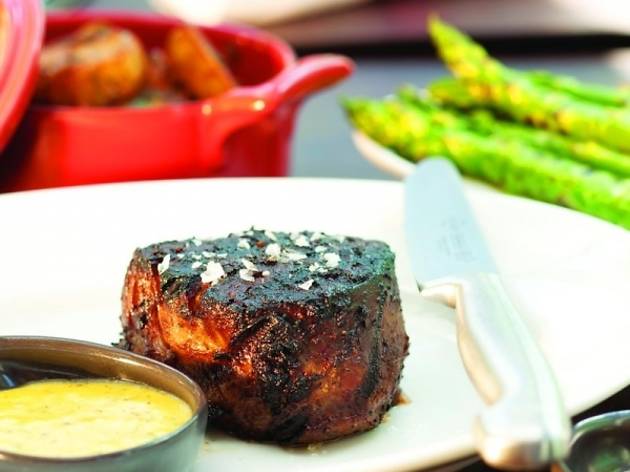 Time Out says
Bistecca arrived at a time when people were searching for a compromise between austerity and lavishness, and when it suddenly became a little uncouth to throw money around while ordinary folk were losing their jobs and scaling back on basic consumption. But Hong Kong being the beast that it is, we still needed to have small feedings of luxury even when times were tough. We wanted good, decadent food and wine without the valet parking, the 'Sirs', or having our shoes polished. That was the compromise.
Enter Bistecca, the place that took away the tablecloths, but kept the decanters. It was part of a breed of new restaurants offering a third option to the dining public: a casual, fine dining experience. Put another way: gourmet without the ta-da of silver dome covers.
If you don't know how the story goes, Bistecca is booked out most evenings and has become the premiere restaurant in the Dining Concepts' portfolio. The next logical step would be to replicate its success in different locations. Their latest project, Prime, on its own merit, without any legacy, is simply a great steak house. And if restaurants are the embodiment of their owners, this place is a modern, stylish man. The dark wood interiors of the upstairs lair are lit by flickering candles, accompanied by soundtracks that range from Nas' Bridging the Gap to a Bossa Nova version of Marcelo Rezende's Bizarre Love Triangle.
Here, steaks and oysters on great ice platters are served on recycled wood tables (without the starchy tablecloths,) and you are encouraged to eat most of the starters by hand. (Perhaps the Masters of the Universe are 'going native' after all). Meanwhile, Bolivar #2 cigars and port can be enjoyed al fresco after dinner. If restaurants were apparel this place would be a made-to-order Tom Ford suit.
When we visited the food was served ceremoniously on chopping blocks and wooden pie catchers. Even the chips-and-dips bowls were made of wood. The seared foie gras came in a rustic clay pot and sat caramelized on a bed of sautéed grapes, apples, cherries and pineapples ($138) – a take on the classic combination of fat and acid with a sweet aftertaste. Very nice. The hamachi with citrus soy avocado and chili ($138) felt strangely like one served at the now closed Union J. A tumbler glass held a multilayered tangy cocktail sauce, while cubes of raw hamachi and avocado were an innovative take on the classic prawn cocktail, but one we truly enjoyed. The hamachi was a nice chilled bite of smooth fatty flesh. The avocado was all creamy velvet and freshness, while the chili cocktail sauce gave the dish real flavour. However, one piece of advice is not to let the cocktail sauce on the bottom of the cup overtake the rest of the ingredients when mixed, as more often than not the flavours can be lost along the way.
The steaks: a 12oz USDA Select sirloin ($198) and 8oz USDA tenderloin ($258) appeared undressed on a white plate. Not even a sprig of parsley as basic garnish. Both were heavily seasoned, ordered medium rare and evenly thick throughout. The tenderloin had the surprising taste of pastrami, and the meat was evenly cooked, most likely in a sous vide to an exacting temperature then seared quickly on a hot grill for a mahogany crust. The sirloin came out best as it had all the elements of burnt fat from the grill, an uneven, fibrous texture and, in this tenderloin versus sirloin battle, just more fun for the taste buds.
The gorgonzola burger ($108) would've been great if they had done two things: lost the crappy bun and served it hot. The meat itself was most likely ground or chopped as silver skins and muscles were still attached, but it was well matched with the blue cheese and onion jam. And what can we say about the bun? It was thick and very, very white. But it was the temperature that made us almost send it back. It was lukewarm. Hot lamps would have been a good idea.
For me the enjoyment of a meat-based dinner has always been the vegetarian sides. I could've ordered every one of them from the menu as the descriptions sounded like food porn: broccoli with hazelnuts, jumbo asparagus, potatoes mashed with Emmental cheese. Eventually we settled on three: sautéed garlic mushrooms ($48), glazed carrots Nantes ($48), and the classic mac and cheese gratin ($68). The carrots were simply boiled then tossed in too much butter and the mushrooms were perfectly fine, if slightly dull. But if we had to choose one dish that remained in our memory banks long after the meal, it would have to be their mac and cheese gratin. The secret was high quality French cream and lots of it, on top of a thick layer of a cheddar-mix cheese which oozed with the all-surrounding cream and penne underneath.
Frankly, all of this decadence works well in our new frugal-chic era. We want to be wined and dined no matter where the index is that day, and we want it to at least appear as if we're being modest. Here you can have an expensive steak and not worry about looking like a merchant banker, even it means spending like one.
Angie Wong
Shop R008 3/F, Civic Square, Elements Mall, 1 Austin Rd West, West Kowloon, 2311 3108. Mon-Fri noon-3pm 6pm-10.30pm, Sat-Sun noon-midnight.
---
The bill
foie gras with fruit $138
hamachi and citrus soy
avocado and chili $138
12oz USDA Select sirloin $198
8oz USDA tenderloin $258
gorgonzola burger $108
Sautéed garlic mushrooms $48
glazed carrots Nantes $48
classic mac and cheese gratin $68
10 per cent service $105.20
Total $1,157.20
Details
Best selling Time Out Offers