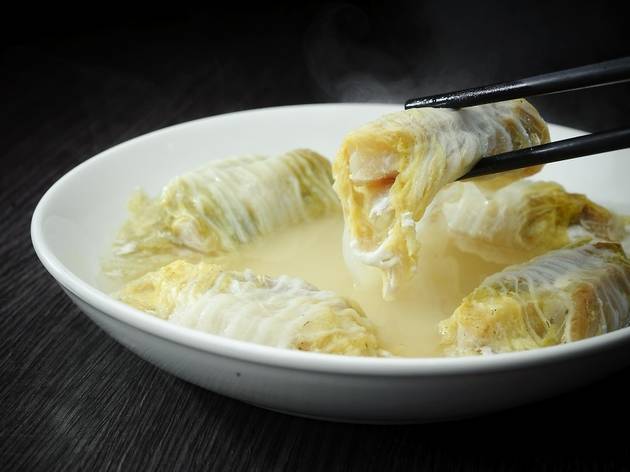 Time Out says
Some of the best things in life happen after nightfall. Think primetime television, happy hour and great dinners at private kitchens. Ng Wing-ho – the man behind Red Kitchen – can vouch for this. Known for whipping up reservations-only Hakka meals in Yuen Long's brick house flea market, Ng recently relocated his operation to a former cha chaan teng space in Cheung Sha Wan. While lunch menus are available upon request, dinnertime is when Red Kitchen really comes alive.
Menus are all nine-courses deep, ranging from $200 to $350 per person. Dishes fluctuate according to Ng's whims and are all crafted from carefully selected ingredients. There's the chilled appetiser built from slippery, gelatinous sheets of sliced fish maw resting on a bed of crisp, fresh cucumbers. The flavours are refreshingly clean, perked up ever-so-gently with a touch of sweetened rice vinegar. This sets the stage for more substantial dishes, like fist-sized US oysters, which are deep-fried to a crisp, golden crust. The centres are plump and briny with a delectable creaminess near the belly of the mollusc. These are served with spicy salt on the side but could easily do without. There's also a dish of stewed pork belly made with cuts that are closely connected to the lung. Cooked in red fermented bean curd, the meat is permeated with a brackish zest. It's still a little tough, which is why we prefer the accompanying bean curd sheets, which are fully soaked in the rich and pungent sauce.
And though this isn't any sort of fancy restaurant, the waiters are as hospitable as if they were throwing their own dinner party. They explain the dishes thoroughly, even going through the multiple health benefits of the daily slow-simmered soups. On the night of our visit, an ink-black broth spun from lingzhi mushrooms, Chinese foxglove and lean pork appears intimidating in its heavy pot but the sweet, greaseless flavours (and the supposed medicinal effects) more than make up for its lacking appearance.
What will really blow you away are the cabbage rolls that come from the kitchen. They're filled with boneless white fish, abalone mushroom and a slice of smoked meat. It's a chorus of sweet, savoury, meaty flavours bundled up into neat, intricate packages and served in a clear superior broth. This is our hands-down favourite dish, closely followed by Ng's signature stuffed duck – a whole bird that's deboned and plumped up with glutinous rice, chestnuts and salted egg yolk. The fowl is blanched in oil to give it a glossy sheen, then gently steamed until the meat becomes tender and tears away in delicious, soy-marinated strands. It's a hard dish to beat and the following giant prawns suffer because of this. Smothered in herb honey, these carry plenty of flavour on the shell but are a touch overcooked, leaving something to be desired especially after the perfectly succulent duck. The final savoury dish to grace the table is redeeming – thick slices of tofu coated in dried shrimp roe and served on a bed of crunchy baby bok choy. It's simple, homestyle fare churned out as a perfect closer to the multicourse feast.
You'll be way past full by the end of the meal so take our advice and remember to save room for Ng's red date cake. It's fragrant and fluffy with a texture that falls between a sponge cake and a glutinous Chinese pudding. You won't want to miss this. Heck – you won't want to miss most things on this menu. Dorothy So
542 Fuk Wing St, Cheung Sha Wan, 6769 0299 & 9094 0584; www.yl.hk/rk. Daily 11am-11pm.
The bill
Set dinner menu x2 $200pp
10 percent service charge $0
Total (for two) $400
Details
Best selling Time Out Offers