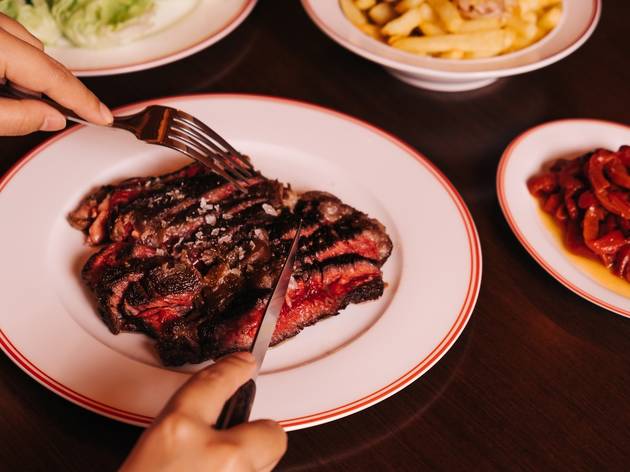 Time Out says
Hollywood Road Spanish restaurant brings meaty tastes of northern Spain to the table
There's something about steak that captures the imagination of us meat lovers like nothing else. Perhaps it's a primal, insatiable lust to devour meat in its most unadulterated form, or maybe our obsession lies in appreciation of the art form, the majestic simplicity of a steak laid bare and denuded of any peripherals to hide behind.
Whatever it is, one thing's for sure – while some of us can achieve near-restaurant quality at home with our clutch curries, stir-fries and spaghettis, to sear a steak like the pros is a formidable task. With this in mind, those of us with a carnivorous streak will welcome Rubia. This new Central Spanish steak and tapas restaurant is certainly one for the visit list when the current situation surrounding the coronavirus improves.
Forget your Angus, Hereford or even Wagyu, Rubia specialises in beef from northern Spain, including an exclusive beef called Rubia Gallega, or Galician Blond. This is a unique breed of bovine reared on the verdant hills of Galicia in northwestern Spain. The cattle interestingly aren't slaughtered until as old as 17 years – that's pensioner age in cow years – which is different to many parts of the world where, in the interest of tender meat and beefy profits, cows become steaks just a few years after tasting grass. The result is a Spanish beef of unique taste and texture that in the past decade, has been lauded by food critics the world over.
As for the restaurant itself, it's split into two levels. The ground level takes the form of a shadowy taberna that wouldn't seem out of place in a languid village square somewhere in northern Spain. Down here patrons can scoff on traditional bar snacks like anchovies ($65) and iberico ham ($140) and slurp on fruity, full-bodied sangrias ($70 per glass) to their heart's content. The extensive drink menu also boasts all manner of liquors, and a well-curated list of wines (starting from $70 per glass) from Spain and other regions across the globe.
Trundle upstairs, and you'll arrive in the main dining area, which is replete with dark wooden furniture and a coral-coloured ceramic ceiling. Low lighting compliments these features to imbue the place with a romantic ambience that screams date night! The menu is simple to follow, and after the staff explain the dishes and house recommendations – which is done in a very informative, if ever-so-slightly pushy manner – ordering is as easy as uno, dos, tres.
Before getting onto the steak, the menu's tapas options range from oysters ($65) to tuna tartare ($180), but the huevos rotos ($73) is a good place to start. This dish is ubiquitous throughout Spain with many variations, and here at Rubia the broken eggs seep oh so satisfyingly over fried potato chunks and pieces of morcilla. The spuds are straight-from-the-pan crispy, and packed with flavour to make them dangerously moreish. The morcilla – of which more, much more, would have been welcome given how delicious it is – adds a crumbly dimension and some subtle spice to the mix.
Another tapas hit is the octopus gallega, which utilises northwestern Spain's famous-for-quality seafood on a bed of potato cream. The octopus is cooked just right – tender and not overly chewy – and pairs excellently with the wispy softness of the cream. A generous sprinkle of pimenton finishes this dish, infusing it with an all-important peppery kick that sends the taste buds packing on an epicurean journey to the rugged Galacian coast.
Aside from steak, Rubia also does other mains like burgers ($185), spring chicken ($250) and the alluring black fideos and Spanish king prawns with aioli ($350). For this plate, the Spanish noodles are dyed with squid ink to make a dark, bouncy bed on which the incredibly meaty crustaceans lie, ripe for the picking. A pro tip here is to squeeze the heads of the prawns to release squirts of salty brain juice – we promise, it tastes better than it sounds – in order to elevate the flavour. No complaints about the prawns and the aioli, which hits the essential creamy, citrusy notes. As for the noodles though, despite having a decent texture and flavour, they're undeniably oily and risk making the dish overly stodgy.
Time for steak, of which there are two headliners – the 250g boneless rib eye ($480) and the 200g tenderloin ($495). Delivered to the table accompanied by decidedly understated plates of piquillo peppers, greens and potato chips, the presentation seems a little, well...underwhelming. Sure, we don't need the pomp and ceremony of a King Felipe procession trumpeting around our table, but somehow the delivery lacks inspiration. Luckily though, this completely and unequivocally belies the taste of the meat itself.
True to Rubia Gallega's reputation, the steak is incredibly flavourful, with a taste that borders on gamey but then mellows to give the taste buds robust yet smooth beefy notes as the meat goes down. What's more, the chefs evidently take care to prepare their steaks using the traditional Spanish method of cooking the meat slowly at a low temperature on the skillet, as opposed to fast and high as is common in most modern steakhouses. The result is a steak that is crispy on the outside and almost raw on the inside. Add to this the patatas fritas, which – as with those in the huevos rotos – are fried to perfection in top-notch olive oil, and you have a quality steak dinner.
Overall, the steak at Rubia isn't the most tender, but then again Rubia Gallega was never meant to be. What can be said is that the standards are high, and the prices aren't too outlandish in the context of our city's sometimes exhorbitant steakhouse scene. We do wonder though if the meat's distinct character will stand the test of time with Hongkongers, or whether Rubia will only find favour in the long run with steak aficionados looking for something that is otherwise hard – if not impossible – to find in these parts. What can be said with certainty is that the atmosphere and selection makes Rubia a pleasant location well worth a try for couples and friends alike.
Details
Address:
UG/F and 1/F, C Wisdom Centre, 35-37 Hollywood Road
Central
Hong Kong


Contact:
Opening hours:
Mon-Fri 12-10:30pm, Sat 11am-10:30pm
Do you own this business?
Best selling Time Out Offers