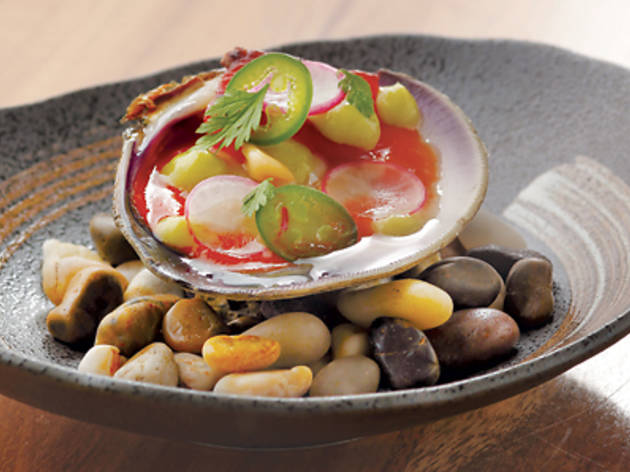 Time Out says
A street down from Soho and a world away in its scope, Saam is a new international kitchen opened on Graham Street that leaves nothing – or perhaps everything – to the imagination. Meaning 'together' in the language of Afrikaans, this ethos shines through the venue which focuses on communal multicultural dining, a cosy wood-tone space with an upfront-and-social service.
We begin our journey with an irresistibly infused vodka parmesan cocktail ($120). Mixed with tomato water, oregano and an olive for good measure, it's a canapé lover's dream in liquid form and we're instantly hooked. There's similar creativity in all the food offerings. Flavours from Asia, South America and Americana all find their way into fusion plates designed to share.

Beef tartare
We begin with two of the smaller plates: clam ceviche ($58, pictured top) and beef tartare ($78). Despite the inclusion of jalapeños in the ceviche and kimchi in the tartare, both lack the punch we had hoped these spicy starters would carry. With such bold recipes, we're left feeling the kitchen has erred on the side of caution. Our midway point, though, the KFQ (Kentucky-Fried Quail), is a well-prepared rendition of the classic with a clever switch of ingredient. Changing chicken to quail gives the deep-fried experience a tender and juicy finesse that charms.
Mixed feelings accompany our mains choices. We try the saffron tagliatelle with crab ($188), the pork cheek ($218) and the abalone-veal tongue salad ($258). While the pasta and iberico pork fall flat – and here we blame lacklustre preparation rather than the run-of-the-mill recipes – the abalone salad is delightful. Mixed in with stem lettuce, the pâté-like quality of the veal tongue alongside a bouncy abalone provides the kind of sensory contrasts that are needed to sustain plenty of interest all the way through to the greens.
To round things off, we dive into the most unusual of the dessert options: the semi-frozen yuzu curd ($258). Artfully presented, we enjoy the creative mix of nibbles decorating the plate, including caramelised banana slices, rice paper, coffee crunch and grapes. The yuzu curd itself is an aromatic voyage to Japan on the palate, reminiscent of cheesecake in the best of ways.
Despite some bumps in the road, there's ingenuity here and if the heart can match the ambition of each dish, we believe Saam can certainly get it 'together' and become a prime city eatery. Li Meng de Bakker

Saam 51 Graham St, Sheung Wan, 2645 9828; saamhk.com. Dinner for two: $850.
Details
Best selling Time Out Offers