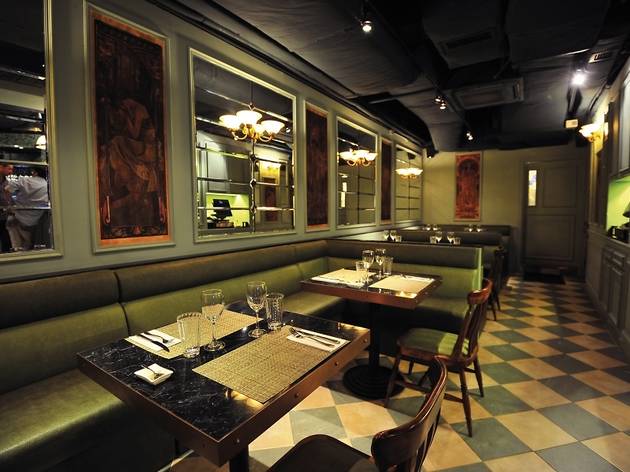 One of the biggest joys of eating at Saint-Germain is watching the dining room slowly transform from a quiet, early evening supper joint to a fully packed and bustling brasserie. Opened by the guys from Pastis, the Happy Valley restaurant looks straight out of La Belle Époque. During peak hours, the space becomes dominated by conversations coated in heavy French accents. It almost feels like Paris, especially with the vintage posters and scrolling arm wall sconces that adorn the mint coloured walls. A long marble-topped bar sits right by the entrance, lined with counter stools for those who prefer a casual snack and drink (it's BYO until the liquor license kicks in). Near the back of the room, a handful of spacious leather booths offer a little more privacy and temporary respite from all the buzz and clamour on the main floor. It's unfortunate that the spotlights shining over these seats get pretty warm after a while. Be prepared to order several rounds of cold Acqua Panna if you score a table here.
In the kitchen, Saint-Germain's food philosophy doesn't stray far from Pastis and the menu is kept to a simple double-page spread of timeless French dishes. Escargots de Bourgogne ($75) served out of their spiral shells are decent morsels smothered in parsley and garlic. But the real attraction is the little pools of liquid gold butter left behind in the grooves of the escargot plate. It's delicious stuff when sopped up with bits of crusty baguette.
For mains, expect big and boisterous plates of simply prepped provisions. The prime rib ($950) – a blackboard special – is a hefty 1.1kg helping of beef served on a wooden chop board stained with meat juices. The steak is well-browned on the surface and comes carved into thick slices to reveal a brilliant, medium-rare centre. There's a bit of gristle on the meat but the overall cut is tender, brimming with fat and flavour. The accompanying bowl of homemade fries is addictive – roasted skin-on and seasoned with just a light hit of sea salt. The plat du jour also includes a generous side salad composed of leafy greens, walnuts and halved figs blanketed under a drizzle of tangy balsamic vinaigrette.
In another main, slices of roasted lamb short loin ($220) arrive fanned across the dish, gently dressed with meat jus from the pan and flecks of cracked peppercorn. In a nod to rustic, Provençal cooking, the gamey meat comes with a side of mealy panisse fries and eggplant 'caviar' (a baba ghanoush-like concoction of roasted and puréed aubergines and fresh lemon juice). It's comfortingly fuss-free cuisine done the French way.
To cap off the meal, Saint-Germain offers four different sweets as well as an assorted cheese plate. The sugar crust on the crème brûlée ($60) spreads a little too thin to shatter satisfactorily but the custardy centre is pure deliciousness – smooth and creamy and speckled with dark dots of fragrant vanilla. The dense chocolate cake with pecans ($75) is a whole other level of indulgence, especially when eaten with a scoop of vanilla ice cream. But it's the apple tart ($70) that scores highest with its buttery, flaky pastry base that's covered with thin sheets of apples and dusted off with cinnamon.
Saint-Germain doesn't plate up the best French food in town but it does do some of the homiest. Though Happy Valley may be miles away from Montmarte and Montparnasse, this charming brasserie has managed to bring a taste of Paris to the quiet neighbourhood. Dorothy So
1A Wong Nai Chung Rd, Happy Valley, 2836 6131. Tue-Sun noon-midnight.
The bill
Parsley and garlic butter snails $75
Prime rib $950
Vanilla crème brûlée $60
Apple tart $70
10 percent service charge $115.00
Total (for two) $1,265.00
Venue name:
Saint-Germain
Address:
1A Wong Nai Chung Rd, Happy Valley
Hong Kong