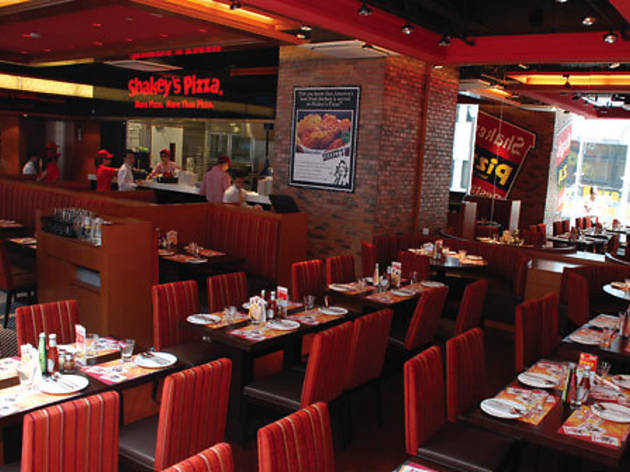 Time Out says
American pie

With king lobster, short ribs, grilled halibut and mussels on the menu, you'd be forgiven for thinking you'd walked into a fancy diner. Far from it. This is just a sampling from the menu at Shakey's Pizza.
The atmosphere mirrors other chain-dining experience – bright and festive, amply branded, with murals of happy diners enjoying the Shakey's experience.
You could eat here every day for a month and not make a dent in the massive menu, which includes such American favourites as nachos, wings, ribs, meatballs, and pastas. And then of course, there's the pizza.
Before diving into the signature main, we ordered the Shakey's mojo (seasoned, battered, fried potato slices) for $35, two pieces of fried chicken ($38), and a half rack of barbecue back ribs ($58). The potato slices were perfectly fried and were a cross between a homemade potato chip and a potato skin. The crust was coated in fragrant rosemary and the creamy potato filling was quite toothsome. The ribs had a strong pork flavour, which was unfortunately their only positive attribute. They were tough and fatty and far from fall-off-the-bone. We're assuming they were simply thrown on the grill for a short period, not given the slow-cooked love that true barbecue ribs deserve.
We were told the fried chicken would take 20 minutes, which was a good sign because it seemed likely to be fresh fried. Two large pieces of white-meat chicken were delivered to the table – well worth the $38 price tag. Dark meat is our preference when it comes to fried chicken but the white meat held up well and was served piping hot and moist. The batter wasn't greasy and clung nicely to the chicken, but lacked that wow factor.
Shakey's claims it has been kicking out thin-crust and hand-tossed pies since 1954, so we decided to put that experience to the test and ordered one of each. Our thin-crust came with chorizo sausage, jalapeño and onion. Listed on the menu as the "Firehouse", it was described as "Hot! Hot! Hot!" and lived up to its billing. No crushed red pepper needed here. The crust was cracker thin but sturdy enough to handle the toppings, and nicely browned. The chorizo had a beautiful zing and the jalapeños appeared roasted, not canned. The nine-inch-size pie is perfect for one person.
The menu has pizzas as zany as the peach-and-duck (surprisingly good), but we thought the best way to judge a pizza joint was by its pepperoni pie. It was good, borderline great. The cheese-to-crust ratio was spot on, but the pie could have used more sauce. The pepperoni was of the supermarket variety, not that there is anything wrong with that. The mozzarella had a strong flavour unlike the processed cheese at other places around town. The upskirt on the crust revealed a nice brown char and had a tasty yeasty flavour.
Shakey's makes a welcome addition to a scene sorely lacking in quality pizza. Based on our experience we'd stick to the pizzas and salads and maybe mix in a fried appetizer or two. While not an artisanal pizzeria by any stretch, it beats the other delivery and chain spots around town hands down. We'll leave it up to you to try the lobster.

Rex Gregg
2/F, 11 Stanley St, Central, 2525 3030, and citywide. Daily 11.30am-11pm. Meal for two: around $300.

Details
Best selling Time Out Offers