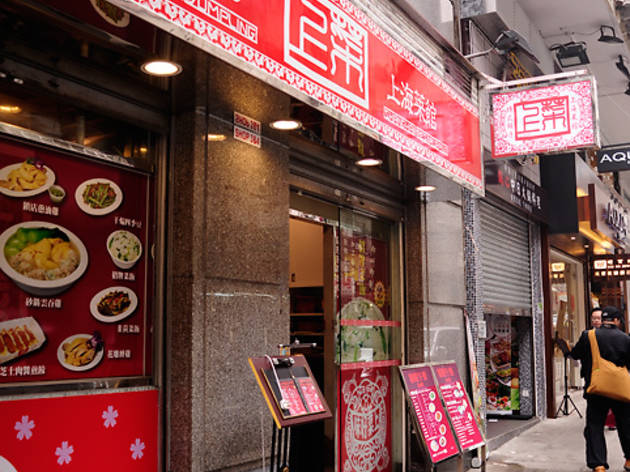 Time Out says
Shanghai food is a beautiful thing. So when you mess it up, it doesn't sit too well with us. As much as we wanted to support Shang Cai, it's committed this culinary offence.
There are some aspects to the restaurant that we admire, like the décor, which pays tribute to the Chinese paper cutting tradition. The space almost feels like a miniature folk art gallery with all the elaborate floral doilies and cut-outs of the Asian zodiac. But we only wish they could have spared some of this creativity for the food.
Chilled mung bean noodles with shredded chicken ($28) comes blanketed under a sesame-peanut sauce. It smelled promising on arrival but lacked any textural complexity (julienned cucumbers would've been a nice, crunchy touch) and the monotonous mush was tedious to plough through after a few bites.
But it's the xiao long bao ($24/four) that fared the worst. We were willing to forgive the dumplings' unappealing irregularity. But it was difficult to ignore the stodgy dough, which arrived botched and broken on the bottom with the soupy insides leaking out. The pork filling melted on the tongue but the meat didn't have any discernable pork flavour. Surprisingly, the fusion dumplings worked better than the traditional ones. Pan-fried dumplings filled with meat sauce and cheese ($22/five) tasted like cannelloni Bolognese. It was an interesting effort at least, even if not awe-inspiring.
There were other decent dishes, like the sweet and sour spare ribs ($58), coated in a tangy, crunchy batter. But overall this is one place we won't be revisiting anytime soon, no matter how pretty the artwork. Dorothy So
Shop 3-4, G/F, 56 Parkes St, Jordan, 2375 6887. Daily 8am-11pm. Meal for two: around $200.
Details
Best selling Time Out Offers