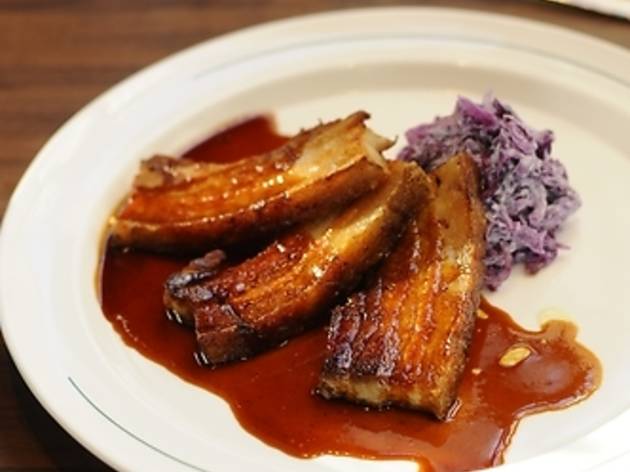 Time Out says
SML may make you feel guilty. Not for overeating (all dishes are available in small, medium or large sizes), but for all that stuff you never got around to doing. The dishes on the menu are all the recipes that look so good in Delia Smith's or Jamie Oliver's or James Martin's cookbooks, but which you never got around to making, served in gleaming white pottery of which Nigella Lawson would approve. The interior is like the house you wish you lived in, but never got around to sorting out: that translates to floating bookshelves, twinkly tea candles, wide blonde oak floorboards, and a huge terrace on which to entertain 100 of your best friends.
Creating food with atmosphere is what the guys behind The Pawn and The Press Room do well, very well. SML is their first foray into catering for the shopping mall crowd, so they've pulled out all the stops to make this work by offering an affordable place for mallrats to rest their feet. The space is divided into three parts: a section with extra-long communal tables where they do not take reservations; a separate dining room that does take reservations for those who like a little extra elbow room; and an outdoor terrace overlooking Times Square. We prefer the communal tables as they are a fun way to dine while eavesdropping on others.
The menu carries modern comforts that will excite fans of the Asia Food Channel: lasagna with the bubbling cheese served in single portion casseroles; a small mountain of spicy meatballs resting in a slow-cooked plum tomato and onion stew; and steaming risotto with saucy braised oxtail.
The menu is heavily Latin accented, and that's where we started: beef carpaccio with rocket, parmesan, and truffle oil (small $29). The carpaccio was served room temperature with a shaving of parmesan and small teepee of rocket drizzled with truffle oil. In four wonderful bites, it was gone.
Because everything came in various sizes, we were able to try out a number of dishes. A rattling of our favourites: pork belly with red cabbage coleslaw (crispy-chewy skin to die for, small $41); seared seabass with salsa verde (again, great crispy-chewy skin and soft, sweet flesh, small $42); spicy carrot salad (the Southeast Asian dressing won us over; a great side, small $11); and the baked mac and cheese with cauliflower (we liked the combining two traditional dishes in one, small $38).
The risotto with braised oxtail (small $45) is lovingly slow-cooked, and falls off the bone at a fork's touch, but the risotto was slightly dry. The beetroot salad with feta (small,$24) needs some rethinking. Beetroot itself has a very gentle flavour and the taste, or lack of, was not helped with a small crumble of mild feta. A little acid perhaps, even salt, would do this dish some good. The description of the spicy meatballs are a little deceiving. Though chillis were spotted, there was little to no heat in this dish.
Good for some, disappointing for those ordering this for a sweat. We thought the meatballs could also benefit from a bit of filler as they were on the heavy side, but this is largely personal preference.
Having stuffed our faces silly, in hindsight we can share this bit of wisdom: save room for dessert. Pastry chef Emma Renfrew really does wonders with this small-medium-large concept. Not to be missed are her profiteroles in a butterscotch sauce (small $18). The butterscotch is worth sticking your face in the bowl and we are still wondering what is in the fresh whipped cream that made it
so memorable.
One question still lay unanswered. With so many delectable bites: where's the extra-large?
Angie Wong

11/F, Times Square, 1 Matheson St, Causeway Bay, 2577 3444. Daily, 11.30am-11pm.

Details
Best selling Time Out Offers