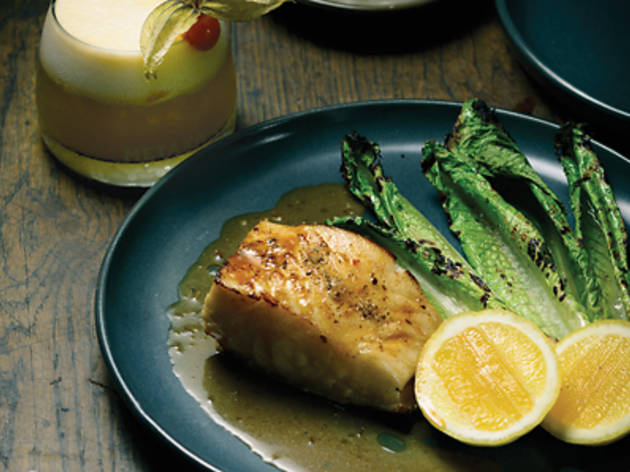 Time Out says
It's difficult to know what to expect in a new Greek restaurant. For years, cuisine claiming to hail from the Mediterranean country has ranged from the hackneyed stereotypes of tired souvlaki wraps and sprinklings of feta and olives to the opposite side of the spectrum – a refined, contemporary culinary gem, full of wondrous seafood, fresh dips and truly unique flavour combinations. In Concept Creations' newest opening, Souvla – which means 'spit' in Greek – we had certain expectations that it would tend to the latter, especially considering the group's previous hits translating and modernising Peruvian (Chicha), Spanish (Tapeo) and Belgian (Frites) cuisine.
As soon as we enter the impressive 4,000sq ft space – which encompasses a main dining room, bar and saloon-style seating – we almost have our answer. It's cool and hip, but with strong Hellenic hints from the rustic tiles, red ceramic pitchers and azure blue of the leather seats. And the delightfully decorated menu (which sports an original comic illustration referencing Greek mythology – think Olympus-meets-Sergeant Pepper's Lonely Heart Club Band) reinforces Souvla's positioning as a contemporary take on the classic cuisine.
With so much to decipher, our waiter suggests some entrées and drinks to get our juices flowing. From what we sample of the cocktail menu, the drinks' use of Metaxa 7 (a Greek Muscat-based spirit) and their catchy names – Bada Bing Bada Bang ($125) or the Souvla Sour ($100) – excite more than the drinks themselves, which, while pleasant, don't 'wow' in the way we'd hoped.
The food, however, is a different story. We begin with the taramasalata ($80), which delights with a sumptuous texture and a distinct salmon roe flavour. Other treats include pitta bread ($25) and an addictive lemon and fennel-marinated olives ($30), all of which remain our companions as we move into the mains.
First to arrive is the unusual glacier 51 toothfish* ($395). Reminiscent of cod, this Antarctic fish boasts a robust texture capable of retaining a rich buttery quality, even after grilling. All of the grilled items at Souvla are roasted on the restaurant's central spit, with coats of oil and seasoning applied to build up flavour – something you can really taste. And while the sides (several stalks of grilled cabbage) for the fish leave a bit to be desired, our follow-up lamb ribs ($295) come complete with a cute yoghurt pot and lemon slices to cut through the meat's strong flavour.
There's something deeply satisfying about tearing meat off the bone, especially when the flesh is successfully medium-rare and tender. This ritual is often a communal activity, which also seems to be the overall concept behind Souvla's menu. Many of the dishes here are designed for sharing – and come in hefty portions. However, for our table of two, there's a downside in not being able to sample as much of the menu as we would like – we look especially longingly at the taco-style mini pitta wraps and oven-cooked classics like moussaka ($175) as they make their way to other tables.
We do, however, manage to squeeze in the refreshing Cypriot salad ($75), containing grains, herbs, pomegranate, yoghurt and honey (a health nut's dream, in essence) which offers the perfect break in between our contrasting meat dishes. And, as a final sweet treat, we get a rush from the dense and sticky-sweet baklava cigars ($75).
Somewhere between traditional Greek food and a modern Hong Kong aesthetic, Souvla has positioned itself well as a hip and contemporary Greek restaurant. After all, a camera-wielding minotaur and an iPhone-enabled centaur snapping shots of the main spit grill on Souvla's menu cover pretty much speak for themselves… Li Meng de Bakker
The bill
Pitta $25
Olives $30
Taramasalata $80
Glacier 51 toothfish $395
Cypriot salad $75
Lamb ribs $295
Baklava cigars $75
Total (for two) $975
Souvla 1/F, Ho Lee Commercial Bldg, 40 D'Aguilar St, Central; 2522 1823; conceptcreations.hk
*In response to reader concerns, we would like to note that Souvla sources its toothfish from Glacier 51, a sustainable Australian fishery that operates in the Antarctic. For more information, please visit glacier51toothfish.com.
Details
Best selling Time Out Offers