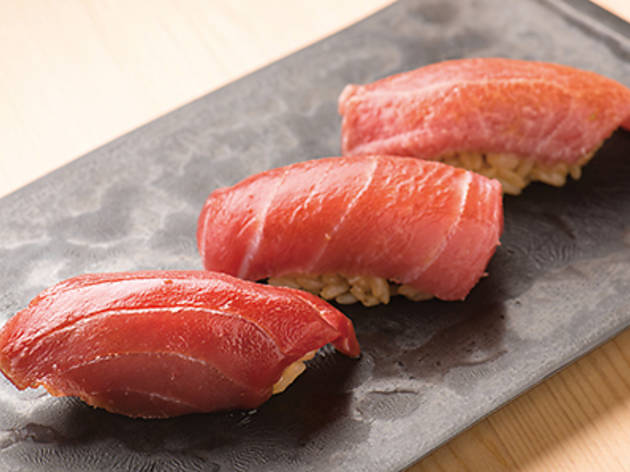 Time Out says
Unlike many of Japan's most esteemed omakase sushi institutions, who have an established reputation for being on the top of their game, the original Sushi Tokami only opened in 2013 in Tokyo. However, within just one year it was rewarded with a Michelin star in 2014. This could be because what the restaurant lacks in longevity, it makes up for in heritage, by having the third-generation successor of Yamasachi – the respected tuna dealers in Tokyo's Tsukiji market – for an owner.
Apart from boasting fantastic tuna, Tokami's rice is from Niigata prefecture, known for its pristine mountains and for producing the best rice in Japan. The third string to its bow is chef Taga Satoshi, a specialist in the Edo-mae sushi tradition. He prepares the rice using red vinegar that's fermented with sake yeast, which provides a unique aroma.
Sushi Tokami's Hong Kong location is an 18-seat space, tucked away on the second floor of the Ocean Centre in Tsim Sha Tsui. Separated into two dining rooms, each with a sushi bar, the décor is serene, with straight wooden edges, warm pooled lighting and dotted with handicrafts throughout.
While for lunch there are three pricing options ($600, $800 and $1,000), for dinner there is only a single omakase selection, priced at $2,000 per person. Though this appears a hefty sum, some Michelin-starred establishments on the Island charge more than this for just 10 pieces of sushi. Tokami's selection includes soup, snacks, daily specials, grilled dishes and dessert, plus 14 pieces of sushi!
With such a vast line-up it's impossible to go into detail about every single one here, but our the highlight is the tuna tossaki hand roll, which forms the start of every meal. The flesh from the tossaki (near the head of the fish) is known for its small yield and rich flavours, while the nori is crunchy and the lightly acidic rice compliments the coppery notes of the tuna. Our seasonal snack items are two pieces of abalone from Chiba prefecture, steamed and served plain. They are cooked al dente and though we can tell that it's an ingredient of outstanding quality, we can't get too excited about it.
We're already half full by the time to begin our 14-piece sushi journey, and since it's omakase we ask the chef to go easy on the rice, to which he politely complies. What peaks our interest is the tuna trio. The star of the three isn't the chu or o-toro, but rather the lean cut that reveals the steely flavours of the tuna. It's sliced with precision so that not a single tendon interferes with the bite. The mackerel is also exceptional; the sushi cut is unusually thick and we taste the ginger and shallot garnish first before it's rounded off by the soft fragrance of the fish. The highlight of the evening, though, is the uni gunkan. The sea urchin is small but extremely fresh, and chef Satoshi layers it three times, creating a sweet and creamy uni experience.
Sushi courses usually end with a sweet tamago, as a kind of dessert dish. Here, rather than go for the ultra fluffy almost cake-style of egg, it comes infused with a little fish broth and baked. It's a more savoury version than usual, but it doesn't offend as it's just a different way of ending the meal.
An evening at Sushi Tokami isn't just about what's on the plate, it's about how it's served and the experience, so prepare to settle in for the night. With such a long line of courses, there are bound to be some that don't shine as bright as others, but everything we tried was exquisite. If you're considering splurging on an ultra-fine sushi experience, Sushi Tokami is definitely the best bang for your buck in town. Lisa Cam
Sushi Tokami Shop 216A, 2/F, Ocean Ctr, Harbour City, 17 Canton Rd, Tsim Sha Tsui, 2771 3938; en.tokami.com.hk.
Details
Best selling Time Out Offers