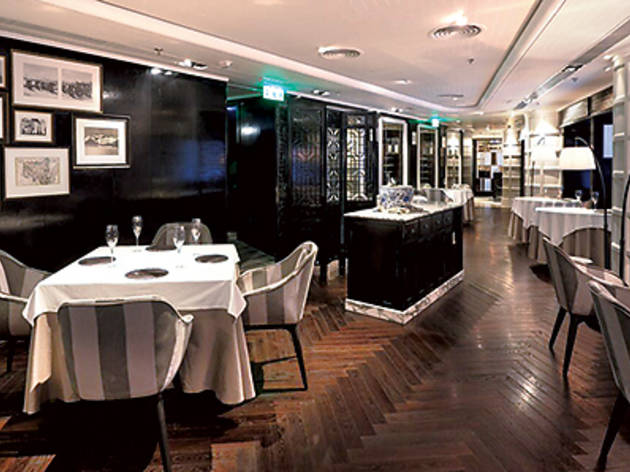 Time Out says
Acclaimed chef Hideaki Sato generated quite some buzz when he announced in April he was to leave the ICC's two Michelin-starred Tenku Ryugin. As it turns out, his departure was less of a farewell and more of a graduation. Seeing how his new restaurant, Ta Vie, is backed by the same investors, it seems chef Sato is taking this step with everybody's blessings.

Ta Vie means 'your life' in French, but the use of the informal possessive pronoun 'ta' is surprising from a Japanese chef – its usage implies the client isn't held in formal regard. However, on the signage is the Japanese character for journey – 'tabi'. Its echo of 'Ta Vie' doesn't escape us. It brings to mind an email Sato sent to friends and loyal customers upon his departure from Tenku Ryugin. In it, Sato explained that he was shifting his culinary career towards a concept centered on melding French techniques and Asian ingredients. So, an experience that coalesces these two cultures is what we prepare for when we visit.
Residing in the former Holytan Grill space at the ultra-chic Pottinger Hotel, the location has undergone a complete redesign since morphing into Ta Vie. Only the craning lampshades remain of the old décor. The seats are comparmentalised into cocoon-like booths, with the interiors darkened to provide more dramatic impact.

Uni with risoni alla carbonara

Like chef Sato's previous restaurant, there's only a single tasting menu on offer ($1,880) and it's presented in an envelope on the table – but this is where similarities to former ventures end. Where Ryugin is all about exquisite high-end cuisine, here items like sweet corn puffed mousse and uni with risoni alla carbonara indicate a sharp break from more traditional dishes.
The former is one of the highlights of the menu. Presentation-wise it's not much to look at, but the mousse is light as air, with a pleasant sweet corn backend and a slightly acidic prawn jelly that triggers the salivary glands. It's a knockout starter. Next comes one of chef Sato's signatures – poached oyster wrapped with wagyu – and this is perfection on a plate. The texture of the marginally poached shellfish is seamless with the beef, the iron aftertaste of the oyster rounded off with fat from the meat during every bite.

Japanese flounder in clam juice
It's emphasised that the yuzu pepper charcoal chicken is made with Lung Guang chicken. The much coveted ingredient is known for its thick flesh, tender texture and its ability to absorb flavors. We're told by staff that chef Sato considers this the best chicken in Asia. The bird is simply roasted and the taste of the pepper marinade subtle. The quality product is showcased in an unusually crispy skin, diffusing a mild acerbic fragrance. This one is all about the visuals and it excels in presentation. Our favourite course of the evening is definitely the Japanese flounder in clam juice 'à la marinière'. The buttery fish is beautifully laid out on a rectangular ceramic dish and the clam jus is pooled at the bottom like a lake.
The flavours burst through when we bite into the beans. Through the varied texture and aromas, this amazing dish transports us to a scenic forest walk after the spring rains and we truly go on a sensory journey – just as the restaurant name suggests.
The meal is rounded off with a sweet almond tofu, peach compote and oolong tea jelly, and it's a medley of floral and fruit flavours that's teased out by the nutty tofu and tea, leaving a long finish on the palate. Finally, we're given a choice of coffee, matcha or herbal tea to sign off the evening on a high note. We opt for coffee, which arrives with yet another dessert, a portion of chocolate lime pudding. Once more we're delighted by the flavour combinations unleashed, as the zesty citrus notes downplay the bitter chocolate.
Given his already impressive work at Tenku Ryugin, we had high expectations when entering Ta Vie, but still we're left unprepared for the gustatory journey that chef Sato has perfected into an art form. Ta Vie is about sampling a fantastic harmony of flavours that have the power to whisk you away to nostalgic childhood memories. Whether it's a walk in the countryside or the perfect Sunday roast, this is a personal journey you absolutely must take at this brilliant establishment. Lisa Cam

Ta Vie 2/F, The Pottinger, 74 Queen's Road C, Central, 2668 6488.
Details
Best selling Time Out Offers