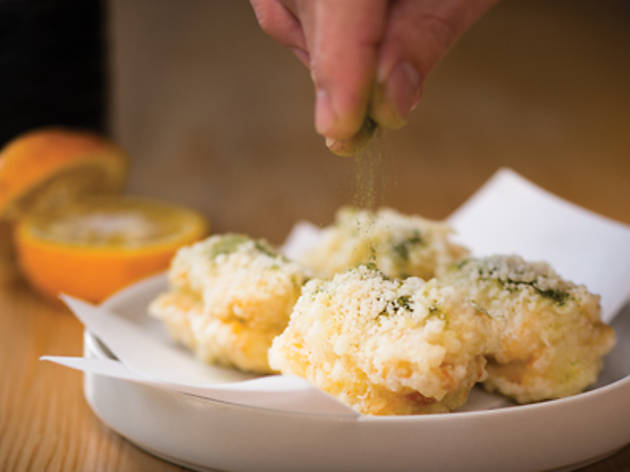 Time Out says
If there's been any trend which has just exploded in Hong Kong over the past couple of years, it's been the tapas trend. It all started with a few restaurants modelling themselves on the Spanish tapas joints of old, focusing on traditional, small sharing plates. But, over a few months now, there's been all sorts of offshoots springing up, from American tapas to fusion Chinese and Japanese. And this trend has shown no signs of slowing down.
So when we hear Tabibito is taking the place of the former Corner Kitchen in the chic Po Hing Fong, Sheung Wan, we're desperate to try. This is an okazu joint – which basically means it's a Japanese restaurant focusing on those side dishes which are traditionally used to add flavour to rice but have become tapas meals in their own right over the years.
The décor at Tabibito is simple and comfortable, with a small bar and a few tables in the main area, as well as a long communal bench that spills out on to the pavement. It's helmed by chef de cuisine Noriyuki Sugies, who has enjoyed an impressive career at the likes of Restaurant VII in Sydney and the New York Mandarin Oriental's Asiate. There are rave reviews out there on his innovative mixture of French and Japanese styles. Tabibito means 'traveller' in Japanese and, much like the chef, the restaurant boasts an eclectic fusion of Japanese training and international influences.
The menu is separated into 'raw', 'sea', 'land' and 'soil' to describe the nature of the dishes and where the ingredients hail from. And the staff are not shy in making recommendations on their personal favourites either. Following their advice, we plump for some Hokkaido sweet corn tempura ($78) to start, where mozzarella cheese is sandwiched between two flat sides of cut corn before being batter-fried and sprinkled with matcha powder and sea salt. The sweet corn and cheese combines well, with the seasoning bringing out the flavours of vegetable and dairy ingredients.

Uni-spiked tofu
The 'raw' tapas-style menu is what grabs our attention most as we want to see how this Japanese style of cuisine is crossed with Western influences – and then how the fusion works in tapas form. It does work. The uni-spiked tofu ($158) is beautifully presented in a small, flat bowl, with uni, dashi (Japanese stock) jelly, bonito flakes and ginger artfully placed on top of a bed of homemade tofu. When we take a spoon from different areas of the bowl, the dashi jelly acts like a conduit for the other flavours, rounded off by the superbly smooth taste of soy. Every spoonful is different depending on which part of the bowl you dig into.

Wagyu tartar
Next up is the green tea-cured salmon ($108), which consists of a small piece of fish nestled on a bed of quinoa on a crostini. Though refreshing, it's a little underwhelming compared to the tofu dish. But the wagyu tartar ($158) fares much better. The meat is in a spicy miso sauce and is mixed with capers and sesame, and served with rice crackers instead of rye bread. The light crispiness of the crackers matches the miso in the tender beef, creating a unique Asian-meets-French experience.
Hot tapas dishes then arrive to warm our bellies, like the steamed razor clams ($128), which are soaked in Hitachino white ale instead of the usual water. They're in a sauce, which is incredibly smooth and buttery, with a hint of beer to cut the richness. Unfortunately the clams may have gotten a little too drunk to spit out all the sand as some grains remain in the shells – although this hardly ruins the dish. The tapas version of okonomiyaki (Japanese savoury pancake) with mud crab ($118) is also a winner. Made smaller and thicker than usual, the pancake reminds us of a filet mignon version of the traditional food. The mashed mountain yam (yamaimo), mixed with cabbage and crab, makes the fishy flavours a little more subtle – although the sticky, doughy pancake may be a little too thick for some palates.
Tabibito's bar offers the entire line of Hitachino beers, as well as Hitachino's White Ale and Pale Ale on tap. There's also a promising list of cocktails like juniper sake and black truffle negroni (note: the venue was still finalising its liquor licence at time of writing, so watch this space). So, if Tabibito continues its innovative tapas-style sharing plates and irons out those small little complaints while concentrating on its superb dishes, then we're certainly on board as this addition to the city's non-stop tapas train speeds into the future. Lisa Cam

Tabibito 20 Po Hing Fong, Sheung Wan, 2547 2833; facebook.com/tabibitohk.
Details
Best selling Time Out Offers