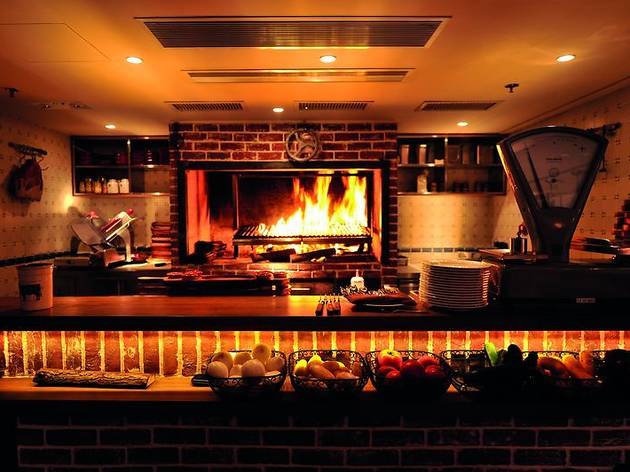 Time Out says
Some days it just rains meat. I had one of those days recently when a friend invited me to a barbecue featuring beef from his native Argentina. Seasoned with nothing more than salt in the traditional Argentinian method, it was absolutely delicious. Coincidentally I had a booking at new Argentinian steakhouse Tango the same night. Luckily steak is something I can never get enough of.
Dining Concepts has added another meat-centric restaurant to its arsenal with a refurbishment of the old Bombay Dreams space. Tango has a rustic feel, with exposed brick and wood and black-and-white tiled floors. Open windows overlooking the street allow diners to take in the nightly chaos below. It makes for an elegant yet festive atmosphere, especially when dining with carnivores. And the big sell that everyone is talking about is the massive fireplace at the back, where wood-fuelled flames lick the meat on the grill.
The beef itself is, naturally, the main attraction here – although the menu is diverse enough for a well balanced meal. To start, we opted for the shrimp and roasted tomato ceviche ($158). The shrimp were lightly poached, with an orange dressing that had zing. However, we found them overly herbed, with the price being a bit high relative to some of the other dishes we ordered: the grilled Brazilian chicken ($158) for example. This was a tasty bird, with plenty of meat to go around; it was also further evidence of the trend of restaurants around town realising that chicken isn't a throwaway dish. The skin was nicely charred, the white and dark meat both extremely moist with a subtle, smoky flavour.
The chorizo sausage ($68) was less successful. It had a snappy casing and was juicy, but the pork flavour was overpowered by garlic – this coming from an unabashed garlic fiend. We found it a bit gristly too. Always keen to champion little bundles of meat we also tried two types of empanadas, the traditional hand-cut beef sirloin and the goat's cheese and sun-dried tomatoes ($58 each). Fillings run the risk of sometimes getting lost in these pastries. Fortunately that wasn't the case here. Each was distinguishable, especially the sirloin. The pastries were flaky and nearly greaseless, not always an easy feat to pull off.
Oh, and about that beef we mentioned? The Argentines take enough pride in their beef that marinades are considered superfluous; in fact they are almost frowned upon. Why mask the flavour of the meat? Tango adheres to this school of thought by creating a dry rub that mirrors a chimichurri sauce. It adds a salty exterior without upstaging the main attraction. Our 14oz ribeye from Argentina ($338) was cooked to our requested medium rare and served on a wood slab with six salsas. All were good in their own right but not entirely necessary. The beef was able to carry its own, an outer crust leading to an interior with a welcome mineral tang. But while a ribeye is typically a more fatty cut providing more flavour, we found our particular piece a little too fatty. Instead of striations of fat there were hunks of it that you had to cut around. We added a side of sweet potatoes with rosemary ($48) that was exemplary.
It should be noted the service was efficient for such a new venture, especially as we were told when booking that there would be a party of 50 in the dining room. It was a nice heads up.
As the weather gets cooler and you miss the taste of meat on the grill, Tango is another solid option in a city that seems unable to sate its hunger for red meat. Rex Gregg

1/F, 77 Wyndham St, Central, 2525 5808. Mon-Sat noon-3pm & 6pm-11.30pm, Sun 11.30am-3.30pm & 6pm-11.30pm. Meal for two: around $900.
Details
Best selling Time Out Offers