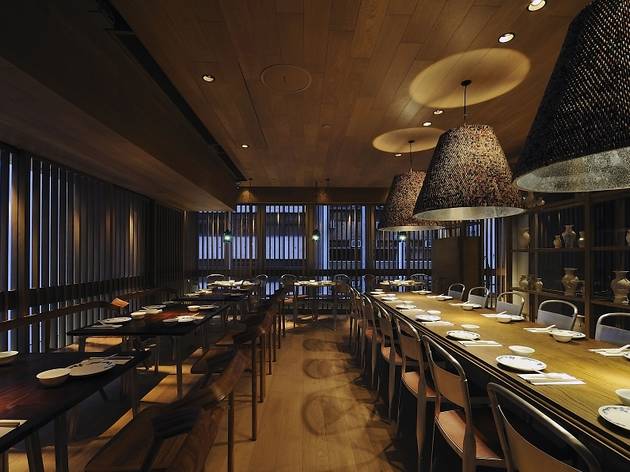 Time Out says
When Small Medium Large (SML) opened its happy diner with a mixture of communal tables and intimate two-tops, it was a big hit with those looking for a no-fuss experience with comfort gourmet food. It's no surprise then that the Taiwanese owners of The Night Market asked designer Alexi Robinson and furniture guru Michael Young to replicate that successful formula for their Taiwanese version of gourmet comfort food. The result is The Night Market – complete with casual Taiwanese eats in an Elle Décor environment.
But decoration these days is not enough in a food market that wants nice digs and a great menu. Fortunately the menu sticks to tradition. Stewed pork belly with preserved vegetables, three-cup chicken with minced pork gravy over white rice, fried pork chop rice with soya sauce eggs, sides of pickles, and sour ma po dofu Taiwanese-style presented at room temperature. All these are served in repurposed chips-n-dip wooden trays (we promise you it looks cute).
The three-cup chicken bento ($88) is an easy dish of chicken parts slowly sautéed with ginger and shallots. "Three cups" comes from the three key ingredients used in equal parts: sesame oil, Chinese rice wine, and soy sauce. The fat of the chicken kept the meat moist, and the sizzling ginger and shallots scented the entire dining room when it arrived. It was the minced meat gravy over rice and the side dishes that took this meal to another level.
The stewed pork belly ($78) was another comforting favourite. This time the meat was a bit dry, having looked as though it sat braising in a pot for hours. Generally, a fatty piece of meat like this would be kept tender, so we're not sure what happened here. Again, it was the minced meat gravy that really made it. The rice needs a quick mention here as they use fat, short grains of quality rice that have a lovely texture.
Taiwanese food can be known for having a heavy-hand in the MSG pot. And though we've had our fair share of MSG-laden dishes, here you don't leave with a headache or a dry mouth. Even still, we felt compelled to wash down our meal with iced bubble milk tea. This market might find it too sweet for their liking, but pronounced sweetness and frothiness is very typical of those served in Taiwan.
On the surface, this is a very cute place to dine, though some will find the pricing quite high for Taiwanese food. One thing to note is that this place can get very loud when full. Every surface bounces sound, and they'll need to do something about this. Other than that, it's three thumbs up.

Angie Wong
6-7/F, 11 Stanley St, Central, 2810 1121. Mon-Sat 11.30-3pm 6.30pm-11pm. Meal for two: around $200.

Details
Best selling Time Out Offers