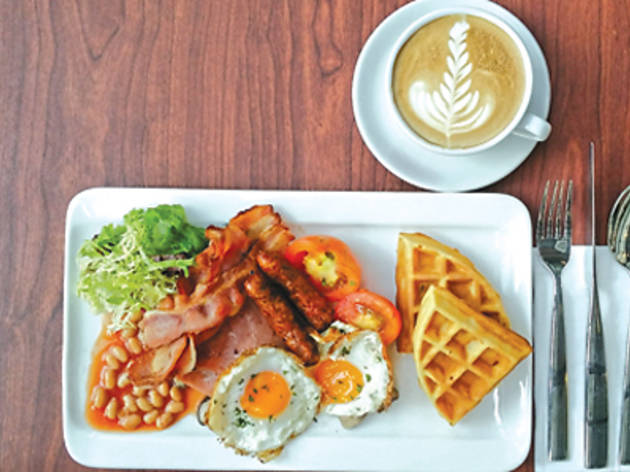 Time Out says
Kai Tak Cruise Terminal may not evoke images of illustrious fine dining but The Old Hangar certainly takes it a step in the right direction. The cool new space, with its clean, industrial interior and steam-punky punctuations in the fittings, feels fresh even though the décor style is a well-worn trope elsewhere in the city.
Meat items, served on chopping boards as is becoming the style in these minimalist-esque eateries, is a solid selection of European and American familiars. We test that staunchest of classics, the full English breakfast ($98), which features good quality sausages and bacon that's not inundated with stringy fat. Even the accompaniment of the very-unEnglish fluffy waffles, which we originally scoff at, have us converted at the end. We follow up with something a little more nuanced: mussels with white wine, cream and bacon ($125). It's deftly handled. The meaty brininess of the seafood isn't drowned in an overabundance of heart-stopping cream or cheap wine and the bacon doesn't feel like a tacked-on extra. It's an effectively tasty dish.
The Old Hangar certainly isn't reinventing the wheel and it's not exactly the cheapest spot in Kowloon. But its location alone gives it prime position and it's fairly handled fare could stand up against the most pretentious of Hong Kong's 'bistros'. Graham Turner
The Old Hangar Shop N205, Zone B, 2/F, Kai Tak Cruise Terminal, 33 Shing ung Rd, Kowloon Bay, 2189 7887; facebook.com/theoldhangar.
Details
Best selling Time Out Offers