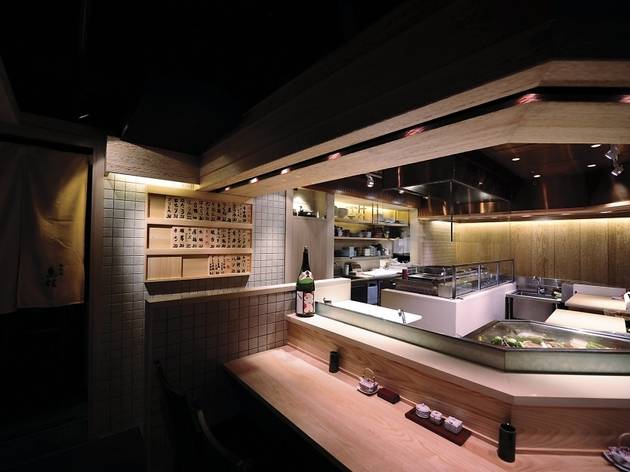 Time Out says
You know you've found a good restaurant when pomposity makes way for simplicity. From the menu to the food there is nothing overstated, nothing overdone. It's all about tasty dishes, cleanly presented. Causeway Bay's cosy Tori Shin (which seats around 20) has this down to an art form. It's a place that's all about chicken, and little else. And everything else is kept just as straightforward. A perfect illustration is the entry on the menu that simply reads "Garlic". Much of the menu is written in a similar fashion, so there's no beating around the coop. A chicken is just a chicken, and a damn tasty one at that.
As well as the poultry, Tori Shin also serves fish, but the latter seems something of an afterthought. Chicken and eggs are the main staple here. From what we could tell they also serve only two kinds of chicken. One called "well-known Japanese chicken brand," the other somewhat bizarrely named "The King of France". Yakitori style, course-by-course, we were served by the robatayaki chefs from behind a counter of marble and blond wood.
Each dish from cartilage ($28) to heart ($28) to meatballs ($32) was utter perfection. But it was the inner thigh ($38) and the tail (read: butt, $30) that were the tastiest, probably because those two body parts have more fat, which protects the meat from the grill. The tail, cooked in this way, was the A5-grade Wagyu of the chicken world. The even ratio of fat to boneless flesh was something to admire from such a fantastic piece of meat. There was also a simple device, shaped like a bird no less, that accompanied our meal. Press on it and it squeezed out little drops of lemon to flavour your meat.
The deep-fried chicken skin with citrus soy sauce ($50) was the only real disappointment of the meal. If not eaten within the first few minutes, the skin goes tough and overly chewy. The citrus soy only added to the problem. It would have worked better as a dip rather than arriving in the same bowl as the meat.
The chicken hamburger ($100) was a deep-fried egg-shaped ball of minced meat and cartilage, and came with a bottled tonkatsu sauce and lemon. It is one of these weird and wonderful dishes that have to be tried to be believed; the crunch of the cartilage was unexpectedly good – though we saw little difference between this and the smaller chicken meatball ($32). If you have room, try a simple dish called chicken soup omelette ($70). It is exactly that: a roll of scrambled eggs in a shallow bowl of soup. A mash of daikon gave the broth body.
It is quite a work out eating all those body parts, but a worthy one. And since everything we had was cooked in its optimum way, it all worked well. We love simple food done well, and this little gem in Causeway Bay is just the ticket.
Angie Wong
12/F, Henry House, 42 Yun Ping
Rd, Causeway Bay, 2808 4050.
Daily noon–11pm. Meal for two: around $700.

Details
Best selling Time Out Offers