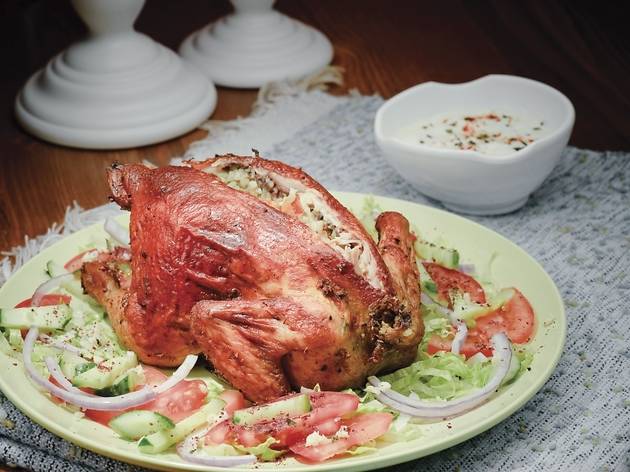 Time Out says
You can easily score a doner roll or grilled kebab at one of those fast-food joints touting Istanbul associations in their names. But options are much more limited when it comes to proper, homestyle Ottoman cuisine, which is why dining at this Yau Ma Tei private kitchen feels all the more special.
Helmed by Turkish native Guner Buran and his wife Grace Yip (the couple also own Indonesian private kitchen I Love Bali and a casual café called I Love Istanbul), the space is essentially a small apartment outfitted with two fold-up tables and a slightly larger sofa seating dining area. If you're wondering about the toys and crafts scattered around the room, this venue also operates as a children's arts centre during the day (we know... random).
Cooking is done from a tiny domestic kitchen, so advanced ordering is recommended for dishes that take longer prepping time. Take the Mersin-style chicken ($215), for example, which takes close to two hours to make. The result is sublime – a whole, roasted bird plumped up with garlicky red rice that's slicked in chicken fat and butter. The streaks of meat in the leg and thigh remain moist and succulent while slightly drier bits off the breast benefit when smothered in cacik (a tzatziki-like yoghurt sauce) and eaten with the accompanying Mediterranean salad. For vegetarians, the dolma (pre-ordering advised, $158) is an equally delicious alternative to the roast chicken, spun from a tricolour of baked capiscums stuffed with the same, stellar rice.
Yip also plates up a selection of kebabs but we recommend getting your fix of meat with the insanely delicious manti dumplings (pre-ordering advised, $185). These glossy, one-bite packages come fattened up with either beef or lamb. Go for the latter, which has mounds of gamey minced meat flavoured with a fragrant blend of red pepper, garlic, cumin and sumac.
We'll also sing high praises about the su böre????i (pre-ordering advised, $158) – a Turkish iteration of lasagna constructed from silken sheets of flat noodles that are boiled then layered with feta cheese and parsley before being tossed into the oven. It's surprisingly light on the palate, especially when decorated with zingy tomato sauce. Chase this with an order of menemen ($108), a runny mess of scrambled eggs with diced tomatoes, onions and green peppers. While it's traditionally eaten with bread, Yip serves this eggy concoction with rice, which works just as well in our books. It's the sort of simple, satisfying comfort food our mother would whip up for breakfast if we were raised in ????zmir. Like everything else on the menu, ladle spoonfuls of tomato sauce and cacik over this dish to perk up the flavours.
When you're done with all the apps, sides and mains, turn your attention to the last page of the menu, which lists a range of West and Southeast Asian offerings. These tend to sell out quickly so if you don't manage to end your meal with a sütlaç rice pudding ($58), a small teacup of freshly brewed Turkish coffee ($45) makes for a fantastic substitute, especially when enjoyed with a small dish of sticky lokum confections. A trip to this private kitchen feels like a dinner party at a mate's place and, after your first meal here, you'll wish more of your friends were Turkish. Dorothy So
Unit 5, 5/F, Cheung Hing Bldg, 46 Pitt St, Yau Ma Tei, 5401 0025. Open by reservation. Cash only.
The bill
Mersin-style chicken $215
Lamb manti $185
Su böre????i $158
Menemen $108
Turkish coffee $45
10 percent service charge $71.10
Total (for two) $782.10
Details
Best selling Time Out Offers