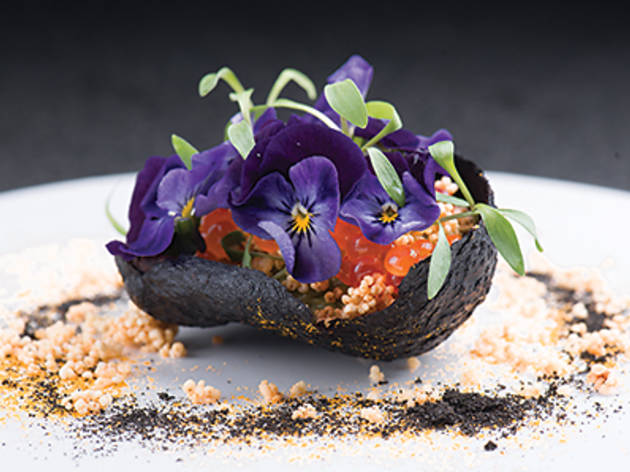 Time Out says
Friendly warning! We're working hard to be accurate. But these are unusual times, so please check that venues remain open.
It's a brave new culinary world nowadays. Chefs used to hide in the kitchen, but the constant presence of social media has given an unprecedented amount of exposure to food and those who cook it. This has provided new avenues for chefs to be recognised for their work and become celebrities in their own right. Many chefs have achieved this by departing from any classical training they possess and developing their own style. By doing so, they're really putting themselves out there. Their heart and soul is on the plate; if people don't like a certain dish, they are criticising the chef's unique creation and there's no tradition to hide behind.
Backed by the same people who own Liberty Exchange and Liberty Private Works, the premises of the latter has been transformed into Twenty Six by Liberty. Apart from being headed by chef Bjeorn Alexander, formerly of Whisk in The Mira, the whole restaurant has been revamped to reflect the chef's style. Alongside a tree motif on the wall, the Taoist teachings of reality, universe and life are emblazoned in green neon signs above the elevators – a philosophy that chef Alexander holds close to his heart.
Seating a maximum of 26 (hence the name), counter stools encompass an open kitchen. Not only do patrons get to see their food prepared and plated, they also get the ingredients and cooking style explained tableside by the chef. It's a single set menu ($900) for everyone, set to change every two months or so.
On our visit, the 10-item menu is themed around the growth cycle of a tree, starting with sprouts (appetisers), branches (mains) and roots (desserts). An early highlight of the evening is the oyster. A beautifully plated starter reminiscent of a Japanese rock garden, served on pebbles and decorated with esoteric herbs, the bivalve is topped with a seaweed emulsion and salted by the plants salty finger and bling blossom flower. The vegetation is certainly salty and we enjoy how the additional crunchy texture prolongs the sweetness of the mollusc.
Served next is manioc root from Peru. Also known as a cassava, the vegetable has been shredded, blanched and the fried to the consistency of crunchy noodles. Served atop a pool of sweet corn sauce and garnished with black truffle, the result is a satisfying appetiser, but we're left wondering whether it's necessary to use the exotic root given it suffers such a thorough transformation in becoming so crisp.
Avocado follows and proves very enjoyable. Plated on a burnt (and we're forewarned inedible) avocado shell, the fruit is mixed with salmon roe, crunchy sweet millet and dusted with curry powder. The infusion of different textures and the balance between salty and sweet is like a party on the palate, rounded off with a pleasant whiff of spice from the curry.
Next up is the langoustine. Skewered on a rosemary stalk, the shellfish is seared right before our eyes. It's served on top of green fennel and dotted with anise blossom and pickled rose petals. Refreshing and light, the flavours conjure up images of spring – another winner.
The last of the mains is a slow-cooked Kobe cheek with a side of dehydrated beets. The meat is tender and the dried vegetable provides additional texture to chew on in contrast to the delicate beef. Again, though we enjoy the jalapeño garnish, which cuts through the richness of the dish, we question why it needs to be in gel form for any reason other than aesthetics.
There is quite a variety of components on the dessert plate as well, with apple sitting alongside ginger meringue, caramel, vanilla ice cream with poppy seeds and marshmallows. The differing textures add interest to every bite and we end the meal on this pleasant sweet note.
Twenty Six is definitely about what chef Alexander can bring to the table and the work he invests into every single component on the plate – almost to a fault. The chef is putting his whole cooking philosophy on the line and, for now, it works. With the menu set to change every two months, we anticipate a lot of blood, sweat and tears going into each updated menu. We could've questioned why some ingredients had to be so highly manipulated, but since the restaurant is all about the chef it can be answered simply – because he can. We suggest you don't overthink what you're eating at Twenty Six, rather, simply sit back and enjoy the fanatic range of flavours and textures. Naomi Locke
Details
Address:
26/F, Stanley 11
11 Stanley St, Central
Hong Kong


Price:
$$$
Contact:
Do you own this business?