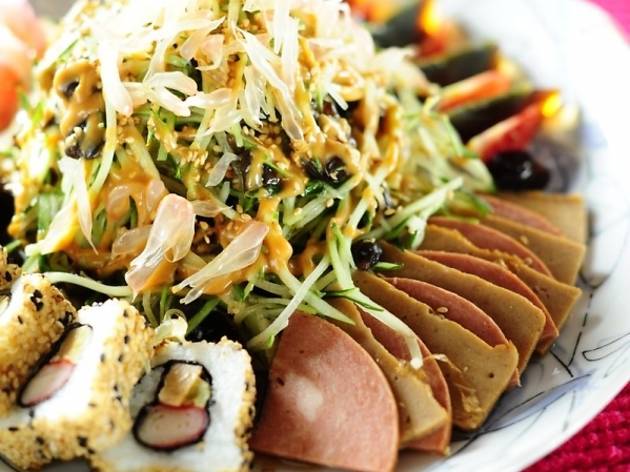 Time Out says
It's fair to say it was hard to know what to expect upon entering this rundown tenement building in Wan Chai. With its hallways illuminated by garish strip lights and a shirtless man guarding the door, it took a certain madness to venture further inside. It was only after passing the "Members Only" sign on a fairly non-descript door that we discovered one of the reasons why Hong Kong's notorious real estate prices may not be quite so bad after all – as entrepreneurs and restaurateurs have been forced to become more inventive with their valuable space and thus create some real gems. One such establishment is a private kitchen-cum-temple of Buddhist vegetarian delights called Veggie Palace. The interior is inviting and spacious, with high ceilings and fabrics hiding the piping; a peaceful place to enjoy the nine-course lunch ahead. There are no menus, and there is no one to help name the dishes in English, but everyone gets the same family-shared assortment (at $168 for lunch and $208 for dinner, per person).
The selection here changes on a daily basis, and instead of giving you a rundown of our entire meal we will highlight a few hits, as well as a few misses. On top of our hit list: a large platter of inside-out sushi rolls; shredded "chicken", cucumber and mung bean noodles in peanut dressing; thousand-year-old eggs and a selection of fake meats. One thing we often find missing from vegetarian cuisine is a good level of presentation. Generally speaking, it is presented where mains, sides and grains are housed together on a single plate. Here it is served banquet style in gorgeous Chinese crockery.
Another banquet-styled dish was the mushroom and "shark's fin" dumpling in vegetarian broth. The large dumpling was hand-pleaded and though it was light in flavour, it was what some call "clean" eating. The shark's fin was ersatz, of course, while the mushroom filling was sparse and actually flavourless. There was nothing of note about the broth; its flavors were muted as it was much watered down. Unfortunately this is typical of many vegetarian dishes.
They also get a low score on the cheese tartlet. Why even bother to introduce a western dish into the traditional Chinese menu? The shell crumbled upon arrival, the thick layer of congealed tofu cheese was a chewy mess and the stewed "pork" or "chicken" or "beef" or whatever imitation meat was unsightly. Though full points for the imitation meat itself. In every dish from the sweet and sour "pork" to the fake beef curry, technology has made sure that imitation meats (usually some form of vegetable protein) taste pretty close to how cooked meat should. They've even got the texture of stewed beef right: imitation fiber, muscles and all.
The sweet and sour pork with pineapple and lychees and the fake beef curry with garlic bread is what we will most certainly be talking about until the next issue. We just couldn't believe we weren't eating real meat. The sweet and sour "pork" was just like, well, pork: the texture, bite, flavour, and even the seared marks were spot on. The curry was non-offensive and so lacked real punch, and was more sweet than spicy. We would've enjoyed a bit more seasoning as the tofu balls, fake meats and cauliflower absorbed all the salt.
An assortment of soups and desserts finished off this meal, and when religion plays a part in the food a restauerant serves you tend to get more than simply food. Here that translates to food made for your body, your temple. We walked away full, clean and happy to have found the place. We had been converted.
Angie Wong
Room 3, Loft, Kwong Sang Hong Building, 6 Heard Street, Wan Chai, 2838 6506. Mon-Sat noon-10pm.
---
The bill
9 course set lunch for $168 x 2 $336
10 per cent service $33.60
Total $369.60
Details
Best selling Time Out Offers