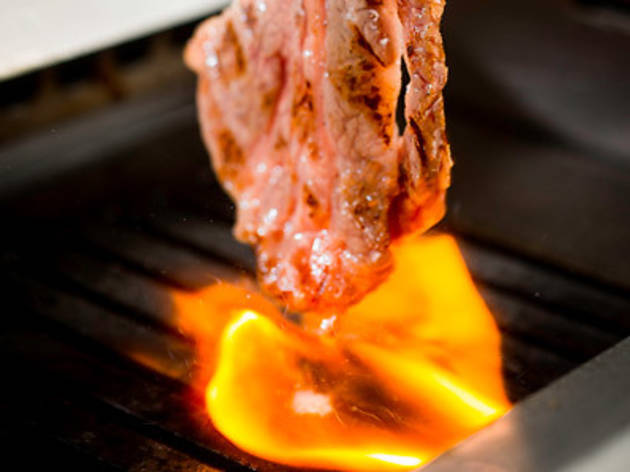 Time Out says
"What kind of restaurant makes you cook your own food?" That's the question Bob Harris – Bill Murray's character in hit movie Lost in Translation – asks after a particularly bad lunch experience. And it's a question that many people across the world who are uninitiated in the ways of hot pot, Korean barbecue or shabu shabu would ask. But we Hongkongers don't share in this sentiment. We positively love restaurants that make you cook your own food. Especially if they're as great as, well, Yakiniku Great.
Again, for the uninitiated, yakiniku, meaning 'grilled meat' in Japanese, refers to the style of cooking bite-sized flesh on a griddle. And there's no shortage of these eateries already here in Hong Kong. But Yakiniku Great are experts. All the way from Japan's Kanto region, the new restaurant is a specialist in kuroge (Japanese black breed) wagyu. Cooked by you. On the grill. This eatery, in fact, wants to shout out that the best steaks are not just the fatty ones. It offers special rare lean cuts which are selected daily by chef Shoji Tsugawa.
The interiors at Yakiniku Great are simple, with grill-centred wooden tables sitting next to whitewashed walls. Two large murals depicting cuts of beef adorn these walls and just like the no-fuss interiors, the menu is equally simple. It's all about the meats. And the prices aren't wallet-busting either. Most of the wagyu category hovers around the $200 mark and there's a half portion option for the extra-special cuts.
We begin our journey with a lightly seared wagyu sushi topped with a speck of marinated ginger. We thoroughly enjoy its smooth consistency but we didn't ask for this. However, we're told that with any drinks order there's an appetiser that costs $30 served with the alcohol. It all sounds, ironically, a little lost in translation, but it's a great surprise so we roll with it. The first slices of meat to arrive are the tougarashi ($109 for a half portion), a leaner cut that's from around the shoulder part of a bull. We're instructed to sear each side for three seconds on the griddle and then garnish with wasabi. Perfect timing. The texture is extremely smooth and the meaty flavours are rich and strong. Next up is the shakushi ($198), also from around the shoulder part of the animal. Paper thin and almost translucent, we're told to cook these slices for three seconds only. Three Mississippis later and the meat melts as soon as it hits our tongue with the fatty aromas permeating the palate. Delicious.
The recommended misuji ($298) then arrives. This piece is classed as the best you can get – A5 quality – and is said to always be sold out in Japan. Well seasoned, we're advised not only on how long to grill it for but also to dip it in the chef's special tare sauce. This by far is the juiciest of all the wagyu we sample but we do find the tare sauce a bit sweet, which rather distracts from the superior aromas of the grilled flesh.
It's at this point, though, we're glad we've ordered the 'Great salad' ($98) as the rich pieces of meat are already singing and dancing in our stomachs. The lettuce is crisp and the dressing is extremely light, encouraging us to keep on eating. To mix things up a bit, we order the chicken thigh ($98) but our execution of the fowl fails miserably as the outside bits are burned and some pieces are still raw inside. Still, that's our fault and we can hear Bob Harris chuckling somewhere in the ether. However, not all is lost as the yuzu pepper that comes with the chook is strong in citrus flavours and works wonders with the edible-albeit-charred pieces.
But then comes the pièce de résistance: the Kyoto yaki-shabu ($228 a piece). This large, thin piece of steak is garnished with a little salt and ceremoniously cooked for us by the staff. We suspect we're not trusted to take on this specialty because it's served in an 'egg soufflé'. Timing it perfectly, our server expertly and quickly pours sauce over the meat and after it's done, the beef is folded into a small cup of what turns out to be egg sauce and not an actual soufflé. Yes, the smooth egg sauce is again a little on the sweet side but when we bite down on the folds of beef, it acts as a conduit to the meat flavours and we're in carnivore heaven once more. A totally rich and satisfying triumph. After that dramatic end to the meal, we can only stomach something simple for dessert and the monaka ice cream ($38) – or ice cream sandwich – is the perfect antidote to all the flesh. The velvety ice cream hydrates our palate after that intense lineup of grilled meats.
There's no denying there's an extreme amount of thought that's been put into how each slice of wagyu is served at Yakiniku Great. Chef Tsugawa has clearly spent a lot of time analysing each cut and timing the grilling to perfection so you get the best out of the flavours. And it's time well spent. The meats are nothing short of exceptional. So, to answer Bob Harris – this kind of restaurant makes you cook your own food. The kind that wants you to experience the best flavours of the meat when they're all right there, just seconds off the grill. Yakiniku Great is great at this. And, to relate with Bob Harris in the film: yes, this food would also go perfectly with a Suntory whisky. Lisa Cam

Yakiniku Great Unit 1, G/F, Manhattan Ave, 255 Queen's Rd C, Central, 3565 6129; facebook.com/yakinikugreat.hk.
Details
Best selling Time Out Offers