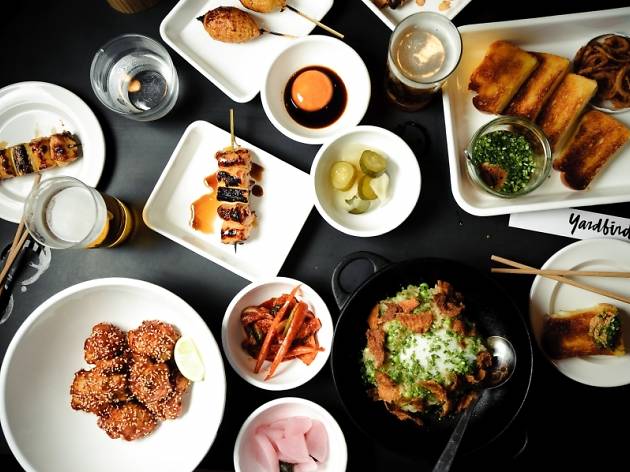 Judging by the hordes of diners who flock to Yardbird, it seems like everyone in Hong Kong knows about this stunning restaurant. And there's good reason for the mass popularity – Matt Abergel, previously of sushi temple Masa in New York and of Zuma in our own backyard, has meticulously put together a dining experience that works on all levels.
Yardbird is an izakaya/yakitori venue that Tokyo denizens wouldn't roll their eyes at. The menu says come early and come often. People do. They come for the minimalist space on an unassuming stretch of Bridges Street. Small touches abound – jars to discard skewer sticks and a diner style drinks board. The diners come for the inviting bar, funky soundtrack, and the creative and accessible drinks programme. Order the El Chonie, a perfect marriage of beer and tequila. But most importantly, obviously, diners come for the food.
The chicken here is being treated no differently than the finest piece of toro, with love and care. And it returns the favour by donating literally every part of its body. The thigh, wing, neck, liver, tail or skin – all priced at $38 a skewer – would be a good place to start. Order them all. Smoky, salty, juicy and cooked to perfection. The liver is creamy inside, the tail fatty and gelatinous, presented as tiny little morsels that melt on the tongue. And the wing is boned just so, almost elegantly – moist meat with blistered skin. Speaking of skin, it's reminiscent of a crunchy potato chip – one skewer is not enough. And who knew how much we'd love chicken necks, splashed with a spicy pepper sauce? Go for the oyster ($42) as well – and don't say you can't eat oysters, like the fashionista who sat next to us. They're two round pieces of dark meat near the thigh, not the shellfish – and it was our favourite skewer of the night.
The yakitori is chicken-only and, as incredible as it is, so is the rest of the menu. The KFC (Korean fried cauliflower, $75) has already entered the Hong Kong food pantheon. Neither too mushy nor al dente, the crisp orbs bring a touch of heat thanks to the yuzu and chilli. Manganji peppers with honey and sea salt ($58) also pack a sneaky touch of spice behind the blistered skins, tempered by the sweetness of the honey. The liver mousse ($110) was silky and properly livery, served on milk bread so airy and light we wanted to make a bed out of it, with crispy shallots that were some of the best onion rings we've ever had, as miniature as they may be. The fried chicken ($140) with garlic and kewpie mayonnaise is the benchmark in town.
Were there any hiccups? Barely. A pickled Napa fennel ($30) overwhelmed by too much vinegar and a chicken meatball ($42) that was ho-hum were overshadowed by the bubbly and knowledgeable service (no service charge, a trend that we hope continues to gain traction) and every other dish we tried. We did curse ourselves for passing on a dish called chicken and rice – a 'risotto-esque' creation with crispy chicken skin and peas – after we saw another diner tucking in, so there's more of this heavenly grub to sample in the future.
Yardbird is a game place. Hell, even the name is cool. Wyndham Street can have the cougars, we'll be hiding out in Sheung Wan from now on with the chickens. Ryan Andrews
33-35 Bridges St, Sheung Wan, 2547 9273; www.yardbirdrestaurant.com. Mon-Sat 6pm-late. Closed Sun.
The bill
Korean fried cauliflower $75
Manganji peppers $58
Liver mousse $110
Pickled Napa fennel $30
Chicken meatball $42
chicken tail x2 $38pp
Oyster x2 $42pp
Chicken skin $30
Chicken liver $38
Chicken thigh $38
Chicken wings $38
Chicken neck $38
Fried chicken $140
Ten percent service charge $0
Total (for two): $797
Venue name:
Yardbird
Address:
33-35 Bridges St, Sheung Wan
Hong Kong