Interview: Nick Brown of Soludos
The founder of Soludos explains to Jamie Lee and Marie Wolf where his passion for the espadrille originated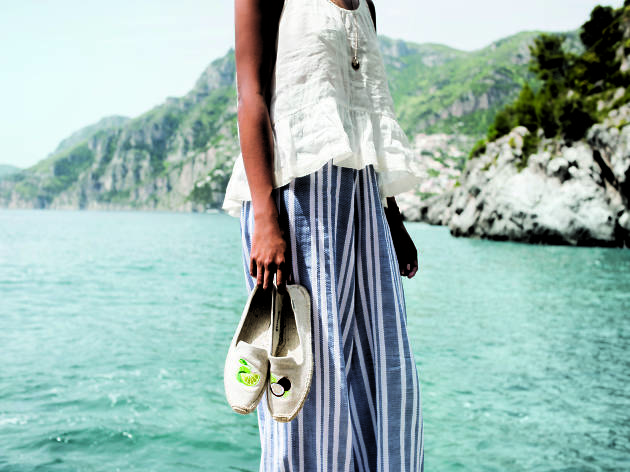 Though he never dreamed of establishing his own brand of shoes, Nick Brown has charmed his way into the fashion industry by combining passion, hard work and a little bit of humour to create some of today's best summer-lovin' shoes. Now six years old, his brand, Soludos, has gained an enormous amount of support around the globe thanks to its casual look and easy-to-wear style.

Brown's childhood was interwoven with busy days in London and summers in Spain. He grew attached to traditional espadrilles, footwear that's been sold in Spanish markets for centuries. When life took him to New York and he failed to find the woven shoes that reminded him of his early travels, Brown took matters into his own hands and created Soludos, his contemporary take on the style. He tells us: "I wanted to create a brand that paid tribute to the heritage of these rope-soled shoes, but then bring in new designs, new fabrics and new leather that hadn't been done before."
What makes Soludos stand out from the crowd is its fusion of cultures and designs. Big-name collaborators include Laura Hoffmann, Opening Ceremony and Jason Polan. In looking for the perfect partners, Brown says: "It's really about finding brands or designers or artists who have a point of view that is instantly recognisable" Combined with eco-friendly ikat fabrics from India, Soludos' collections burst with creativity and wit. The stylish pairs come in many shades, hues and embroideries inspired by tropical holidays, New York's street food scene and quirky quotes.
Although the urban jungle of our SAR seems like an unlikely breeding ground for espadrilles, Brown recently visited and personally launched his latest collection at Kapok while highlighting how 'so much of Hong Kong is spontaneous, it's the best part of it. It's old versus new as well'. Whether for the beach or for a stroll in the city, Soludos boasts that spur-of-the-moment spirit and will surely put a spring and some summer into your step.
Soludos Available at Kapok, 5 St Francis Yard, Wan Chai, 2549 9254; ka-pok.com.