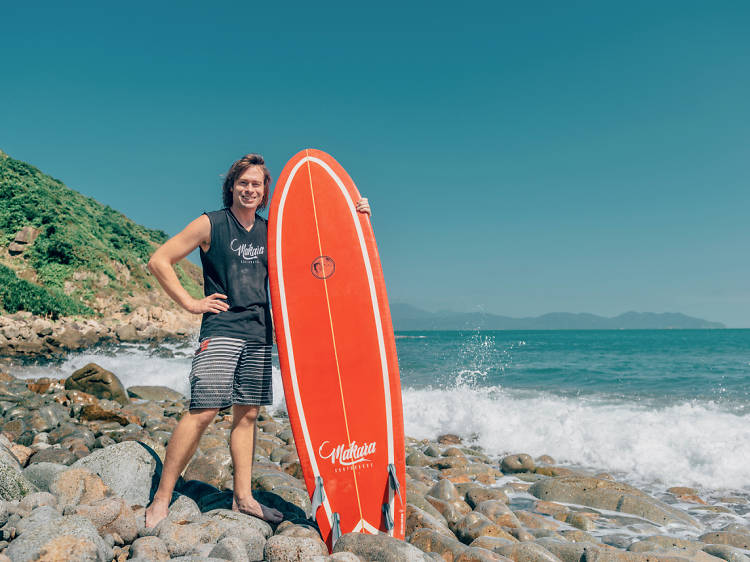 Photo: Calvin Sit
How did you get into surfing?
It all started in my childhood in Canada. I began windsurfing at seven but dropped it by the time university hit. Years later, when I moved to Hong Kong, I decided I needed to get back into something. I looked into things, took a surf lesson and was hooked.

Do you get walk-in customers in Tap Mun?
The reason I'm here isn't because there's a load of surfers walking past. It's for the fact that I have a lot of random people who walk past and are intrigued that there's a guy making surfboards here. They take photos and share them on social media and it builds word of mouth. And honestly, surfers are some of the most brand-loyal consumers. I'm trying something pretty difficult here. My expectation is that it's going to take a few years before someone with credibility, who's been surfing for a few years, is going to be willing to put their faith and trust in me to make them a board.

Is it hard getting the materials you need transported to Tap Mun?
I have certain criteria for my materials. Ideally, it's got to be locally sourced and environmentally friendly. With some things like polystyrene, I can't do that yet, but hopefully that can change in the future. But basically I can order things, get them delivered to Ma Liu Shui pier and a boat will bring them over to Tap Mun. If anyone can't deliver to the pier, I can get it delivered to my office in Sha Tin.

Where does the name Makara come from?
In Hindu mythology, a makara is a vehicle, but it's also an organism. It's a half-land, half-sea creature. The goddess of the river Ganges rode a makara from the heavens down to earth as the water flowed to feed the earth. When I read that I thought, holy crap, this works perfectly.

How would you describe the surf scene in Hong Kong?
Chaos. Surfing has become more interesting to locals but there's still a lot of expats who come, surf, do their thing for a few years and then leave. The surf industry here needs to grow. We may not have world-class waves but it's a world class transit point. You can get waves here but if you want something better you can easily get to Taiwan, to the Philippines and to Indonesia super quick. Surfing in Hong Kong's still in its early stage, working out what it is.

What's the next step for you?
To start demoing my boards at places like Big Wave Bay. I'd like to see people support a local business rather than buying so many imports. A custom build is going to be high quality and it is going to be designed to your requirements. People who make surfboards are called shapers – support your local shaper!