Heads up! We're working hard to be accurate – but these are unusual times, so please always check before heading out.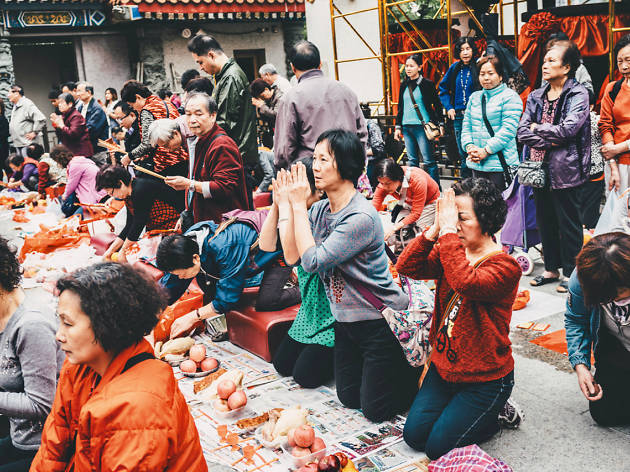 Why feng shui is big business in Hong Kong
We examine why Hongkongers are such devotees of feng shui and why it's big business in our city
From the Star Ferry at night, nowhere else on Earth looks as futuristic as Hong Kong. The skyscrapers of Central and Tsim Sha Tsui are images of Blade Runner made real – the dazzling towers and incandescent brand names as close to Ridley Scott's vision of a cyberpunk future as we'll hopefully ever get.

Hong Kong sells this vision of itself to outsiders. Victoria Harbour at dusk is the banner image on the Hong Kong Tourism Board's website. Visitors oooo and aaah at the city's skyscrapers, marvel at the array of uses one's Octopus card can be put to and consider the world of tomorrow here today when riding the Mid-Levels Escalator, a mode of transport that wouldn't look out of place in Fritz Lang's Metropolis.

But despite this futuristic façade, Hong Kong remains wedded to old ideas and superstitions. Like its much hyped East/West identity, the city's futuristic appearance and simultaneous adherence to tradition is one of its appealing dualities. It remains a central irony that Hong Kong, a British colony for nearly 150 years, remains a greater repository of ancient Chinese culture than the Mainland itself.

Nowhere is Hong Kong's respect for tradition more evident than in its residents' courting of luck via feng shui. Feng shui master Thierry Chow reckons one in two Hongkongers believes in the practice. She tells us: "I would say that at least half the population believes, on different levels. Some people are just causally interested in knowing their zodiac, but probably as many as 40 percent believe in it on a deeper level."

Evidence of such adhesion to these beliefs isn't hard to find. Hundreds of thousands of Hongkongers visit temples during Spring Festival to curry favour with the gods: on Lunar New Year's Eve Wong Tai Sin Temple stays open all night and hosts some 50,000 visitors. The Jockey Club uses names like Lucky Start and Flourishing Fortune to tempt Hongkongers into having a flutter at this time of year and 79,000 duly attended Sha Tin Racecourse on January 1. The government spends millions compensating communities in the New Territories who claim their feng shui is disturbed by construction projects and the HSBC Building, a hi-tech wonder built according to feng shui principles, was the most expensive building in the world when completed in 1985. Adverts for almanacs written by famous fortunetellers fill billboards and bedeck the sides of buses here, putting these individuals in the company of popstars and famous actors. "Though it's also popular in Japan and Taiwan, I would say Hong Kong and China are definitely at the top in terms of believing in feng shui," concludes Chow.

But why? Why Hong Kong more than anywhere else in the world? And how much will Hongkongers spend to try and maximise elusive luck? Read on to find out...
Being Lucky in Hong Kong
Location, Location, Location
Yes, Hong Kong's wealth could be put down to the rigorous work ethic of its citizens and its history of acting as a gateway to the Mainland, but feng shui masters would say the city's physical geography plays a crucial part too.

That's because Hong Kong, according to the principles of feng shui and geomancy, exists in an almost perfect location. Ideally, houses and cities are supposed to be 'bound by mountains and near water'. Mountains act as a defence against inclement weather and invaders, while water is a source of life and a useful means of transportation. Surrounded by the South China Sea and covered in mountains, our SAR is blessed.

A deeper analysis of Hong Kong's good fortune is possible according to Master Peter So Man-fung, one of Hong Kong's highest profile feng shui masters. He says: "From the angle of feng shui, Victoria Harbour is the main factor for Hong Kong's prosperity. The harbour is deep enough to accumulate wealth and wide enough to keep the treasure. It forms the configuration of a large amount of inflow but a small amount of outflow." He goes further, revealing: "Hong Kong Island and Kowloon Peninsula together form a greeting and seeing-off terrain. It is like Central warmly greeting Tsim Sha Tsui with its arms open wide. The feng shui energy is then stored in these two areas and radiates to all other directions and the centre grid of Hong Kong."

The importance of feng shui in our territory has long been recognised. Tai Fu Tai Mansion in San Tin, believed to have been constructed in 1865 by a Qing dynasty official, before the New Territories became part of Hong Kong in 1898, is ideally situated in front of four hills and two water channels. Similarly, Sheung Wo Hang in the northeastern New Territories, founded around 1750, is noteworthy for having been designed with great care for taking into account various feng shui environmental elements.

Clearly, feng shui has been accorded influence in Hong Kong for centuries and existed courtesy of influence from the Mainland. Beijing's Forbidden Palace was constructed in the 15th century according to many feng shui principles in order to bolster its fortunes, including the practice of having a mountain to the rear and a river in front. The geographical aspects that made this possible, the Jinshui River and Wansui Mountain, were both articially created solely for this purpose.
These days, however, feng shui is looked on with disapproval by Beijing. In January 2015 officials in Shanxi province launched a campaign against superstitious activities like feng shui. Xinhua reported that anyone involved in such activities would be 'punished in line with the newly published guidelines by the Shanxi provincial Civilization Office' and that officials were organising a 'a variety of pro-science events' for 'Shanxi's rural areas to popularise scientific knowledge and improve local residents' ability to reason against superstition'.

Although China's crackdown on feng shui is commonly associated with Communist rule since 1948, authorities in China had for decades been attempting to eliminate such beliefs among the populace. Professor John Carroll of the University of Hong Kong's history department tells us: "The important point to remember about the crackdown on traditional beliefs is that it started long before the Communists came to power."

General Yuan Shikai, later the Hongxian Emperor, led the first such crackdown in an attempt to modernise Qing China following its defeat in a succession of wars after the First Opium War. After Yuan's death, the Kuomintang continued to work at eliminating superstition in China. The party was keen to define habits suitable for a modern citizen and to eradicate any customs that might hinder the formation of a cohesive nation. Professor Carroll points to the Kuomintang's New Life Movement, started in 1934, as a key example of the party seeking to eradicate unwelcome practices like opium smoking, gambling and spitting. "This was Chiang Kai-shek's attempt to make a new man in China," comments Prof Carroll. Although it did not specifically target rituals associated with feng shui, such practices were frowned upon.

Following the Communist victory in the Chinese Civil War, a new Marxist-led crackdown on superstition commenced. This process took off during the Anti-Rightist Campaign of 1958, which looked to prepare the population for rapid modernisation. Communist Party leaders declared in memorandum that superstition had 'lost its basis for existence in the socialist society' and should be abolished. Superstitions such as feng shui suffered even greater censor during the Cultural Revolution (1966-76) when it was considered one of the 'four olds' – old beliefs, customs, traditions and thoughts – that had to be ditched to push the development of true communism. Attacked with opprobrium, the visible practice of religion and superstition practically vanished during this era.

Professor Carroll tells us that up to 300 Mainlanders crossed over to Hong Kong every day in the early years of Communist rule in China. These individuals brought with them old beliefs and practices, which were not repressed by the colonial authorities who showed willingness, or simply a need, to tolerate local culture. The result, ironically, is a former European colony more wedded to Chinese traditions than the motherland itself.
If concrete proof is required that luck and feng shui is big business in Hong Kong, just head to 1 Queen's Road Central. The HBSC Building is a physical manifestation of Hong Kong's belief that praying for luck is all well and good, but paying for it is better. When it was finished in November 1985 the headquarters was the most expensive building in the world, having cost $5.2 billion. Although part of the cost can be explained by the building's hi-tech look and complicated design, which allowed for an absence of internal supporting structures, the desire to ensure maximum prosperity led to a host of design choices focused on ensuring correct feng shui.

The site itself has excellent natural feng shui. As well as enjoying the benefits of Central's geography – with mountains to the rear and water to the front – the HSBC Building supposedly sits on a living dragon's vein, which brings tremendous energy and prosperity. The bank is apparently the only building in the SAR to enjoy such fortune.

Foster Associates, the architects of the building, built it, literally and figuratively, on this base of prosperity. Sir Norman Foster himself commented that the success of the construct was down to 'its context and the technology' involved.

Said context was the local belief in correct feng shui bringing good luck. To that end, a raft of luck-inspired decisions were made. The entrances to the bank were placed along a northwest-southeast axis, as these were deemed most desirable. A feng shui expert was employed to determine the most precise position of the banks' famous lions, Stephen and Stitt, in order to harmonise with the contour of the hill behind. The ground-floor space, filled with domestic helpers come Sundays, was not left vacant for altruistic reasons. HSBC asked that the area be left vacant so as not to obstruct the positive flow of energy across the site. The escalators that take visitors into and out of the building were also aligned to avoid the problem of having entrances and exits facing opposite each other, which could mean the bene cial energy of the dragon's vein leaving as easily as it enters. The X-shaped bracing of the structural system was also deemed to have a negative effect on the flow of energy within the building. Although this aspect of the design could not be altered, green plants were strategically placed to counteract any adverse effects.
The luckiest place on Earth
It's not clear how much of the HSBC Building's billion dollar budget was eaten up by its many concessions to feng shui but a similar take-no-chances policy was adopted at another local landmark.

When Hong Kong Disneyland opened in 2005 it was another example of the importance of ensuring good luck. And Disney had good reason to pay attention. When its Paris themepark opened in 1992 it got off to a rocky start thanks to a failure to appreciate local conditions. First, the park failed to offer wine to the oenophilic French and when it offered them an array of French food at the park's restaurants, it turned out they came to Disneyland seeking American fare. Although now regarded as a success, the park has required $57 billion of investment to achieve that status.

Although Hong Kong Disneyland can't claim to be a unanimous success – the park lost $148 million in 2016 – Disney did at least seek to learn from its Parisian missteps and ensure the park on Lantau left nothing to chance.

In fact, numerous steps were taken in line with feng shui principles to bring good luck. Experts were involved from the start to make sure good energy was maximalised. Penny Bay was selected as the place to build because, as per feng shui 101, it was surrounded by hills and water. The pathway to Disneyland Hong Kong from the MTR station was curved to ensure the park's positive energy wouldn't flow straight out into the South China Sea. The angle of the front gate was shifted 12 degrees after experts recommended this adjustment to improve the park's luck. Further measures were taken along this line when the main ballroom at the hotel was designed to be exactly 888sq m because of the lucky connotations surrounding the number eight. Large rocks have been strategically placed across the park because they represent stability and prevent good fortune from escaping. Cash registers are placed close to corners or along walls since such placement is believed to increase prosperity.

Lastly, in Crystal Lotus, one of Disneyland's more fancy restaurants, there are screens glowing, red to represent fire, so that all five feng shui elements, which also include wood, earth, water and metal, could be included in the restaurant's design. Wing Chao, the master planner of architecture and design at Walt Disney Imagineering, told The New York Times on the occasion of the park's opening, "We could not have real fire because of the fire code," though it sounds like some involved wished they could...
Big bucks from Little Sweetie
The case of billionaire Nina Wang's long disputed will is one of the rare cases where concrete gures regarding spending on feng shui have come into the public realm in Hong Kong.

Asia's richest woman prior to her death in 2007, Wang was one of the most identifiable personalities on Hong Kong's rich list thanks to her long established habit of wearing mini-skirts and doing her hair in pigtails, a look that earned her the moniker Little Sweetie.

Controversy erupted when Wang's feng shui guru, Peter (formerly Tony) Chan Chun-chuen claimed to have a version of her will that left her entire fortune to him. Eventually, Chan was convicted of forgery, but not before it came to light that he had been having an affair with Wang and had been showered with $2.6 billion worth of gifts.

Such was Wang's predilection for feng shui, her assistant, Wong Lai-chuen, told the UK's Daily Telegraph: "There were more gods and ghost ornaments in her room than in an old movie. There were also accessories to be worn on her hands and body. There were times when I even saw piles of ashes in the corners of her office." Supposedly Wang and Chan would travel around Hong Kong digging 'feng shui holes', possibly as many as 80 of them, into which they threw jade, coins and other objects for good luck.

Although it's hard to analyse why people believe what they do, Prof Carroll postulates that the importance of feng shui is simply intrinsic to Chinese beliefs. "It's a part of a wider group of what could probably be termed 'practices and beliefs' common to Chinese individuals," Carrol states. "Like how certain foods should not be eaten during pregnancy or how postpartum women shouldn't wash their hair for a number of weeks."

Prof Carroll also suggests that the stronghold feng shui maintains in Hongkongers' minds is partly down to its association with wealth. It's a notion Thierry Chow agrees with. "I think it's because there are a lot of examples of very wealthy people, such as like Nina Wang and Li Ka-shing, who famously utilise feng shui," she says. "I think that sets an example for a lot of people. They're working hard and feng shui offers them a hope for better luck and a brighter future."
However, it's not just individuals in Hong Kong who spend significant amounts on feng shui. The government does too. One of the most infamous cases of government payments surrounds the ongoing construction of the express rail link between Hong Kong and Guangzhou, for which 17 individuals or groups have claimed compensation, saying their feng shui had been adversely affected by building work. An investigation by the South China Morning Post revealed that $10 million had been paid to settle these disputes between 2004 and 2014.

According to a press release, the government may make so-called 'tun fu' payments 'to people concerned... that [construction] projects will adversely affect the feng shui of their villages'. These payments, only provided to residents of the New Territories, are designed to cover the cost of rituals that correct villages' disturbed feng shui. Based off of information from the Lands Department, between the fiscal years 2009/10 and 2013/14 the government received 123 claims relating to 79 projects in the New Territories and paid a further $10 million to residents.

Tun fu payments have come in for criticism not just because of the dubious concept of spending taxpayers money on superstition, and only in the New Territories at that, but also because of a lack of transparency. When pressed for details on tun fu payments, Michael Suen Ming-yeung, Secretary for Housing, Planning and Lands from 2002 to 2007, sought to shut down discussion of the matter stating: "Given that each case is considered on its own merits and involve[s] negotiation with villagers concerned on their claims, the administration is not in a position to disclose details of each claim."

The murky world of tun fu payments exists in the private sector too. The chief executive of the Kowloon Canton Railway Corporation, in charge of the express rail link to Guangzhou, admitted to paying millions of dollars to villagers protesting damaged feng shui, but stated no records of the transactions were retained, fuelling speculation that payments could be much more than admitted.
While precise figures for the scale of Hong Kong's indulgence of feng shui are unavailable, the amount is clearly substantial. In a city with appalling income inequality – an Oxfam report from 2016 said Hong Kong had the worst wealth gap of all developed regions – it seems Hongkongers are willing to try any means to accrue a little extra luck and prosperity. While we should all be glad that our SAR has helped this aspect of traditional Chinese culture to survive, perhaps it's time to focus on building a fairer society. Perhaps then individuals wouldn't feel the need to seek the assistance of celestial forces to gain a better life. And if interest in feng shui died down a little, maybe that's a price worth paying.