Best workday lunch spots in Bukit Bintang
Working in Bukit Bintang doesn't mean you're doomed to go broke over your lunch break. Head to these food courts, cafés and casual eateries for wallet-friendly yet satisfying weekday meals
Shopping, Shopping centres
Tucked away on the fourth floor of Sungai Wang Plaza (right next to the car park), the food court houses a variety of noodle and rice stalls. But people are usually here for the mixed rice; the spread is huge and the food is relatively cheap – a plate of zhap fan is about RM5, with a side of chicken and vegetables. The setting here is quite retro – dine to old movies of Stephen Chow and Chow Yun-Fat playing from the TVs around you.
If you're looking for a place to escape from your work woes, Table 23 will offer some respite. While the Changkat area can be quite chaotic at night, it's surprisingly calm and quiet during the day. Table 23's set lunch (RM18.90) offers a diverse selection of Asian food, from kimchi fried rice to pho – all of which comes with a drink.

Set lunch, Mon-Fri, 11.30am-5pm
Working in the heart of KL doesn't give you many options for cheap eats. Luckily there are still places like Wisma Cosway around. Here you can easily get a meal and a drink for under RM10 at Tesstaurant Café; there are rice dishes with sweet and sour pork, herbal chicken and more. Also available are various Japanese restaurants that offer affordable set lunch deals. If all that doesn't tickle your fancy, check out the food court outside where there are hawker favourites like nasi ayam or wantan mee, among others.
There's not much to be said about this food court that can't be said about other food courts. It's cheap and it gets unbelievably packed during lunchtime, when regulars come for hawker favourites like ayam kunyit, laksa, nasi campur and more. But Menara Olympia's stands out because almost every stall here is good, compared to a typical office food court which only has a couple of reliable stalls.
Just opened last year, Capitol Café manages to retain the vibes of yesteryear kopitiams with vintage patterned tiles and typical old school coffee shop furniture to match. The most popular meal here is the nasi lemak set lunch, which comes with a hefty piece of chicken and a drink for only RM10. Or if you like, you could go with any of the classic kopitiam 'superfoods' they have on the menu.

Set lunch, Mon-Sat, 12noon-2pm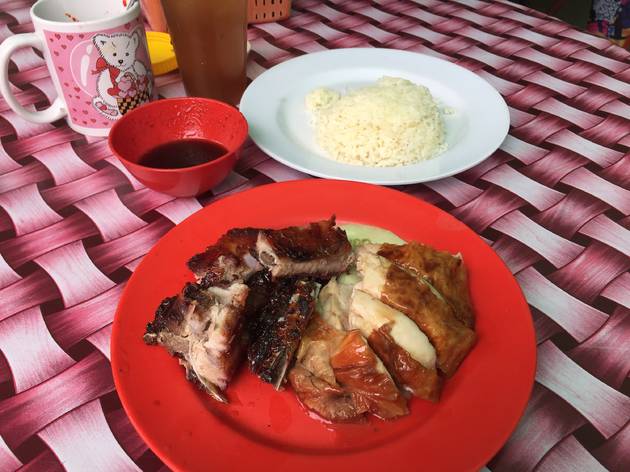 On Jalan Bedara next to D'View Inn Hotel, a non-descript stall run by a group of aunties serves chicken rice as well as some mixed rice dishes. While the rice and chilli sauce here are forgettable, the excellent char siew ribs make up for everything. Save for the fatty bits, most of the meat has been barbecued until dry – it's almost like eating bak kwa and it tastes exactly like that too.

Chicken rice, from RM6; single portion of char siew ribs, RM10
As much as we'd all love to, we can't have nasi campur everyday. Sometimes our body deserves something healthier. This is where 'healthy fast food' expert Hale comes in, with their range of burgers, wraps, pastas and salads. All their meals are made from scratch and they don't use any artificial ingredients. Their daily lunch specials are only RM14 and it comes with a cup of brewed tea. So rest assured you won't hurt your wallet (or your body) at Hale.

Lunch specials, Mon-Fri, 12noon-3pm
For a cheap, fast and reliable lunch, Restoran Beremi Meng Kee (formerly from Jalan Alor) serves Hainanese chicken rice as well as a small selection of zhap fan dishes. The chilli sauce is thick and spicy, the garlic and ginger dip is punchy, and the soup is flavourful (we had ABC soup with corn when we visited).

Chicken rice, from RM5.50
It's a discotheque by night and a restaurant by day. During the day, plastic chairs and tables are set up on the dance floor to cater for the lunchtime crowd. If you've ever wanted to have good tom yum on a dance floor, this is your chance.
Heading to Damansara Uptown?
As much as we'd like to, we can't help you with Uptown's parking headache. We can, however, point you to the best places in the eatery-saturated area for your workday meals, featuring wantan mee, assam pedas claypot sets, onsen carbonara, nasi lemak, zhap fan and more.