Guide to Hong Kong
A bustling, thriving 24-hour city with an excellent food and drink scene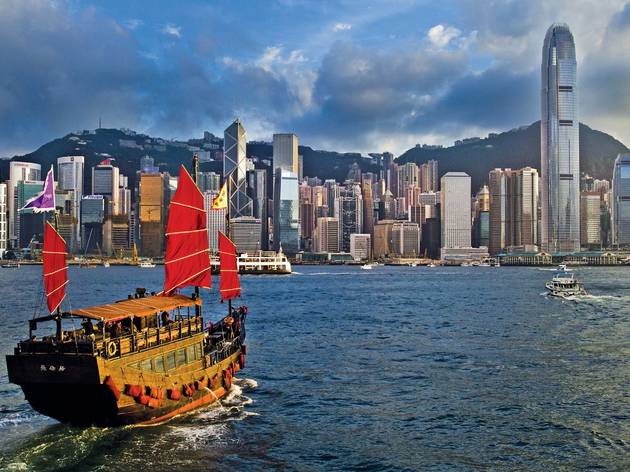 HOTTEST 'HOODS
Wan Chai
Once known for its sleazy bars, the area has smartened up its act with plenty of interesting restaurants.

Sheung Wan/Sai Ying Pun
Now with improved transport links, the western side of the island is growing from a hipster hangout to an essential weekend spot.

SHOP
GumGumGum
GumGumGum (which is Cantonese slang for 'like this') is a lifestyle store featuring local brands and hip Hong Kong streetwear. At the back of the store is the Gum Jeng (it means 'awesome' in Cantonese) café, which serves up tasty local street snacks.
8-10 Cleveland St, Fashion Walk, Causeway Bay (+852 3486 7070/gum-gum-gum.com).

Goods of Desire (GOD)
No other shop embodies the HK spirit as much as GOD. Everything, from furnishings and furniture to clothing and accessories, reflects a part of Hong Kong. Its most popular catchphrase is 'Delay No More', which is a pun on 'F**k Your Mother' in Cantonese. Oh, and the brand has a sense of humour.
9 Sharp St E, Causeway Bay (+852 2890 5555/god.com.hk).

EAT
Nur
Raymond Blanc apprentice and NOMA alumnus Nurdin Topham creates his own style of cuisine using local ingredients.
Third floor, Lyndhurst Twr, 1 Lyndhurst Tce, Central (+852 2871 9993).

Kam's Roast Goose
A spin-off from Hong Kong's iconic Yung Kee roast goose dynasty due to a famous family feud, this fowl proved it could hold its own by gaining a Michelin star this year.
226 Hennessy Rd, Wan Chai (+852 2520 1110).


Little Lab

DRINK
The Woods
Hong Kong's most successful molecular bar to date regales patrons with a variety of cocktails that challenge the senses.
17 Hollywood Rd, Central (+852 9132 1802).

Little Lab
This cute bar puts itself on the map with creative cocktails using uniquely Hong Kong ingredients like Pak Chun vinegar and cha chaan teng-style milk tea.
Shop B, 50 Staunton St, Central (+852 2858 8580).

THINGS TO DO
Walks
Hong Kong has some great countryside walks that allow you to explore the islands' fantastic views, all clearly signposted. Try the Dragon's Back for a serious workout or go for a leisurely stroll around the Peak.

Happy Valley
The racecourse here is a local institution, and twice a month on a Wednesday night you'll find it packed with punters enjoying the horse race – and normally a good amount of alcohol too.
2 Sports Rd, Happy Valley (+852 2895 1523).

HIDDEN GEMS
PMQ
Formerly the Police Married Quarters, the building now plays host to local artists and designers as well as several restaurants and cafés.
35 Aberdeen St, Central.

10,000 Buddhas Monastery
Established in 1957 by devoted Buddhist Yuet Kai, the monastery boasts ornately decorated halls with statues adorning a path to the listed buildings.
Tai Po Rd, Sha Tin, New Territories (+852 2691 1067).

DON'T MISS
Star Ferry
The secret is definitely out on this one, but there really is no better way to take in Hong Kong, with a view of both sides.
Tsim Sha Tsui, Kowloon (+852 2118 6208/starferry.com.hk).

LOCAL'S TIP
The best way to see the outskirts of Hong Kong is by sea. Go online and charter a junk boat to any of the beautiful outlying islands. For the best deals on tour operators, visit junks.hk.