Heads up! We're working hard to be accurate – but these are unusual times, so please always check before heading out.
What to do in Arroios, Lisbon's coolest neighbourhood
We're calling it: the multicultural Lisbon parish of Arroios is the world's coolest neighbourhood right now. Here's why
A neighbourhood of contrasts, Arroios stands out from the other parishes of Lisbon for the multiculturalism of its people and places. Cradle of Amália, the greatest Portuguese fado singer of all time, and home to almost a hundred nationalities, Arroios is the largest parish in central Lisbon, though you can walk across it in half an hour. More than a neighbourhood, it's a world in itself, and its many impressive kilometres of streets are packed with open-air galleries, restaurants from all corners of the world, public services, cultural and sporting venues… New businesses sprout like mushrooms, living side by side with traditional commerce – if you can't find it in Arroios, it's probably coming soon. No wonder our global poll of local experts named it the coolest neighbourhood in the world right now. Here's where to begin.
If you only do one thing…
Look for the longest queue on Avenida Almirante Reis – it's the easiest way to find the institution that is Ramiro. Our tip is to hit this renowned, down-to-earth Portuguese restaurant at five in the afternoon: after the lunch rush and before dinner, locals head there for an afternoon snack. Spend an hour dispatching clams, prawns, crabmeat, a plate of ham and a prego (steak sandwich) – and, to make everything better, uma imperial (a small draft beer).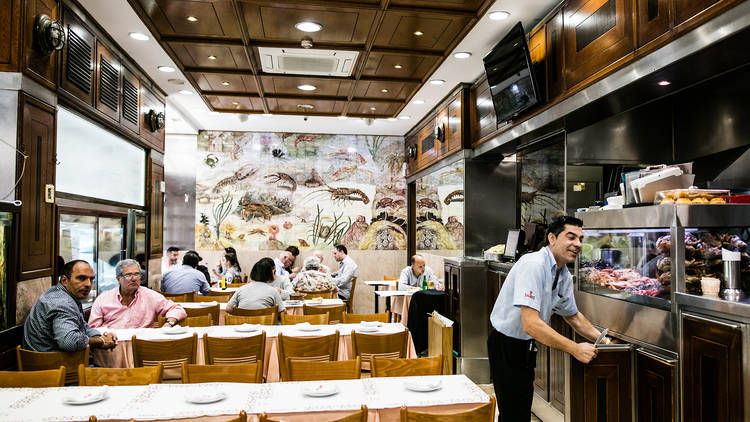 Ramiro
Get off the beaten track
On Regueirão dos Anjos you'll find Anjos70, one of the city's busiest cultural centres. Its programme includes matinées, film festivals, dance classes and even a yoga school. Alternatively, there's the Mercado de Culturas – anything from exhibitions and fairs to plays and live gigs fills this multipurpose space in the old nave of the Mercado do Forno do Tijolo. By 2021 it will be joined by the House of Diversity, a new support centre for Lisbon's LGBTQ+ and minority residents.
Soak up the sun
Head to the largest garden in the area, Jardim Braancamp Freire in Campo dos Mártires da Pátria, to check out the colourful basketball court redecorated by the urban artist Akacorleone. Or there's Jardim Henriques Lopes de Mendonça near Praça José Fontana, known for its jacaranda trees. There's a kiosk with a terrace and a children's playground, and it's perfectly placed for a stroll to the 31 de Janeiro Market to buy fresh food.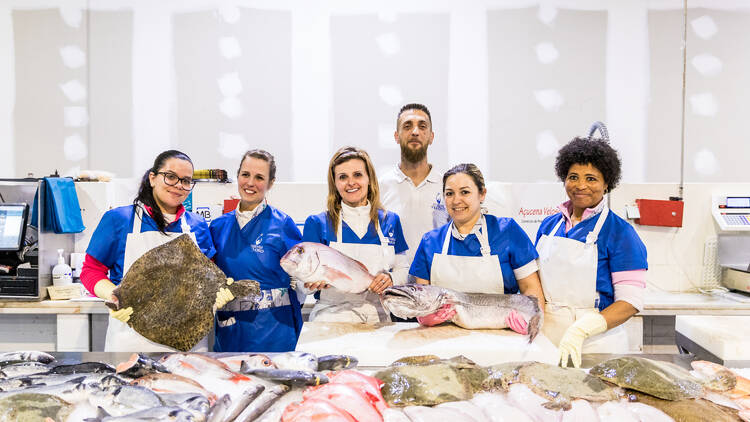 Mercado 31 de Janeiro
Hide from the rain
Why not spend a few hours reinventing yourself? Change your look at Slash Hair Studio, where they'll serve you excellent coffee and let you choose the background music, or the Lazarus salon, a barber's and tattoo shop. Or get in shape at Lemon Fit, a 24/7 four-floor gym with a running track and indoor lawn in the basement.
Get cultured
Opened in 1883, the Library of St Lazarus is the oldest in Lisbon. The main room maintains the beautiful furniture of the period, as well as publications from the seventeenth to the twenty-first centuries. If you prefer more informal surroundings, check out some of Lisbon's best bookshops, such as Bookshop Bivar, an English book store with a comfy sofa; Tigre de Papel, a clean-lined places full of unusual titles (including a small selection of English-language books), small publishers waiting to be discovered and a cultural calendar that includes debates, workshops and book launches; and Leituria, where books you won't find anywhere else share space with exhibitions, workshops and recitals plus posh stationery and design.
Chill out
Dog-owners should head to the Campo dos Mártires da Pátria canine park, where you can sit in the shade of old trees while your four-legged friend explores the obstacle course. Everyone else, try Stromboli: an artisan ice cream shop specialising in Neapolitan flavours.
Stromboli. Photograph: Duarte Drago
Stay up late
Make a beeline for Casa Independente, which was responsible for putting Arroios back on Lisbon's nightlife map. In a former palace dating from 1863, it's a bar, restaurant and concert hall with perhaps the best balcony in Lisbon, overlooking its famous courtyard. It's been the setting for many drunken nights of dancing, but also hosts open-air movie screenings and serves good food in its Tasca Tropical. For somewhere even more underground, check out the Vlada Lounge, which looks like a competitor for the 'smallest bar in Lisbon' award – until you discover the narrow corridor that lead to the back room, stuffed with tables and vintage junk, which hosts regular burlesque shows.
Eat here
There are so many dining options here that it can be hard to choose, from the city's best dim sum at Grande Palácio Hong-Kong to the South American flavours of Las Cholas. A special shout-out goes to the 'vegan triangle' near Praça de Chile, where you'll find plant-baed restaurants Las Vegan, Veganeats and Bio Vegetariano keeping things cruelty-free.
Las Vegan. Photograph: Manuel Manso
Drink here
Inspired by the Celtic Lusitanian culture of Portugal before the Romans rocked up, O Covil is one of the few places in Lisbon – or indeed anywhere – to serve sparkling mead. It's the perfect alternative to cider for anyone who wants to let out their inner warrior.
O Covil. Photograph: Manuel Manso
How to get to Arroios
In addition to many bus routes, Arroios is served by the Alameda, Anjos, Intendente, Saldanha and Picoas metro stations. Arroios station itself has been closed for works since 2017, and looks like staying that way until 2021.
What else is nearby?
Head to Saldanha for bars, restaurants and sunbathing in the Jardim do Arco do Cego, or walk down Almirante Reis to Martim Moniz, another of the city's most multicultural neighbourhoods.
Explore the best of Lisbon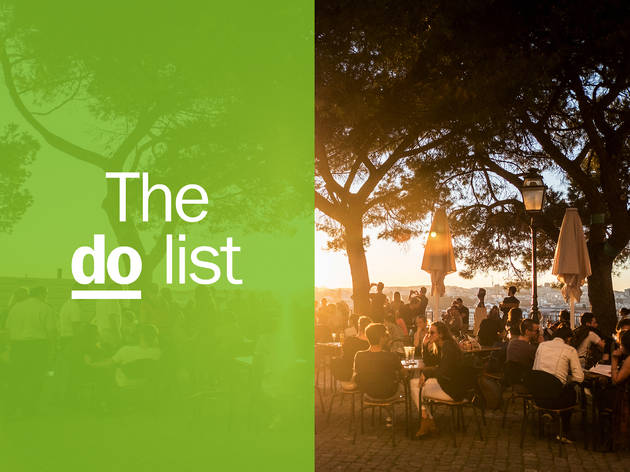 With its world-class restaurants, reputation for style and rich history in art and culture, Portugal's first city remains high on every discerning traveller's hit-list. But what are the essential things to do while you're here?
Lisbon is famously hilly, and embarking on an intrepid mission to discover the city's many historical and cultural attractions is thirsty work.