Jockum Nordström: 'Sometimes I'm completely inside another world'
The Swedish artist tells us why this is the right time to unleash his quietly kinky drawings, collages and sculptures on London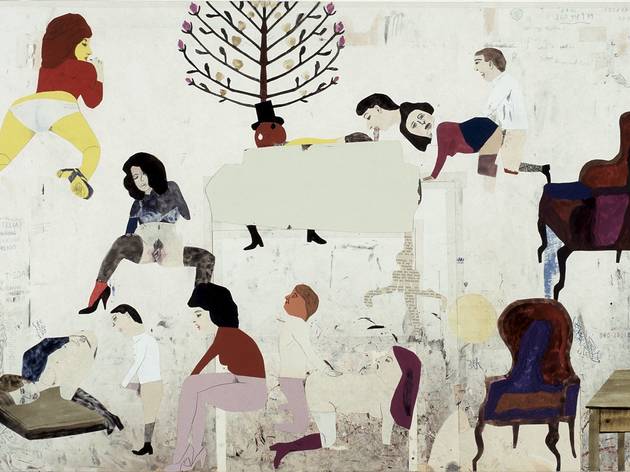 1/8
'One More Lap'
Collection Magasin 3 Stockholm Konsthall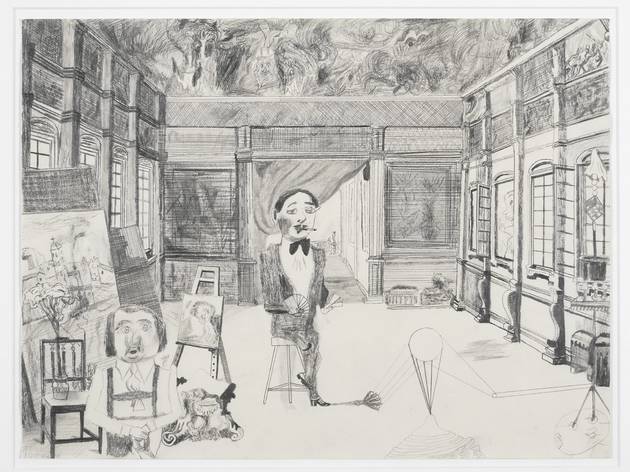 2/8
'Back in the Garage with my Bullshit Detector', 2000
Hort Family Collection, New York, © the artist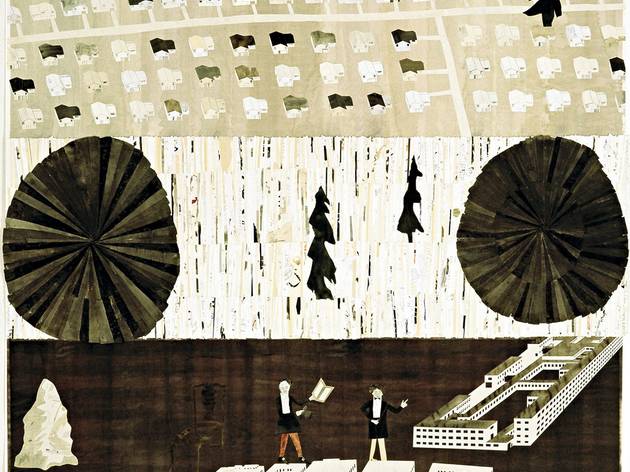 3/8
'Tiddlywinks', 2004
Collection Magasin 3 Stockholm Konsthall, © the artist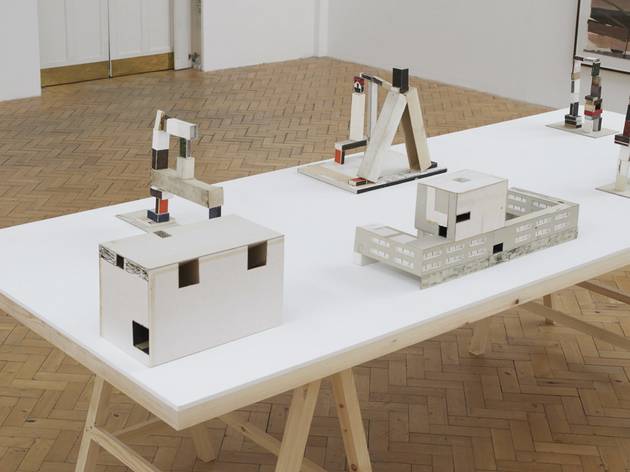 4/8
Installation view at Camden Arts Centre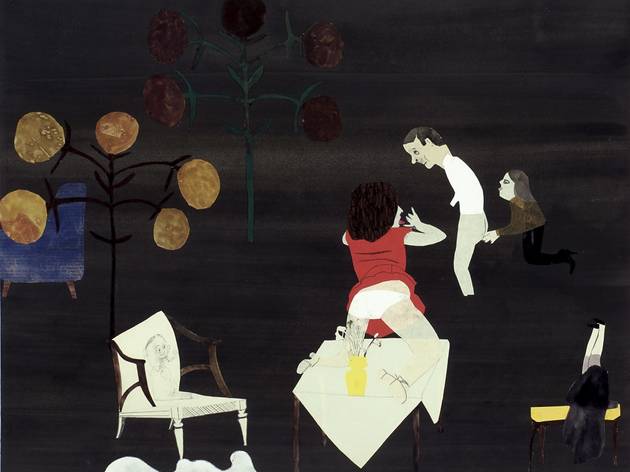 5/8
'The Final End of Childhood', 2001
Collection Magasin 3 Stockholm Konsthall, © the artist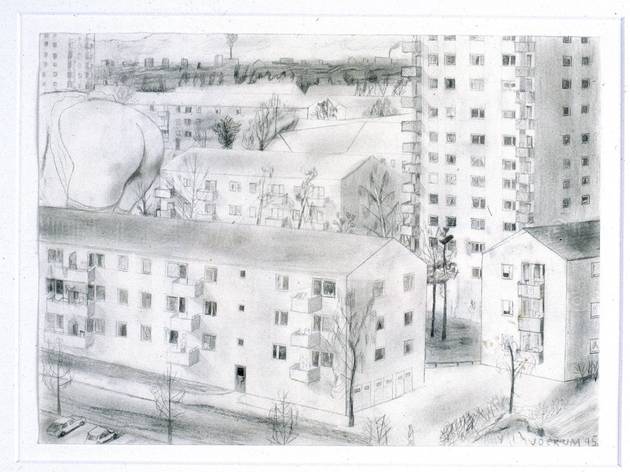 6/8
'View from the Studio', 1995
Private collection, © the artist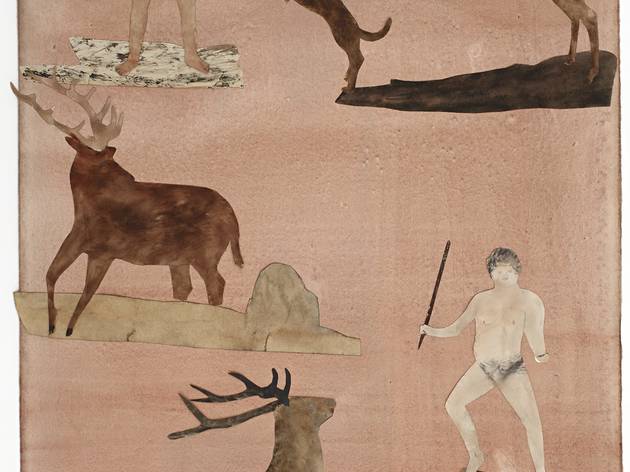 7/8
'Child of Nature', 2010
Private collection, © the artist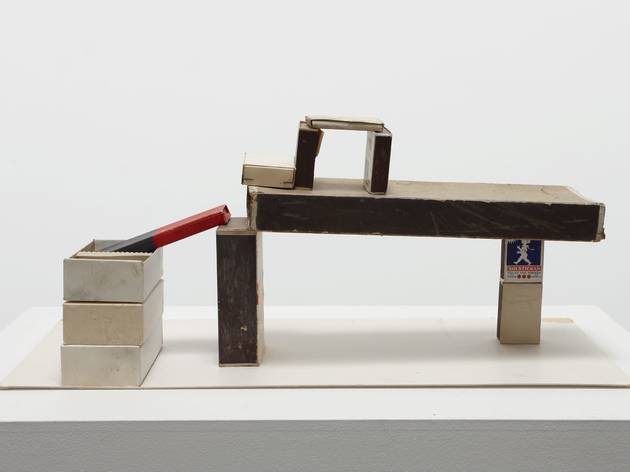 8/8
'Stepbrother', 2009
courtesy the artist and David Zwirner, New York
Jockum Nordström
's art pits child-like naivety against the complications of adult life – and it doesn't make for comforting viewing. There's much pleasure-seeking but not much pleasure-finding in the deceptively simple drawings and collages of this 50-year-old Swede. Men and women, often frolicking in top hats and costume-drama dresses, are tainted with themes of boredom, cruelty, anguish and lost innocence. Nordström's matchbox sculptures, meanwhile, look like modernist buildings on the razz, degenerating from order into undignified disorder. In Camden Arts Centre's garden, Nordström talks about his influences and the themes of a show that, drawing on two decades worth of work, is a feast of weirdly atmospheric delights – and one of the highlights of the summer.
You could have shown anywhere in London over the past ten years. Why Camden, why now?
'You know, for a long time I had only one commercial gallery because it just seems like a lot of stress to have more. Waiting this long before showing in London gives me the chance to make a selection of my work. And I like Camden. It feels hidden, a bit secret. It suits me.'
Who are the Victorian types in your work – ancestors, ghosts?

'Sometimes the people are from 200 years ago, sometimes 500. It all depends on what other pictures I'm into and what I'm reading. I like Hans Christian Andersen, things like that, so sometimes I'm completely inside another world.'

There's a collage in your show called 'In 100 Years' but nothing much appears to have changed…

'That's because I think human beings are basically the same and always will be. It could be me in the top hat, it could be you.'


What are the main themes of your work?

'It's about relationships, about the Western world – how men treat women, how the bourgeoisie treat poor people. There's a kind of sadness to it.'


Very Swedish…

'Yes, but sometimes I want to make a joke of it too.'

Do you ever feel alarmed by the images you create?

'Sometimes after a year I might think, "what's this?", but when I'm making them it's more like dreaming. There's a lot of self-representation involved – even with a woman or an old man or a tree. You go into yourself so much that they all become part of you. You don't leave them before they have a character.'


What about the buildings in your pictures? They seem quite characterless…

'I grew up in a Stockholm suburb in the 1960s, it was very modernist. We played inside, played hide and seek… That was my landscape.'


Did you want to be artist when you were a child?

'No, I wanted to be a sailor. I had a lot of fantasies. I wanted to go around the world, I wanted to go to China. But when I was ten years old my teacher's husband, who was a sailor, told me "Don't be a sailor, it's so boring".'
You were a commercial illustrator for a while, did that shape your work?

'I worked on a big morning paper in Sweden and every week they called me up to do an illustration for the music section. One week it could be the London Philharmonic, the next week it could be Billie Holiday. It was always so different so it was perfect for me – but after 100 weeks it was torture.'


Were you making your own art at the same time?

'Yes, always. This was just for money, for food, for beer.'


You also worked as a children's book illustrator, but your own art doesn't seem very child-friendly. What do your own children think of it?

'It's really hard to say because they grew up with this strange world. They're in their twenties now. Sometimes I think they think I'm an idiot.'


Which do you prefer – making drawings, collages or sculptures?

'When you draw you feel your way, find something. Collage is much more simple in many ways – you just cut. I've always made sculptures but I've only showed them in the past six or seven years. They're more like play for me. I'd say making drawings is the most important because it's the most difficult thing for me to do.'
Read more art interviews
We talk to the brightest of London's new art stars ahead of his Barbican Curve commission
Read more
The Mexican artist tells us about his Tate Modern Hyundai Commission in the Turbine Hall
Read more
One of America's most important artists, tells us about her show at Riflemaker and what it means to be a woman artist
Read more
The legendary photographer discusses his best shots as resident photographer at Andy Warhol's Factory
Read more
The US artist tells us why she want us to strip off and get hands-on with her brilliantly inclusive art
Read more
The Swiss artist tells us about the pleasures of making and breaking, and his love of brown tape
Read more
Breathing apparatus, steel toe-capped boots, a grinder… Quinn tells about blurring the line between painting and sculpture
Read more
Show more