The 9 best exhibitions in London this winter
Dump the Christmas shopping invite in the bin and escape instead to one of the brilliant winter exhibitions happening across London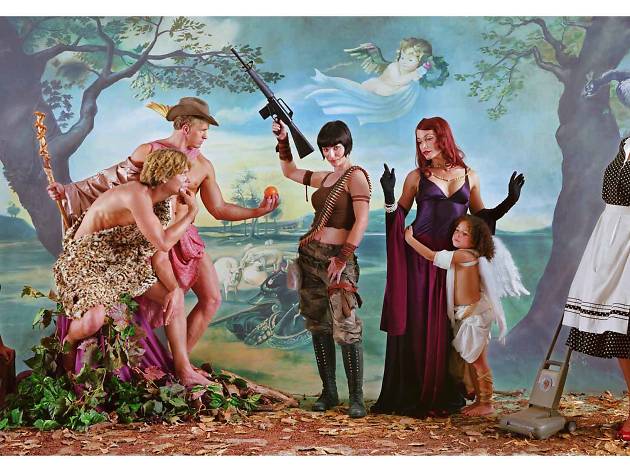 The ice skating rinks are starting to appear, the mince pies are lining the supermarket shelves, and you're thinking a whacking great fir tree would make the perfect addition to your 2ft by 2ft living room. Wait. Sack off the festive planning, throw the party invites in the bin and head instead to Ancient Greece. Or go look at some weird, unsettling photo collages. Or see how a daring British artist was actually inspired by the grand old boys of Art History. All this and more is taking place in London's galleries and museums this winter, and they're fighting fit for a place on your winter calendar. Here's our list of the ones to know about.
And when you're done with those, check out the top ten art exhibitions happening right now.
Missing Time Out magazine?
You can still read our latest issue from the comfort of your couch
Read online
Say cheese! For this brilliantly ambitious project, Steve McQueen (Turner Prize and Oscar winner) invited every single Year 3 school class in London to have their photograph taken. The resulting pics, taken in the classic 'school photo' format, are now on show as part of a huge installation that captures the diversity of one of the world's largest cities. Most impressive of all, McQueen even got Darren in class 3HJ to stand still long enough to have his photo taken. Now that's achieving the impossible.
In 1865, the UK parliament passed The Red Flag Act, a law insisting all motorised vehicles travelled at a maximum of 2mph in the city (think London at rush hour) or 4mph in the countryside and warned pedestrians of their approach by having a man walking in front of the car waving a red flag. Times have changed since then – now a good rule of thumb is to get the hell out the way of moving traffic, not dawdle in front of it flapping a bit of cloth – and as we approach the era of driverless cars, the V&A has a major exhibition looking at how automobiles have pootled and tooted all over the modern world.
Discover more of London's upcoming art exhibitions
Hello eager art friend, want to do some planning ahead? Well, you've come to the right place with our one-stop shop for all the art exhibitions, big or small, coming to London in 2019 over the next couple of months.