London's loveliest Christmas tree displays
Christmas lights aren't the only thing twinkling in London this winter, there are some pretty fabulous pines popping up across the capital too
London is now in full festive mode, with Christmas lights sparkling left, right and centre, and all the best Christmas markets open for business. It also has a stunning selection of firs and pines this year, ranging from traditional spruces to edgy installations. Here's our pick of London's best Christmas trees in 2018.
RECOMMENDED: The ultimate guide to Christmas in London
London's loveliest Christmas trees in 2018
St Pancras International Tiffany's & Co Tree
St Pancras International has partnered with Tiffany & Co for this very glitzy offering. Strut down the station's concourse and you'll find the creation decked out in the jewellery brand's iconic colours, reaching 43ft into the air, with a sparkly surface studded with miniature bottle and baubles. It's also got a robot made from Tiffany's boxes perched on a ladder, helping a mannequin doll pop a bottle of perfume on top of the tree, naturally. As if all that wasn't enough, at regular intervals throughout the day, Tiffany's signature Eau de Parfum scent is diffused from the tree, filling the station and cloaking passers by with a floral scent.
After branching out last year with an alternative (and musical) offering, Granary Square's 2018 tree is decidedly trad. Standing proud in front of Central Saint Martins and jazzed up with lights and baubles, the classy fir is flanked by the Square's fountains, dancing merrily and changing colour as they go. Sure, this one doesn't have a soundtrack, but it's a bloody beauty and you could always gather your pals around it for a sing-song.
© Tareq Mooradun
The swanky innards of Mayfair club Annabel's now has a facade to match thanks to this whopping great triangle of festive cheer. It has presents cascading down its front along with red baubles and sparkly lights, and a star shining brightly at the top. Stop outside its candy cane arch and door wrapped up in a big gold bow for the ultimate yuletide snap.
The Norwegian fir in Trafalgar Square
The kind people of Norway have been giving London a carefully selected (not to mention massive) Christmas tree since 1947 as a thank you for Britain's support during World War Two. The chosen tree has to meet strict criteria: it must have evenly set branches, a perfect cone shape and a vibrant green colour. This year's lucky bit of Norwegian wood is over 21 metres high and 80 years old (older than the tradition itself). See it all lit up as it fulfils its Christmas destiny.
Sketch London Christmas Tree
Make your way passed the nutcracker soldiers guarding the door at Sketch London and into the Lecture Room and Library to find events and styling wizard, Tony Marklew's Christmas creation. It's like something out of a fairytale with hundreds of strings of silver tinsel hanging from the boughs of a gnarled, old trunk. Don't leave without popping to the bathroom to see those instal-famous egg loos all wrapped up to look like prezzies.
Things to do, Exhibitions
Conceptual artist, Sir Michael Craig-Martin CBE has put his stamp on the Connaught Christmas tree this year, circling a mighty 12,000 digital lights around the 45 year old spruce. From tip to toe, the bulbs changing colour seamlessly in a carefully programmed pattern. Find it sitting pretty at 9 metres tall, outside the west London hotel.
Covent Garden Christmas Tree
Towering 55ft over Covent Garden's cobbled piazza this big lad's got over 30,000 lights wrapped around him, plus silver baubles for extra pizzazz. It's London's biggest hand-picked tree and is just one part of Covent Garden's festive display which also features mistletoe and glitter balls hanging in the Market Building and a twinkly new 'infinity chamber' light installation in Conduit Court.
Things to do, Markets and fairs
Christmas returns to the City as Leadenhall Market gets lit up for the festive season. A 20-foot tree will take centre stage glittering with twinkling lights.
London Edition Christmas Tree
Paper artist Zoe Bradley was tasked with decorating the London Editions's 14ft Christmas tree this year. Not only has she hand-sculpted 160 paper snowflakes, which required over 20,000 folds between them, she's also crafted an exquisite white peacock with feathers of dreams to watch over the hotel lobby from the top of the tree.
© Justin De Souza
Bonsai/ Christmas Everywhere
Offering up an Eastern take on Western tradition, the Ace Hotel's Christmas tree is not a bundle of branches and sparkle splaying outwards, but a big mossy box with all the shiny stuff inside. Peer into one of the peepholes on the side of it and a miniature maze of lights and mirrors will reveal itself to you. The internal scenes designed by Anyhow LTD include two bonsai trees and teeny tiny people and animals enjoying the festive season in both the northern and southern hemispheres.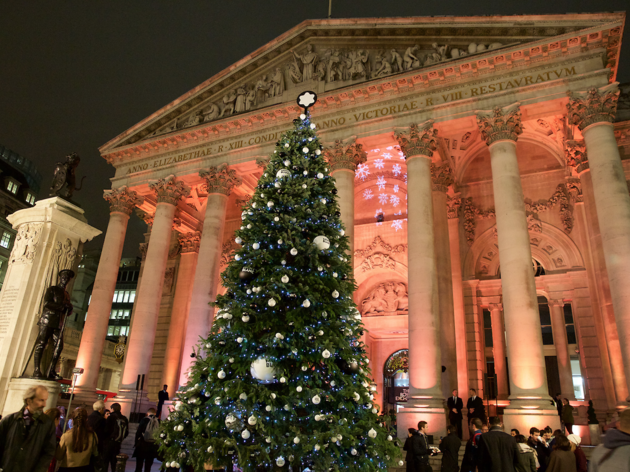 The Royal Exchange gets a yuletide makeover as 25ft-tall Christmas tree parks up outside it's monumental entrance. The evergreen has been designed by Fortnum & Mason and is covered with miniature versions of Fortnum's famous hampers and hundreds of sparkling ornaments.
Find more festive fun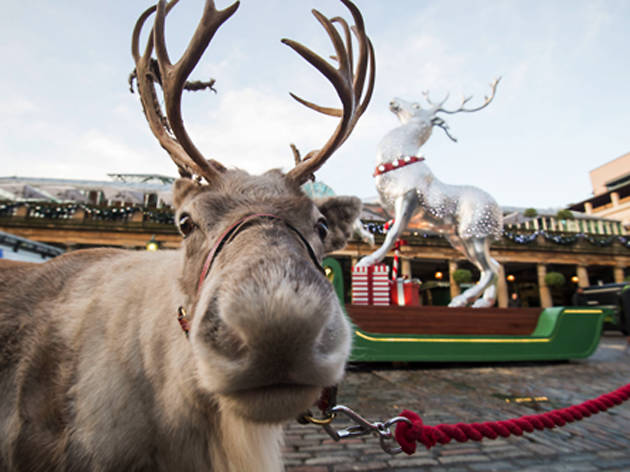 There's nothing quite as festive as Christmas in London. Find ideas for fun family outings throughout the Christmas period as well as things to do on Christmas Eve, Christmas Day and Boxing Day.
Snap up exclusive discounts in London
Time Out's handpicked deals — hurry, they won't be around for long...