Stoke Newington bars and pubs
Feeling thirsty in N16? Enjoy a drink at one of Stoke Newington's many great pubs and bars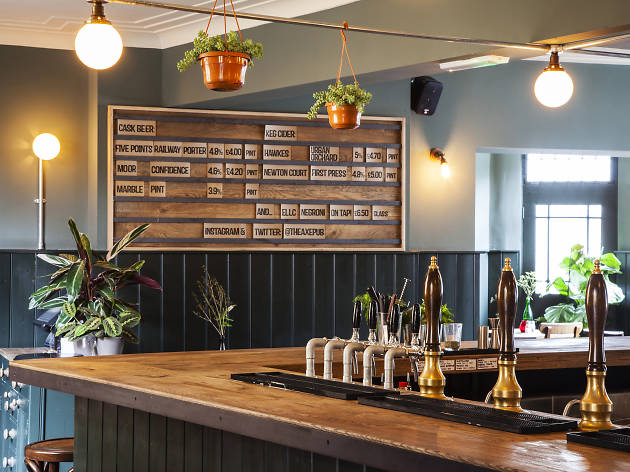 There are many sides to Stoke Newington, with its parent crowd and fun young things. So no wonder there are a multitude of watering holes to suit many a scenario. From scene-defining cocktail joints to gastropubs to rough-around-the-edges boozers, find the best of the best in our list of Stokey bars and pubs below.
RECOMMENDED: Don't fancy that pint? Find sober things to do in our Stoke Newington area guide
Stoke Newington bars and pubs
The Shillelagh is pretty legendary, often heralded as the best Irish pub outside of Ireland. As the rest of Church Street transforms, we doubt we'll see much change from this lovably rough watering hole. Come for the Guinness, stay for the craic.
Read more
Halt the rate of gentrification by stepping back in time instead at Fontaine's, a cocktail bar with an art deco vibe at the tip of Amhurst Road. Order champagne cocktails, kick back and listen to live jazz.
Read more
An adored beer haven known for representing breweries from all around the UK, settle in for a proper beery session at the Butchers. Cask and keg are given equal standing, and the pub is just as celebrated for its hearty Sunday roasts.
Read more
Venue says: "Join us for one of the best roasts you'll find in London – according to us and Time Out."
A gastropub with a strong gin line-up, approachable staff and an open-door policy to four-legged friends, the Lady Mildmay down in Newington Green scores on all fronts. But it's Sunday lunch that impresses the most. You'd best book ahead.
Buy tickets
Read more
With its posh pub décor and quiet backstreet location, The Londesborough is a good bet for evenings when you want to fit in a spot of refined drinking. Cosy up on sofas by the fire or sit up at the table for some posh pub grub.
Read more
It's hard to believe such an amazing cocktail bar could be lying underneath Stoke Newington High Street. Step below ground for a low-lit, devilish hangout serving inventive, original cocktails and offering free games of pool on its table.
Read more
The Lion has had a recent revamp, taking a new name as The Red Lion in the process. It still has a mighty fine decked beer garden at the rear and has added some extra draught lines at the bar for the local craft beer lovers.
Read more
Rough around the edges and off the beaten track, The Shakespeare is a cracking local with an island bar, a banging jukebox, affordable tipples and a pub quiz well worth getting involved in.
Read more
Show more
Find more pubs and bars in Stoke Newington
Discover more London boozers with a story to tell
One of the best ways to learn about London's rich history is by sinking a pint in the pub. No joke. These historic London pubs have been around for yonks and offer up the tell-tale signs of the celebrity, scandal and maybe even murder that took place in the capital many moons ago. So grab a spot at the bar and ask for the skinny from the staff on these pubs with a long old backstory.
Read more
Sponsored listing
Piano Kensington
Piano Kensington is a venue for listening to jazz pianists five nights a week. They serve a regularly changing menu combining influences from numerous cuisines, and snacks on Sunday evening when there is no dinner service. The short wine list includes bottles from both Europe and the New World, with prices starting at £20.95, and several wines are available by the glass.  Note: live music is played from 6-11.30pm Tuesday through Thursday; from 6pm-midnight Friday and Saturday; and from 8.30-11.30pm on 'Jazz Sundays', when there is no cover charge or entry fee.
Venue says: "Olav Bratli, one of Norways's top entertainers, entertains this weekend from 8.30pm."