Check out the (probably) terrible hopefuls fighting to represent Britain in Eurovision 2016, watch two cheese obsessives compete to see who can break open a wheel of cheese the fastest or revisit your emo phase and see Enter Shikari thrash it out at Ally Pally. Whatever your persuasion, here are a few ways to make the most of that glorious window of opportunity known as 'The Weekend'.
Eurovision: You Decide
Things to do
Eurovision: You Decide, The Forum, Kentish Town, TONIGHT, £35 adv. Hosted by Mel Giedroyc, the six hopeful acts that are competing to represent Britain in Eurovision 2016 will perform.
The In No Way Corrupt FIFA Election Party, Six Yard Box, Elephant and Castle, TONIGHT, free. Football-themed cocktails, party games and a screening of the official FIFA film 'United Passions' will feature at this bash to see who'll replace Sepp Blatter as president in the next election.
Just Got Made Weekender, Somerset House, Sat-Sun, £5. It can be lonely making crafts, so the team from Just Got Made has organised a weekend of skill sharing, demos and talks.
Midcentury Modern, Dulwich College, Sun, £15 early entry, £10. Vintage furniture, lighting and accessory dealers come out in force for this excellent mid-century fair, featuring classics of British, American and Scandinavian twentieth-century design.
Caught By The River Social Club, Bush Hall, Shepherd's Bush, Sun, £12.50. An afternoon of music, poetry and spoken word from the likes of Virginia Astley and her daughter Florence on the harp.
Friday Late: Radio, V&A Museum, TONIGHT, free. The V&A will investigate the history and culture of radio: from a vital mode of communication to a bitesize podcast.
The Great Barn Wedding Fair, Headstone Manor, Headstone, Sun, free. A range of exhibitors will fill this grade II listed barn with flowers, place settings and other wedding related ephemera.
Enduring Eye: The Antarctic Legacy of Sir Ernest Shackleton and Frank Hurley, Royal Geographical Society, Fri-Sun, free. A final opportunity to see the digitalised images that document the epic survival story of explorer Shackleton and his men, marking the 100-year anniversary of the expedition.
Tibet's Secret Temple, The Wellcome Collection, Fri-Sun, free. Your last chance to discover the history of Tibetan Buddhist Yogic and meditational practices at this major exhibition of over 120 objects from across the world.
…or check out more events happening in London this weekend.
Parm Crack Heard 'Round The World!
Eating and drinking
Craft Beer Rising, Old Truman Brewery, Fri-Sat, £15. Craft Beer Rising festival returns to the Old Truman Brewery for a fourth year, pouring the bery best beers from over 150 exhibitors.
Brockley Market, St Johns, Sat, free. Located in Lewisham College car park, this friendly market makes a great place to pick up quality groceries and delicious street food.
Parm Crack Heard 'Round The World!, Whole Foods Market, Kensington, Sat, free. Two fromage fanantics battle to crack open a mighty wheel of Parmigiano Reggiano in under two minutes before handing out tasty samples and Whole Food Market goodie bags to onlookers.
Forman and Field Open Day, Forman's Fish Island, Stratford, Sat, free. A chance to experience the inner workings of a traditional Scottish smokehouse. Demonstrations, talks and tasting as well as competitions and games will keep everyone entertained.
Brosé presents Aprés Ski, Shoreditch House, Sat, £47.50. A charity event in which you buy an entry ticket and then receive free, unlimited drinks and canapés. Prizes will be awarded for the best ski-themed outfits!
Blondies, ★★★★☆ Lower Clapton, drinks from £3.50. A lively cocktail bar and event space on Lower Clapton Road, from sisters Verity and Sharmaine Cox.
…or check out the latest restaurant reviews.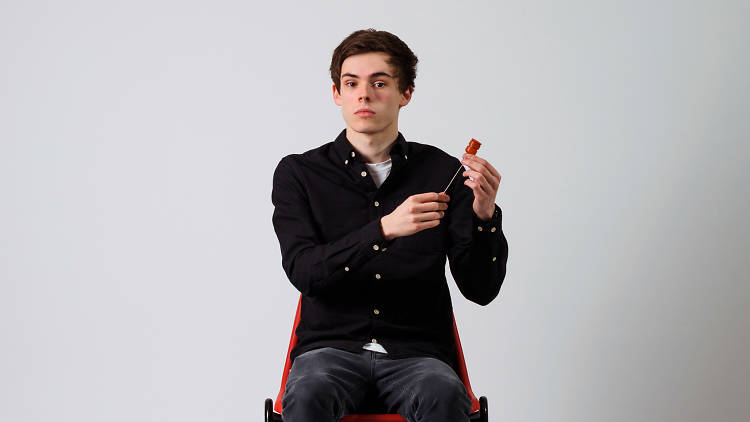 Rhys James: Remains
Comedy
Rhys James: Remains, Soho Theatre, Fri-Sat, £10-£15. Rhys James is a young, middle class, straight white male. Or as he puts it: 'a royal flush'. However, he stands out from the many other 'royal flushes' on the circuit due to his dense, elegant writing.
David O'Doherty: We Are All In The Gutter But Some Of Us Are Looking At David O'Doherty, Hackney Empire, Sat, £20, £18 concs. Award-winning whimsical Irish man David O'Doherty heads to the Hackney Empire with his new stand-up show.
An Evening with David Sedaris, Cadogan Hall, Sloane Square, Fri-Sat, £37.50. The New York writer and humourist gives anecdotes and words on his work, including latest book 'Let's explore diabetes with owls'.
Austentatious: An Improvised Jane Austen Novel, Leicester Square Theatre, Sun, £12.50, £10 concs. Improv gets a bad rap in this country. However anyone that dismisses the genre clearly hasn't seen Austentatious, a completely improvised Jane Austen novel, complete with period dress and cello accompaniment.
…or check out all the critics' choice comedy shows.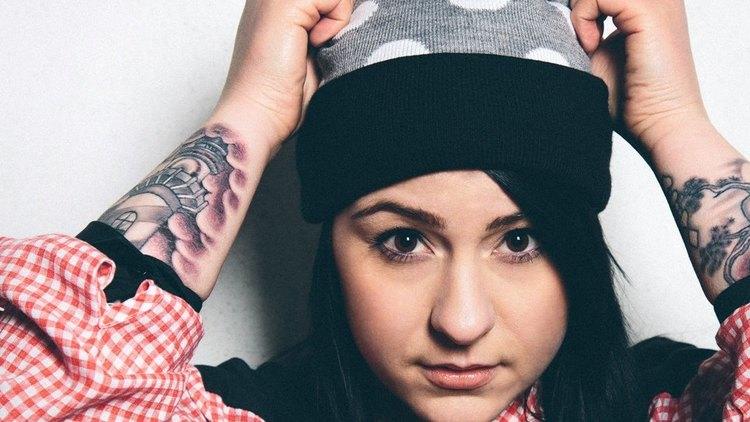 Lucy Spraggan
Live music
Mugstar, Electrowerkz, TONIGHT, £8.50. Metal-tinged rock from Mugstar, with DJ sounds from the bloggin' fold at Bad Dimension.
Lucy Spraggan, Bush Hall, Shepherd's Bush, TONIGHT, £15. The 'X Factor' dropout brings her cute but witty songs to the stage.
Coasts, Roundhouse, TONIGHT, £15. Pummeling radio-friendly, ferociously catchy indie beats is Bristolian five-some Coasts.
Enter Shikari, Alexandra Palace, Saturday, £26.50. With a unique blend of herky-jerky hardcore and stabbing alternate electronics, these Hertfordshire screamo punks are still able to sell out large venues today as they were in their prime.
…or take a look at all the live music events in London this weekend.
Denim Leap Year Party
Nightlife
Secretsundaze, Village Underground, TONIGHT, £16.50-£21.50. Hosted by DJ Miss Honey Dijon, this all-American house night sees guest DJs Amir Alexander and Francis Inferno Orchestra play, as well as support from resident acts.
DJ Luck & MC Neat, Artful Dodger, Oxide & Neutrino, Briton Jamm, TONIGHT, £6-£15. This roster sees powerhouses DJ Luck and MC Neat, Artful Dodger and Oxide and Neutrino spinning garage hits, classics and new material.
Hawaiian Bop: Richio Suzuki's Birthday Bop, Bussey Building, TONIGHT, £7. Suzuki celebrates his birthday by playing retro rock 'n' roll, 1950's R'n'B, 1960's soul and Motown.
Quarters: Bullion, Oslo, Hackney, Sat, £5. Bullion will be hosting this Saturday's Quarters - a new weekly series that invites guest curators from the outer reaches of electronica and beyond.
Sabajaq, Egg, Sat, £10 adv. Guest DJs include Pig&Dan, PleasureKraft and ZDS for a night of dance and house.
Denim Leap Year Party, The Vaults, Waterloo, Sun, £16.75. Celebrate the bisextile year with the whole spectrum of gender subversion at a night supported by Time Out and Denim.
…or see all the parties planned this weekend.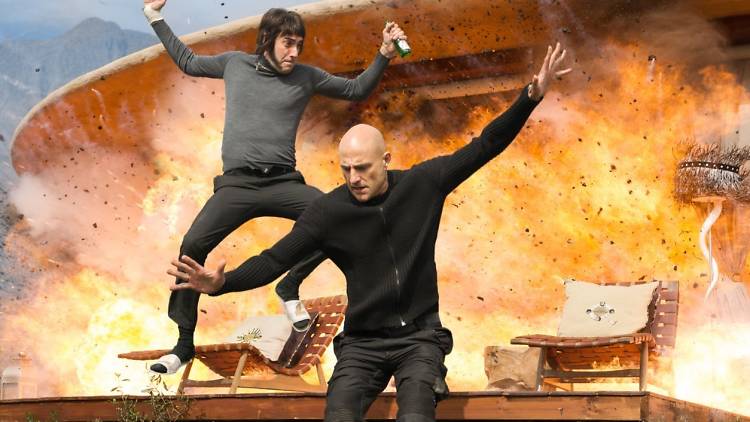 Grimsby
Film Events
Sister Act 2 + Live Gospel Choir, St Nicholas Church, Deptford, TONIGHT, £6-£10. After a sell-out screening of the original 'Sister Act' last year, the event is back for a sequel, raising money for the Deptford and New Cross Film Festival in April.
Billy Liar, Vestry House Museum, Walthamstow, Sun, £5.50, £4.50 concs. This local museum is a lovely location to revisit John Schlesinger's quickfire satire on British values.
1982's Greatest Hits All-Nighter, Prince Charles Cinema, Leicester Square, Sat, £20, £17.50 concs. 1982 remains a banner year for filmmaking and this pitch perfect round-up is a whistle-stop tour of the hits, including 'ET', 'Blade Runner' and 'Poltergeist'.
Or at the cinema...
Bone Tomahawk ★★★★☆ There's blood on the trail in this unusual, unpredictable western-comedy-horror movie.
Chronic ★★★★☆ Tim Roth plays a home carer with uncertain motives in this unsettling drama.
Grimsby ★★★☆☆ Sacha Baron Cohen's football hooligan comedy is a half-successful blend of laughs and action movie.
…or see all of the latest releases.
In The Night Time (Before The Sun Rises)
Theatre
The Tempest, Shakespeare's Globe, all weekend, £10-£62. Dominic Dromgoole ends his reign as artistic director at the Globe with a touching production of 'The Tempest'.
A Steady Rain, Arcola Theatre, Dalston Kingsland, all weekend, £12-£19. Gripping cop thriller from 'Mad Men' and 'House of Cards' scribe Keith Huff.
In The Night Time (Before The Sun Rises), Gate Theatre, Notting Hill, Fri-Sat, £10-£20, £7.50-£15 concs. A powerful, experimental two-hander about a couple having a baby. This weekend is your last chance to catch the play before it closes!
The Devil Speaks True, The Vaults, Waterloo, Fri-Sat, £16. A final chance to catch this first person adventure that uses Shakespeare's original 'Macbeth' texts to recreate the last hours of Banquo's life.
…or see our theatre critics' choices.
Home Time
Art

Allen Jones: Maitresse, Michael Werner Gallery, Mayfair, Fri onwards, free. Best known for his sculptures of scantily clad women as furniture, this exhibition focuses on his paintings; the recurring 'maitresse' is in reference to the 1975 film of the same name.
Chromatic Intuitions, Art First, Fitzrovia, Fri onwards, free. Jennifer Durrant and Kevin Laycock - two abstract painters from different generations - are brought together in this exhibition. Expect bright colours, a sense of rhythm and a (deceptive) simplicity.
Home Time, The Transition Gallery, Hackney, Fri onwards, free. Works by Alex Michon, Kate Murdoch, Alex Pearl and Corinna Spencer, inspired by the everyday objects around them.
Mark Wallinger: ID, Hauser & Wirth, Mayfair, Fri onwards, free. A sustained examination of how we feel about ourselves, fit in, define or defend our freedoms or toe the line in a variety of different mediums.
America in Revolt: The Art of Protest, Shapero Modern, Mayfair, Fri-Sat, free. The last weekend of an exhibition that captures the demonstrations in '70s California about the war in Vietnam through the medium of posters and art. Don't miss out.
…or see all London art reviews.
And finally
Win... a luxury spa break for two at the Landmark in London or a five night Colombian holiday for you and a friend.
Grab... 40% off tickets to ENO's 'The Magic Flute' at the London Colliseum
Book… these gigs while you still can
Best of the blog
A restaurant in Marylebone has launched a yorkshire pudding menu

Crossrail will be named the 'Elizabeth Line' in honour of her Maj
Now you can get a rainbow bagel on Brick Lane
Patty and Bun's new restaurant opens in Soho