From a tiny pub snug to a poolside micro sauna, Tom Howells makes himself at home in the comfiest spots in London
Get mellow on mulled cider in a community garden greenhouse
Walking into the Eastern Curve Garden (pictured above) is a bit like stumbling into Narnia. One second you're in traffic-choked Dalston, the next you're in a sprawling bucolic sanctuary filled with flowers and trees, festooned with fairy lights and lanterns. The glass-clad Pineapple House is especially balmy, particularly if you can get a seat on the sofa next to the wood-burning stove (Hollie, the garden's dog, gets first dibs). If it's being used for a community workshop – which happens often – nab a blanket, a hot water bottle and some spiced cider from the garden café then head for the covered pavilion instead. 13 Dalston Lane, E8 3DF. Dalston Junction Overground.
Scooch up in a reading nook with the resident pooch
There is something so tranquil about a good neighbourhood bookshop, with its hushed, wholesome vibes and the musty-fresh scent of paper wafting about. That's especially true of Phlox Books, an oddly named little repository in Leyton. Grab a good book and glass of wine (it sells craft beer, Allpress coffee and local shortbread too) then settle into the compact reading nook (owner Aimée Madill's top choice), the sofa in the back room or, in the evenings, under the charming 'reading tree' in the children's section. A warning, though: you might have to share the space with Huxley, Madill's adorable French bulldog. Dreadful, eh? 159 Francis Rd, E10 6NT. Leyton.
Warm up after an autumn walk in the perfect pub snug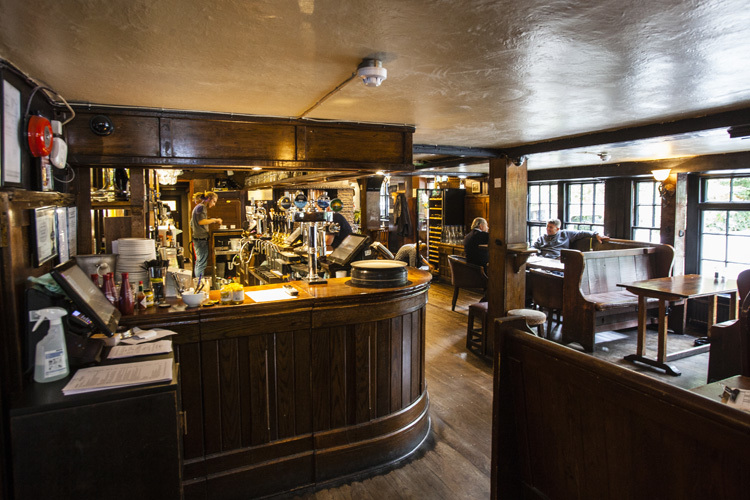 After an autumnal afternoon perambulating Hampstead Heath, you need one thing: a good pub. And The Spaniards Inn, a venerable pile on the north-west edge of the heath, is just that. The vibe? Rural BBC period drama – there are scalp-scrapingly low ceilings, church pew seats with little heraldic details and copper chimney breasts. Gamey specials appear on the menu and decent ales reside at the bar. Our recommendation? Barricade yourself in the tiny snug by the main entrance, with its low-lit lamps, antique prints and distressed leather armchairs – it's the cosiest spot in the house. Barbour jacket and rain-soaked dog obligatory. Spaniards Rd, NW3 7JJ. Golders Green then 210 bus.
Sink into the comfiest of cinema seats
London has its fair share of upmarket picturehouses, but the Electric Cinema, a Grade II-listed gem, is the grandaddy of the luxury screen scene. Inside, it's a vision of early twentieth-century decadence, enhanced by a £2 million refurb in 2001 that restored the classy corniced interiors and replaced the bog-standard cinema seating with loads of leather armchairs. What's more, the front row has velvet beds and there's a host of sofas along the back wall (our pick). Staff give out snuggly cashmere blankets too: an open invitation to heavy petting if ever we saw one, but do try and maintain some decorum. 191 Portobello Rd, W11 2ED. Ladbroke Grove.
Get steamed up in a poolside micro sauna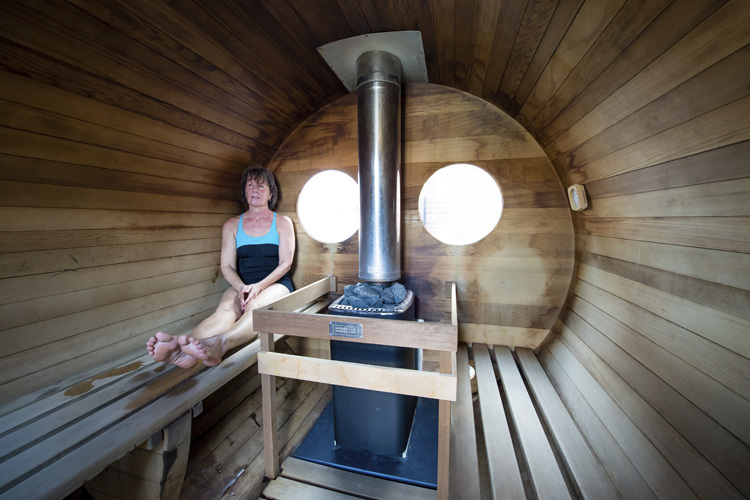 A refurbed art deco outdoor pool, with an excellent café to boot, Brockwell Lido is something of a south London icon. However, a dip in its unheated, open-air waters can be bracing even at the height of summer. Bless the genius, then, who saw fit to install a Scandi-style barrel sauna right next to that cold, cold water. It's teeny-tiny – there's room for eight, though you'd never guess from the outside – and made from red cedar, which imparts a calming, woody fragrance. Perfect for getting a restorative sweat on while you peer out at the goose-pimpled fitness freaks freezing their bits off in the pool. Dulwich Rd, SE24 0PA. Herne Hill rail.
Play board games on a super-squishy sofa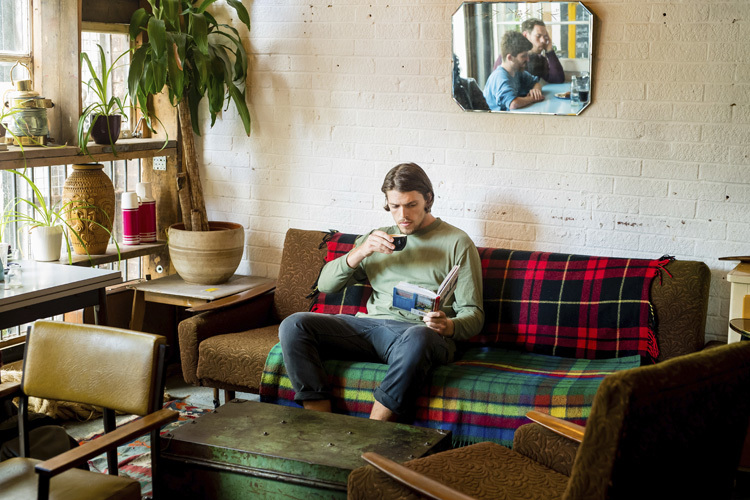 Homerton is home to one of the city's most welcoming spots. Hatch is a gloriously ramshackle café-bar-workspace-hair salon housed in an old newsprint factory, and it's an ideal place to while the hours away. There's decent coffee, a short-and-sweet menu of Mexican and Levantine eats, an excellent happy hour, upstairs desk space for cabin-fevered freelancers and a broad programme of events (quizzes included). Our tip? Eschew the rickety benches and spindly bar seats and settle into the low-slung, blanket-covered sofa to the left of the entrance. Preferably with a board game. Day = done. Unit G2, 8 Mackintosh Lane, E9 2AB. Homerton Overground.
Warm your cockles with a classic meal and a fine red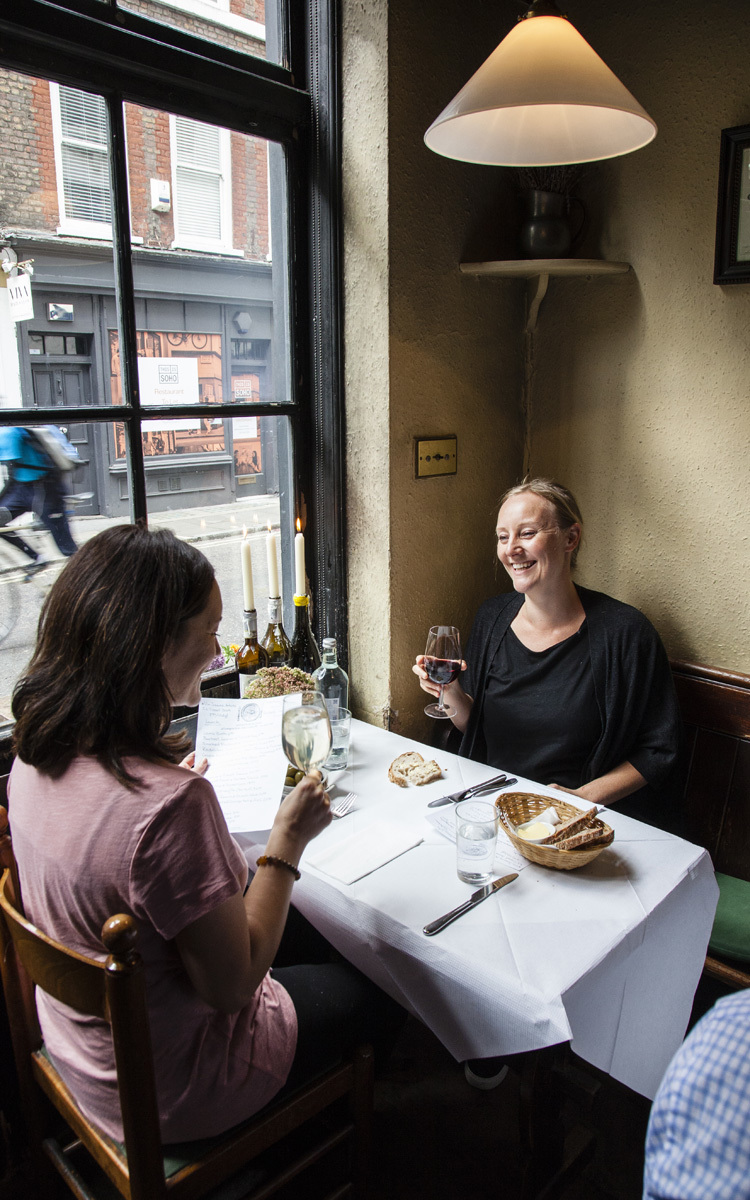 Andrew Edmunds is a perma-fixture on 'romantic London restaurant' lists for good reason. It's a place out of time. Located in an eighteenth-century townhouse, it's compact, clattery and atmospheric, with candlelit tables, a chalked-up menu of simple, seasonal European grub and one of the city's best – and most fairly priced – wine lists. Ostentatious it ain't, but it is always crammed with Soho's great and good. For the warmest vibes, ask for one of the tables looking on to Lexington Street, pop the claret and gawp at the hordes of gastronauts queueing in the rain for Bao's buns opposite. Suckers! 46 Lexington St, W1F 0LP. Piccadilly Circus.
Want more of this kind of thing? Check out our list of the best bars and pubs with open fires.