London's best bars and pubs with open fires
Find the best pubs with fires in the capital, perfect for a warming winter drink or a cosy catch-up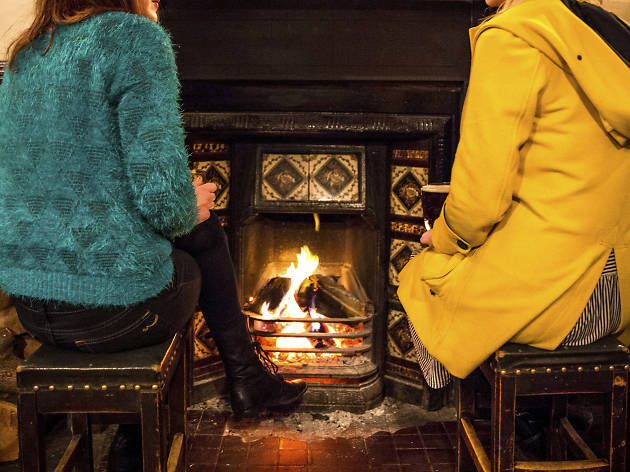 Whether it's in a trendy gastropub, a hip new bar or an old man's pub, there's an open fire waiting for you somewhere this winter. Pubs with wood fires have that authentic touch, but gas fires are equally warming. You'll find them all in our guide to London's best pubs with fires – get down early to guarantee the warmest armchair or sofa spot.
The best pubs with fires in central London
The best pubs with fires in north London
Venue says: "Easter Weekend-Good Friday special fish dishes, Saturday chef signatures, Sunday recovery roasts, Monday 10 am big breakfast & roasts 1 pm."
This welcoming Dickensian pub in Hampstead has an ancient interior, reasonably priced food and wooden booths to slide into. Its two wood and coal-burning fires make the pub the perfect place to head following a stirring walk across the heath – or at least up the steep road to the pub.
Read more
This Newington Green retreat gets the thumbs up from us for its cracking Sunday lunch, welcoming staff and impressive board game line-up, but add to that a real fire to curl up next to and you'll understand why it's hard to steer clear come winter. You may even make friends with Sidney the dog if you're lucky enough to bag fire-side seats.
Book now
Read more
In this grand old building at the north end of Green Lanes you barely have to share bar staff: it's absolutely massive. You may have to fight for those fireside armchairs, though! Taxidermy cases and ornate cornicing decorate the central, beer-focused bar, a jukebox plays music in the main room and a projector plays sport in the second.
Read more
This old boozer oozes battered character: hand-painted Sistine-esque friezes, dripping candles and weird papier-mâché oddities hanging from the ceiling. Clientele is an eclectic mix of older regulars and the Primrose Hill set and there's a roaring yet pretend fire in the back room.
Read more
The bulbs are bare and the floorboards worn at this Kentish Town pub. It's sparse, it's simple and it's really rather splendid. The regulars are more mature than in most pubs, and some bring along their canine companions. Purchase some traditional snacks, a pint of scrumpy (this is a cider and ale house, after all) and seat yourself and your dog beside the wood-burning fire.
Read more
A gorgeous log-burning fire greets regulars – both human and canine – at backstreet boozer the Wenlock Arms. A large hearth helps spread the fire's toasty heat around the room, with banquettes and stools nearby hotly fought over. Order from brilliant beers and salt beef sandwiches for even more comfort.
Read more
Popular with Highgate locals (students and celebs alike) the Wrestlers has a large roaring log fire to the right as you enter, whose comforting smell fills the room and mingles with delicious Sunday roast aromas. A beaten chesterfield sofa is near-enough to feel the warmth but not make your glow too rosy.
Read more
The best pubs with fires in east London
The interior of this local Hackney boozer has been tastefully renovated to look like your textbook Great British pub. Claret-coloured walls make it cosy as hell, with a couple of fireplaces for extra warmth and Scrabble for when you really want to make it a session.
Read more
With a half-finished look and cavernous main bar area, this hipster pub may be spacious, but that doesn't mean it can't be toasty warm. It generously keeps three wood fires alight (two in the front bar, one in the dining room), and also serves a simple food menu together with a good selection of British-brewed real ales including Deuchars IPA and Redemption Trinity.
Read more
There's a proper community vibe here with old blokes propping up the bar alongside market geezers and tattooed foreign exchange students. This is nonetheless a pub where old-fashioned manners and old-school decor rules – small rooms, crowded tables, pub-industry memorabilia and a couple of open gas fires which look so real that people chuck paper on them.
Read more
Situated by the Thames, the Gun is a fine spot in the summer thanks to its terrace. But don't underestimate the pub in its winter guise. Its red walls and dark wood complement a real open fire complete with tall-backed leather armchairs by its side. Rumour has it Lord Nelson used to meet his mistress here, so plan your own cosy tryst at the Gun.
Book now
Read more
This pub had a 2016 reboot and now boasts a shiny new look and a recommissioned fireplace. And it's a grand-looking wood-burning one, to boot. To warm you further, expect karaoke, quiz nights, footie screenings and a pun-filled menu of tasty pub grub.
Read more
The Nelsons Head has taken a leaf out of sister pub the Chesham Arms' book, having the feel of a cosy AF pub. Find a seat by the wood-burning stove and break out the board games (or Mr Men books if you're that way inclined – there's a shelf full of them). The friendly, old-timey feel of this modern pub will warm you to the core.
Read more
Victoria Park's most handsome pooches hang out with their owners in this welcoming and somewhat sprawling boozer. Lucky them, as they curl up by a log burner on nearby sofas while their masters work their way through the papers or gaze on at the big screens showing match day highlights.
Read more
This carpeted pub is a bit of a relic, with a character rather than an image. But its fire is pretty as a picture when you're feeling the winter chill, especially when the Pride's adorable pub cat Lenny is curled up in front of it.
Read more
Make merry in Dalston with Czech beer and real ale (Pride, Brakspear, Woodforde's Wherry) – there are plenty of good wines by the glass too. The Geroge's free jukebox (one of the best in London) means there's always a party going on, so don't go expecting to take a quiet nap alongside the wood- and coal-burning fires.
Read more
The best pubs with fires in south London
This craft beer haven is operated by Big Smoke Brew Co, and if we know anything, it's that there's no smoke without fire. An adorable ornate fireplace is well stocked with logs and decked by two comfortable leather armchairs. A great position from which to sample the brewery's range.
Read more
There's lots to like about the Antelope in Tooting, not least its good gastropub food. With three fires to choose from (two coal-burning options in the bar and dining room, and a wood fire in the games room) there's every chance you'll find a spot near the hearth – just be prepared to do battle for one of the pub's fireside chesterfield armchairs.
Read more
There's a lot to like amid the noise (aural and visual) in this pub, not least the most interesting selection of beers and spirits in the area, including Budvar Dark, Paulaner and guest ales such as Pedigree, served in dimpled pint mugs and warmed by a total of three toasty fires.
Read more
This Grade-II listed building is full of handsome features. If you can peel your eyes away from its glitzy stage, there's an open fire to feast your eyes on. And it's almost as warming as the community feel at London's first co-operative pub.
Read more
You can practically feel the history stepping inside this old Thamesside pub that dates back to 1620. Luckily the open fire will warm your cockles in this slightly haunting but always charming inn, particularly useful if you've been out on its water-facing deck at the rear.
Book now
Read more
The best pubs with fires in west London
This popular Hammersmith gastropub reopened in July 2014 and continues to keep punters cosy with its open fire in the winter months. They've added a gastropub menu and a friendly cat roams the pub for even more of the cosy factor.
Read more
In a villagey spot (known locally as Brackenbury) you'll find this handsome Victorian pub offering plenty of room for drinking as well as dining. It feels all the more like a proper boozer thanks to its wood-panelled bar, faded carpets and a roaring fire.
Book now
Read more
The Brickie is rightly famous for its ever-changing selection of British real ales. When the nights draw in, it's the cosy atmosphere and the roaring fire that entices. Once you've warmed up, you can even have a go at a game of bar skittles.
Read more
A perfect local if ever there was one, The Eagle is dark and cosy come winter, with dark wood floors and those all-important comfy seats by the fireplace. An island bar topped with two big, bold tanks (the traditional, 'bright' kind), holds the brewery's Raw lager if you're in need of cooling off.
Book now
Read more
This warming gastropub in – you guessed it – Ealing serves comforting food in a smart-casual setting complete with a fire. A circle of short leather armchairs curve round the fireplace, chopped logs are stacked up by its side and a series of taxidermy animal heads are mounted on the wall above for a bit of countryside chic in the capital.
Book now
Read more
More of a pub with food than a gastropub, the Rose has seen a few name-changes over the years, including the Legless Ladder and, most recently, the Fulham Tup. The muted walls are dotted with prints of ladies in various states of undress (more tasteful than it sounds). Candles twinkle and locals lounge on church pews and leather sofas. Eat, drink and get cosy on one of the armchairs surrounding the fire.
Book now
Read more
Find more bars for a cosy night
Lounge around on roughed-up sofas and bask in the glow of a burning fire – these cosy London pubs are crying out to be treated like your home away from home in the winter months. From creakingly old inns with nooks for hiding to modern pubs that know how to turn on the festive charm, find somewhere in the capital to get seriously cosy over winter drinks.
Read more